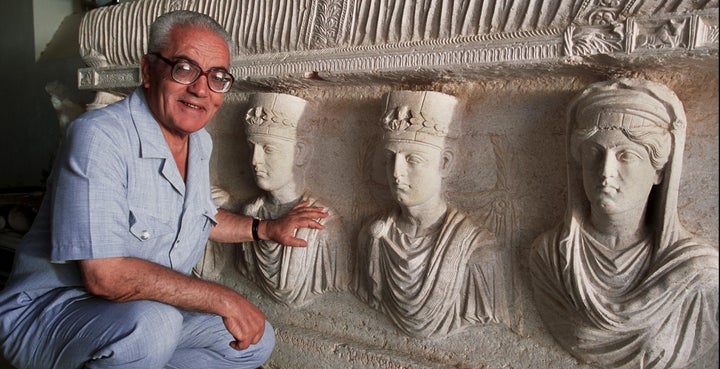 He was nicknamed "Mr. Palmyra" after the ancient Syrian city whose excavation and preservation he had dedicated most of his life to.
Family, friends and colleagues say it was this very dedication that cost 82-year-old Khaled Asaad his life. The renowned Syrian archeologist was beheaded by Islamic State (ISIS) militants this week. His bloodied body was left to hang on one of the Roman columns in a main square of the historic site.
According to reports, Asaad was murdered Tuesday in front of dozens of witnesses after refusing to reveal to ISIS militants the location of valuable Palmyran artifacts that had been moved for safekeeping.
Chris Doyle, director of the Council for Arab-British Understanding, told The Guardian that the archeologist, who had been held by ISIS for more than a month, had been interrogated about the ancient treasures and had been "executed when he refused to cooperate."
Hundreds of artifacts and statues from the Palmyra museum had reportedly been moved to a safe place before ISIS seized the ruins last spring. Asaad, who had been in charge of Palmyra's archeological site for 40 years before he retired in 2003, played a central role in the move, the Associated Press reports.
The ruins, a UNESCO heritage site, dates back some 2,000 years.
ISIS insurgents, who have imposed a puritanical and violent interpretation of Islamic law across the swathes of Syria and Iraq that it now controls, have been known to destroy ancient relics, which they claim promote idolatry. It's believed that the extremist group also loots and sells antiquities to fund its activities.
Footage emerged earlier this year of ISIS destroying statues in Mosul. ISIS soldiers have reportedly also destroyed buildings and artifacts in the ancient Assyrian cities of Ninevah and Nimrud in Iraq.
Asaad's connection with Palmyra meant that he was a prime target for the jihadi group. His family and friends say, however, that he refused to leave his home and the ancient city he loved so dearly.
"I begged him two months ago to leave the town and come to Damascus with his family, but he refused," Ahmad Ferzat Taraqji, an antiquities expert and friend of Asaad's, told the AP. "He believed in destiny. He told me, 'I was born in Palmyra and will stay in Palmyra and will not leave even if costs me my blood.'"
This week, the archeological community has been reeling in the wake of Asaad's death, whose depth of knowledge of Palmyra -- which in antiquity had been an important trading post along the Silk Road -- has been called "irreplaceable."
Asaad, who studied history and education at the University of Damascus, penned many scholarly works on Palmyra in his long career. Syrian state news agency Sana said he also discovered several ancient graveyards, caves and a Byzantine cemetery in the garden of Museum of Palmyra.
Asaad was also a scholar of the ancient language Aramaic.
"He was Mr. Palmyra, you couldn't do any work in Palmyra without going through him," Amr al-Azm, an antiquities expert and professor at Shawnee State University in Ohio, told the AP. "No one's been there for consistently so long and covered so many aspects of Palmyra's cultural heritage. I think it's irreplaceable."
State Department spokesman John Kirby said this week that the U.S. "condemns in the strongest possible terms this murder ... of a man who dedicated his life to preserving Syria's cultural treasures."
"[Asaad's] life and extraordinary work stand in stark contrast to that of his barbaric killers. These attempts to erase Syria's rich history will ultimately fail," Kirby said.
Related
Popular in the Community