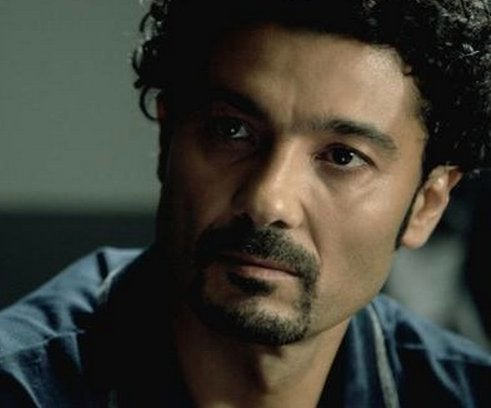 The first thing one notices when introduced to the great Egyptian movie star Khaled El Nabawy, is his golden, flawless skin. It's as if this man glows, magically, from the inside out. His light amber complexion then sensually reveals his intense, glistening dark eyes and perfectly chiseled bone structure. But beyond his magnetic good looks, Nabawy is also wonderfully warm and insightfully smart, which is just the best combination to make him the ideal interview. And the perfect spokesperson for Egypt to the world.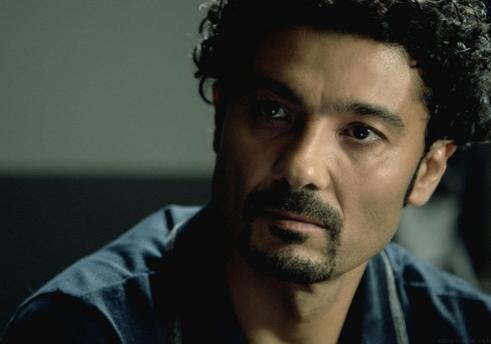 These days, Nabawy's native country is experiencing a transition. That's the understatement of the year, of course! But what I mean is that aside from the headlines, the media frenzy over rumors and misdirected information (like the headline that Islamists plan to destroy the Pyramids, a pretty impossible task) Egyptians are finally finding their collective voice, then using the streets -- and the square, Tahrir Square -- to express their god-given right to use it. But don't be confused by the news, there is one main thing that Egyptians want today, mentioned over and over again in film after film, protest after protest and blog after blog: their constitution. Nabawy confirms this over Twitter and Facebook with updates like this one, from October 29: "We have the right to protest don't u in Hyde Park don't u in France and still we visit u. Come to Egypt don't listen to the media." In fact, Nabawy's mantra, since his now famous, touching speech at the Cinema for Peace gala in Berlin in 2011, is "Come to Egypt". Simple, from the heart and so very to the point.
I meet Nabawy during the Abu Dhabi Film Festival, where his latest film The Citizen is premiering. It's the first time Nabawy plays the lead in an English language film and quite a momentous move for him. I sense much greatness ahead for this actor with great principles. He has notoriously refused to play terrorists and the garden variety of stereotypical Arab bad guys throughout his career. A move that has left Hollywood a bit baffled. And what Hollywood doesn't understand at first, Hollywood may temporarily overlook. But if the last few years have been any indication of how what mainstream may pass on can then become the biggest hit or the brightest star, then Nabawy, as Ibrahim in Sam Kadi's The Citizen, is slated for great things ahead.
We sit near an open window, inside the Etoiles restaurant at the Emirates Palace. The afternoon light of the Gulf seems almost like a visual effect, it so perfectly brings out Nabawy's features and warmth. I'm unsure of what shines brighter, the sun or this actor/activist, who, though young, already possesses an outstanding cinematic pedigree. Discovered by Egyptian master filmmaker Youssef Chahine, who also discovered Omar Sharif decades before, Chahine strategically filmed Nabawy in a "Hollywood" way, allowing the camera to uncover and bring out the sultry charisma of this superstar. In their first collaboration, The Emigrant (Al-mohager), a 20-something Nabawy got to act with veteran French actor Michel Piccoli and he says of the meeting, "It was a great experience, to learn from a guy who has another way of thinking." In The Citizen, his most intense scenes are opposite American actor William Atherton and they continue to have only wonderful things to say about each other. Nabawy exclaims about his co-star "It's beautiful to be on the set with Bill Atherton!"
Throughout our interview the constant clicking of cameras can be heard, as photographers race to capture the perfect shot of this superstar, in this ideal lighting, to post under their newspaper's headlines the next day. Nabawy's presence at any event in the Middle East is the stuff of legends and even a casual sit-down gets frantic attention. At first, Nabawy has his signature sunglasses on, but as our conversation gets more interesting, and the photographers ease up a bit, the glasses come off, to reveal an unexpected vulnerability in his eyes. At that exact moment, talking about his role in his latest film, Nabawy discloses "I thought at first I would have notes for Sam [Kadi], because in other movies, this kind of story has been taken to be sentimental." He continues, "but Arabs, they are not... They are kind but they are not weak, they are strong." With those words, Nabawy confirms my theory that the most powerful people are those who never need to prove their strength.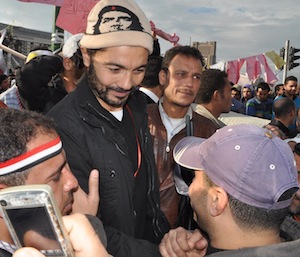 When I ask him how much of himself is in the character of Ibrahim, a Lebanese Muslim who comes to America on the eve of 9/11 to pursue the American dream only to get sidetracked by the American nightmare of the time, Nabawy answers "Much. But the big difference between me and him is that I love America to go and visit, not to live." He continues, "maybe I'm not in his shoes, I'm a guy who was lucky, who has a beautiful career and who walks in the street and finds no barrier between him and people."
About his fellow Egyptians, he gushes "They are good citizens, and they will be much better!" And then, he finally enlightens me on the importance of the Revolution, from a simple, human standpoint:
Why they are good, because I believe they "revoluted" against the bad thing inside themselves, the bad stuff they accepted from such a bad government. From such a dictator. They stood against themselves first, they stood to make themselves better and they paid a huge price, with their blood. This is why they are good for me, because when you pay with your blood, it means I believe you. Egyptians were, every one of the nearly 90 million people, they were an island, an island to themselves. We were extremely separated, we weren't listening to each other, we weren't talking to each other, but starting on January 25, the very beginning of the morning of January 25, people were talking to each other in the street, they felt they were going to do something together.
Nabawy doesn't mince his words when it comes to cultural ignorance when he says "This is very important for me, I always say we know about the West more than they know about us." But he also offers a solution for all the discord in the world, a very simple formula that is almost always overlooked, "Love has a magic key, so if you're looking for love, love first. Love first and you will be loved."
When Hurricane Sandy ravaged NYC last month, Nabawy sent me an email to find out how we were doing in the Big Apple. A few days later, emerging from the blackout that left all of downtown incommunicado, I found the concerned message, one that despite everything we'd been through made me believe in the power of humanity. A simple gesture and one that proved to me Nabawy lives by his credo -- "Love first."
That's why when Nabawy utters that other mantra -- as he does in the video below from the Cinema for Peace gala -- in his soft-spoken, beautifully accented voice, we all should listen: "Come to Egypt." Yes, come to Egypt indeed.
Top image courtesy of the Abu Dhabi Film Festival, Tahrir photo courtesy of Khaled El Nabawy, all used with permission
Calling all HuffPost superfans!
Sign up for membership to become a founding member and help shape HuffPost's next chapter