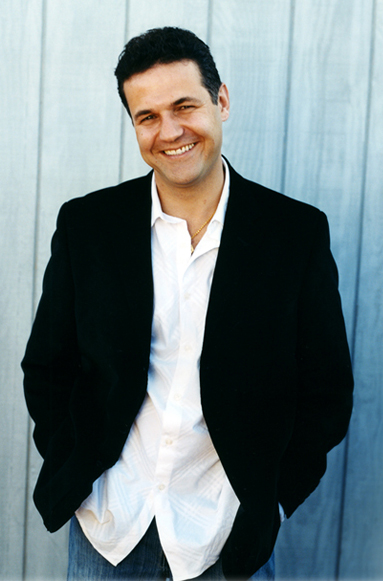 We first met Khaled Hosseini when I joined the San Francisco Writers Workshop. Listening to him read his work week after week, it was clear he was a writer of amazing talent. Plus, he was a doctor and incredibly handsome. You kind of wanted to hate the guy, except for the fact that he was just too nice to hate. But it was clear that if he got his work into the right hands, he would have a huge readership. He did. His book The Kite Runner became a worldwide phenomenon, then got made into a big Hollywood movie. He has a new book out, And the Mountains Echoed, so we thought we'd check in with him and pick his brain about the writing life.
The Book Doctors: You were a full-time doctor with two small children when you wrote The Kite Runner. How in the world did you find the time to write it?

Khaled Hosseini: I cut down on my sleeping time. I awoke daily at 5 AM, wrote from then until roughly 8 AM, at which point I got ready to go and see my patients. The bulk of my first novel was written in those dark, early morning hours, a feat which I would be hard pressed to repeat now, a dozen years later.

TBD: How did being in a writing group help you write your first book?

KH: I read parts of The Kite Runner at the San Francisco Writers' Workshop, run by the wonderful writer and dear friend, Tamim Ansary. As is the case with writing groups, some of the advice that I received was insightful and on point, and did in fact help guide me. Some of the advice I received was not as helpful, so it was a mixed bag. In the end, though, I am somewhat autocratic when it comes to writing. I am not a writer who takes direction very well, at least in first drafts -- though I do very much appreciate editorial input once I have written three or four drafts of the manuscript. I need to make my own mistakes and find my own way out of them.

TBD: How do you know when you've hit on the right idea? Did you just know you had a book when you thought of the ideas for each? Did you try others that didn't work?

KH: At some point, I guess I just know. And the way I know is that I continue to be interested and intrigued by the story and the characters. Waking up in the morning and dreading having to reenter your fictional world is never, ever, a good sign. I have in the past started novels with great enthusiasm and motivation, only to realize a hundred or two hundred pages in that I am just going through the motions, that it feels to me like nothing genuine and interesting is at stake any longer. At that point, it is only a matter of time before I move on to something else. Conversely, if I find myself constantly thinking about the characters in line at the grocery store, if I can't shut off the internal dialogue with my protagonist even at the movies, then I know that something has caught and I may have hit on the right idea. This happened with all three of my novels.

TBD: Do you have others read your work before you send it to your agent or editor?
KH: Yes, but only by my wife, Roya. Roya is not a writer, but she is a very smart and astute reader. She cannot tell me what I should do, but she can tell me if what I am doing is working or not. Typically, I ask her to read once I have at least half of a first draft. Her feedback to me is always honest, direct, and unburdened by the need to play nice. She is unafraid to speak her mind, which is what I ask of her. This way I trust both her positive and negative feedback. She reads all drafts of my manuscripts, and it isn't until she and I agree that it is ready to be sent that I ship it off to my publisher. This is a system that has worked well for all three novels.

TBD: How much of an influence do your agent and/or editor have on your work? How do you know when to listen and when to stick to your guns?
KH: I have never done any editing with my agents. However, I have had very productive working relationships with my editors, both Cindy Spiegel (for Kite Runner), and Sarah McGrath (for my last two books). It helps to have immensely talented editors -- as I have been fortunate to have -- whose opinions you respect and trust. Generally, I welcome and enjoy very much the editing process. I see the editor's job as helping the writer see the true potential of his/her own work. Both Cindy and Sarah helped me see things in my books I had not before and guided me toward untapped possibilities hidden throughout the manuscript. For this, I have felt tremendous and very genuine gratitude toward both. I have in the past 'stuck to my guns' of course, as all writers do at some point, but only after carefully and thoroughly considering the change that the editor is proposing and measuring that against my deepest instincts. I am happy to say that, on those instances, I have never regretted doing so in retrospect.

TBD: How do you do with criticism of your work?

KH: As well as can be expected, I suppose. No one likes to be criticized, but I am respectful of thoughtful criticism that makes what I feel are legitimate and carefully considered points. I have no regard at all, however, for cynicism or sarcasm, and I tire easily of critics whose main agenda appears to be to dismiss the writer and draw attention to themselves.

TBD: What is the number one question you get asked on book tours?

KH: How autobiographical are your books?

TBD: Did you always know you were a writer?
KH: I always knew that I loved writing. I have been writing since childhood. It has been a personal compulsion for as long as I can remember, and I cannot point to a time when I did not want to create characters and stories. That is a far cry from saying I always knew I was a writer. I never thought of it in those terms, I suppose because I thought real writers were published and published writers, in my mind, were a different species altogether, occupying a different dimension from people like me. I thought of writing as a private indulgence. That said, even after The Kite Runner was published, I was extremely reluctant to call myself a writer, because by then I had convinced myself that real writers published more than one book. Now, I am out of arguments and I routinely jot "Writer" under 'Occupation' on travel forms. I consider myself one of an incredibly fortunate small minority of people who make a living doing something they love and something no one could stop them from doing in the first place.
Khaled Hosseini was born in Kabul, Afghanistan, and moved to the United States in 1980. His first novel, The Kite Runner, was an international bestseller, published in thirty-eight countries. In 2006 he was named a goodwill envoy to UNHCR, the United Nations Refugee Agency. He lives in northern California.
Related
Popular in the Community