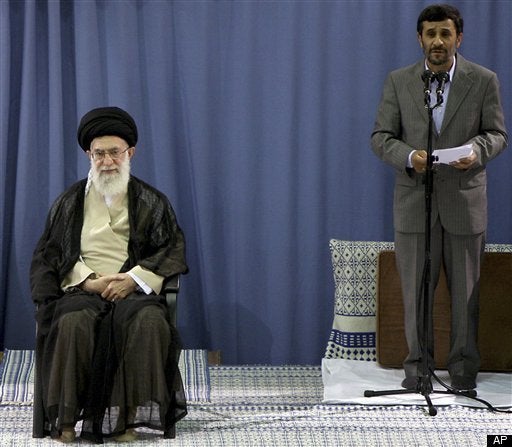 Ayatollah Khamenei's legitimacy as Supreme Leader of the Islamic Republic of Iran is at a very fragile moment and being challenged by Iranian citizens throughout the nation, according to reports streaming in, despite media controls and a Western press blackout.
To see a very disturbing video in which men who were going to be hanged appeared to be saved by citizens in the streets, watch this clip.
Reform presidential candidate Mir Hossen Mousavi's nephew was killed today in clashes with police. There is no easy way now for the opposition to back down and wait for a more appropriate time to move their advocates and followers into the street.
Ayatollah Ali Khamenei has become the new Shah -- hated by so many within the country that it seems implausible that Iranian elites will ever be able to operate without much distrust and fear of each other.
The United States needs to be very cautious -- and not do anything on the ground in Iran that would allow the incumbent government to to evade "the death to the dictator" chants directed at it by distracting the country with evidence of credible external interventions.
This phase in Iran's next revolution could subside again before an even larger explosion by embedded protesters. It's just too hard to tell at this moment.
But as Iran expert Barbara Slavin just wrote to me, things don't look good for Khamenei and his government. She wrote to me via Facebook: "[Khamenei] is stuck. If he begins to compromise, he's lost -- and if he doesn't, he's lost."
UPDATE: This video shows that the protesters are trying to win over the police. This is a fascinating clip of police and protesters on the edge -- but trying not to go over what would be potentially horrible lines:
Calling all HuffPost superfans!
Sign up for membership to become a founding member and help shape HuffPost's next chapter