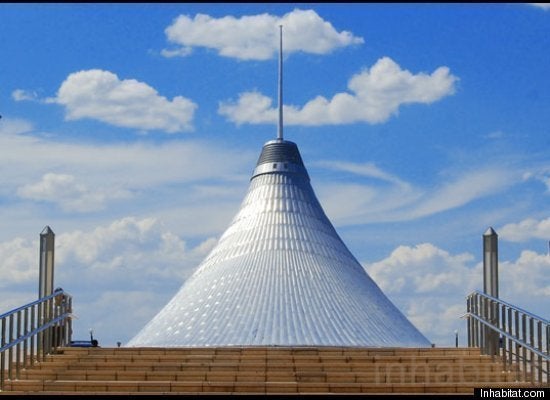 The world's largest tent Khan Shatyr has debuted in Kazakhstan's capital city, Astana.
The nearly 500-foot tall structure is host to a variety of exciting green features, designed by Foster And Partners, who are known for implementing inspiring sustainable techniques in their other creations, like the Virgin Galactic Spaceport and the Queen Alia Airport.
Inhabitat reports that the arid region of Astana is subject to drastic shifts in temperature, so the Khan Shatyr is designed to remain between 60 to 85 degrees Fahrenheit, even when the outside atmosphere can vary from -30 to 95 degrees Fahrenheit.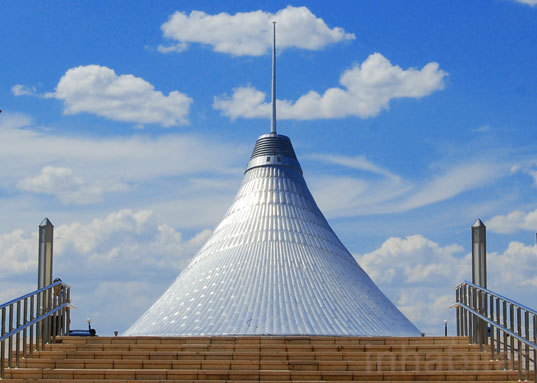 The tent accomplishes this climate control in an efficient way by utilizing three translucent layers of ethylene tetrafluoroethylene (ETFE) fabric. Take a look at lush greenery inside of Khan Shatyr basking in the sunlight brought in from the illuminating material in this photo.
In the winter, this exterior channels light and warm air to prevent condensation. In the summer, the cool air displaces the hot air which is vented through the top.
A 492-foot tripod column runs up the center of the tent, supporting a web of cables attached to the EFTE skin, stretching out to a radius of over 650 feet. Take a look at this incredible photo that shows the central tripod stretching from the uppermost peak down to the bustling visitors below.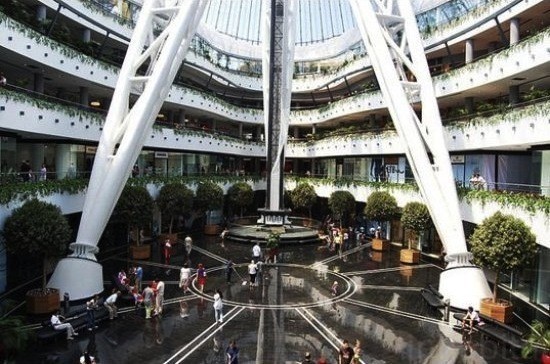 Related
Popular in the Community