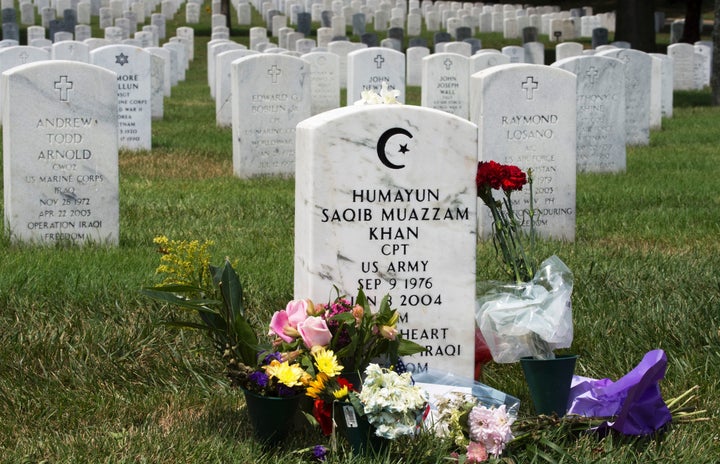 ARLINGTON, Va. ― In an overlooked part of the speech that provoked an extended outburst from Republican presidential nominee Donald Trump, Khizr Khan said Trump should visit Arlington National Cemetery.
"Go look at the graves of the brave patriots who died defending America ― you will see all faiths, genders and ethnicities," Khan, the father of Army Capt. Humayun Khan, said last week.
Khan is right. His son Humayun's headstone is one of several bearing a Muslim crescent symbol at Arlington National Cemetery. The vast majority have Christian crosses, but others have Jewish, Buddhist and even Wiccan symbols. 
There are more than 400,000 people buried in Arlington National Cemetery. Some of them are famous, but most of them are not. They cemetery doesn't keep records of the religions of the servicemembers, veterans and family members interred there, but there are more than 100 symbols to choose from for headstones, representing different denominations, faiths and beliefs.
Some people who visit the cemetery are family and friends of the deceased, but many are tourists. The cemetery encourages them to do what Khan asked of Trump: wander through the rows of headstones, read the names and think about the people they name.
Video by Niha Masih/HuffPost RYOT
Humayun Khan, who was killed in Iraq 2004, is buried in Section 60 along with a number of others who fought in Iraq and Afghanistan. In the immediate vicinity, the headstones of Andrew Todd Arnold and Ryan E. Doltz, both of whom died in Iraq, are marked by crosses. In another portion of Section 60, there is a symbol of the Sikh faith on the headstone of Sgt. Uday Singh, the first U.S. soldier of that religion killed in the war in Iraq.
One of the handful of Muslims honored there is James Ahearn, who was killed by a roadside bomb in Iraq in 2007. Raised Catholic in California, Ahearn converted to Islam so he could marry a woman he'd met in Baghdad. His brother Kevin Ahearn told The Huffington Post he wondered if there'd be any anti-Muslim backlash when James Ahearn died, but there wasn't.
"It's kind of what America's supposed to be," he said.
Kevin Ahearn, 48, is a Democrat. (His late brother was a Republican.) He said he watched the Khans at the DNC and pictured his parents on the same stage. He said he's been dismayed by Trump's prolonged response to the Khans this week.
"To see he turned it into another of those tweeting wars, it was disgusting," he said.
It is always heartwarming to go there and pay attention to tombstones which contain symbols of various religions, faiths and genders. That is what the real America is."

Khizr Khan to The Huffington Post this week
Trump's response was also upsetting for Rabah Taha, whose brother Ayman Abdelrahman Taha is buried in Section 60. The Sudanese-American and Muslim Army staff sergeant was killed in Iraq in 2005 during his second tour of duty. Ayman Abdelrahman Taha was working on a Ph.D. in economics and spoke multiple languages, and his team viewed his knowledge of Arabic and understanding of Muslim culture as an asset, Rabah Taha said.
She said she didn't think that the Khans could have put it better.
"Trump's response, not that it was surprising, was really horrific," Rabah Taha said. "But I feel good that Khizr Khan brought the issue to light, and I think it will shed light on the fact that there are Muslims who serve in the Army, that they see themselves as American and that they have sacrificed just as much as anyone else."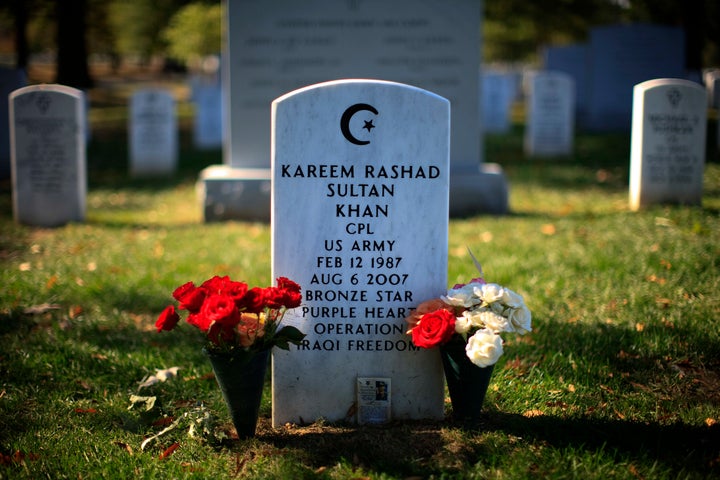 A bit further away but still within Section 60 lies Army Cpl. Kareem Rashad Sultan Khan, who was killed in Iraq at the age of 20 in 2007. A photo of the Purple Heart recipient's mother at his headstone, marked by a crescent moon symbol, helped inspire former Gen. and Secretary of State Colin Powell, a Republican, to speak out against anti-Muslim rhetoric and endorse President Barack Obama in 2008.
At least one of the Muslims in Section 60 isn't American. Iraqi Security Force Capt. Ali Hussam Abass Alrubaeye is buried there along with four American airmen, after they died together in a plane crash in 2005.
Khizr Khan told HuffPost that the cemetery "is the reflection of true America, that America is built by everybody not by one religion or race or one generation."
"It is always heartwarming to go there and pay attention to tombstones which contain symbols of various religions, faiths and genders," he said. "That is what the real America is."
Niha Masih contributed reporting.
REAL LIFE. REAL NEWS. REAL VOICES.
Help us tell more of the stories that matter from voices that too often remain unheard.
BEFORE YOU GO