WASHINGTON ― Khizr Khan, the father of a Muslim American Army captain killed in the Iraq War and a forceful critic of Donald Trump during the 2016 campaign cycle, on Tuesday urged Americans protesting Trump's presidency to keep up the fight.
"People ask me: 'What do you advise under the current circumstances?'" he said, addressing a conference hosted by the progressive think tank Center for American Progress. "This is my humble suggestion to all of us: Under these circumstances, all of us patriots need to remain standing in unity, support one another, continue to speak louder."
"Support those candidates, support those officeholders who fully understand your democracy, our democracy, our values," he continued.
Since the election, Khan has continued to speak out against Trump, promote civil liberties, and support veterans and Muslim Americans. His remarks on Tuesday again referenced his DNC address against Trump.
"My offer to Donald Trump to read the Constitution remains standing," Khan said. "One more time, he has proven that he is unfamiliar wth the basic tenets of democracy, our values."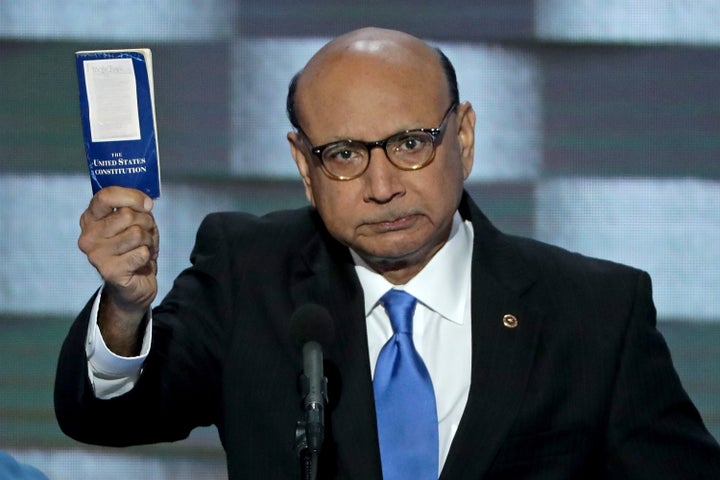 Khan said Trump's presidency so far has produced "violation after violation of our basic tenets of our constitution" and lamented that "our system of government, where we cherish separation of powers, has been maligned, time after time."
He reminded the audience that, around the world, people continue to look to the United States as a model, but "we do make mistakes."
"We do make mistakes, like last election. We made a mistake," Khan said. "We will correct it. We are correcting it." 
Khan praised "the resistance" against Trump and urged them to continue holding Trump accountable, specifically referring to the protests against Trump's travel ban targeting majority-Muslim countries and recent GOP town halls that were packed with constituents.
"In democracy, when you find that your government is not serving your concerns, the only solution you have is resistance," he said. "Stand up, speak louder, call your senators, call your congressmen, tell them that if you don't speak on our behalf, if you do not address our concerns, we will never vote for you, we will never stand with you, we will never contribute a penny."
Calling all HuffPost superfans!
Sign up for membership to become a founding member and help shape HuffPost's next chapter
BEFORE YOU GO
PHOTO GALLERY
Trump's First 100 Days