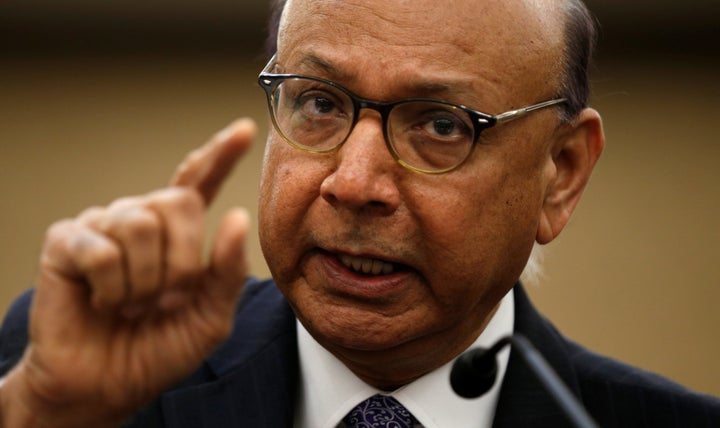 SEATTLE ― Standing before an audience that included Japanese-Americans who had lived behind barbed war during World War II, Khizr Khan was visibly emotional.
"Please take note of this moment," Khan said. "It will serve as a guiding light, as a moral compass."
He addressed the row of elders sitting in front of him, some wearing the caps and decorations of U.S. military veterans, who remembered Feb. 19, 1942 ― the day President Franklin Delano Roosevelt signed the executive order that eventually forced them from their homes and paved the way for their imprisonment at horse tracks and fairgrounds, and then isolated prison camps, during World War II.
"I am so humbled, so honored, to be sitting before you," he said. "It's just a reminder for me to gain strength. From your sacrifice, the communities under stress today gain strength."
Khan ― a Muslim American lawyer whose middle son, Army Capt. Humayun Khan, died serving in Iraq, a loss that led him to deliver an impassioned speech at the 2016 Democratic National Convention with his wife, Ghazala ― was in Seattle to commemorate Feb. 19, the Day of Remembrance.
He invoked Japanese-Americans' military service and their decades-long fight to gain recognition from the U.S. government that their incarceration was a shameful period in American history that should never be repeated.
That lesson, he added, is one "our leaders have become increasingly bold in unlearning."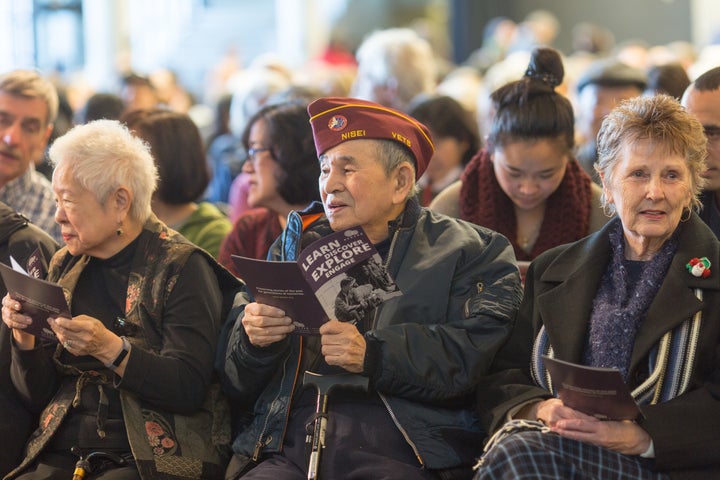 Khan noted how the discriminatory wartime policies Japanese-Americans had suffered were being cited, by some allies and associates of President Donald Trump, as precedent for proposals like a Muslim registry. Three-quarters of a century after Roosevelt signed Executive Order 9066, a new series of presidential executive orders targeting people from largely Muslim-majority nations has been challenged in the courts.
"Two times in my life, I've lived under martial law," Khan said. "I know how it feels to be dehumanized in your own country because of these authoritarian leaders. I see the similarities that are taking place in this blessed nation. Rule of law, sanctity of the courts are being challenged."
But he insisted on optimism: "I am hopeful, I am certain this moment will pass."
A Virginia resident, Khan described witnessing the white supremacist rally in Charlottesville last August ― but also what followed a few days later. Thousands of people "came out on the streets, candles in hands, to show our children … that display is not our America," he said.
"Virginians decided we would take our destiny back from Washington. They came prepared to stand in line to vote," he added. Just a few months later, he noted, Charlottesville had elected Nikuyah Walker, the city's first black female mayor.
"This nation has always risen to the occasion," he said.
HuffPost interviewed Khan after his speech in Seattle, which included a conversation with Tom Ikeda, executive director of the Japanese-American history organization Densho, and Michele Storms, deputy director of the ACLU of Washington. View the entire program here, and read his additional comments below.
This interview has been edited for clarity and length.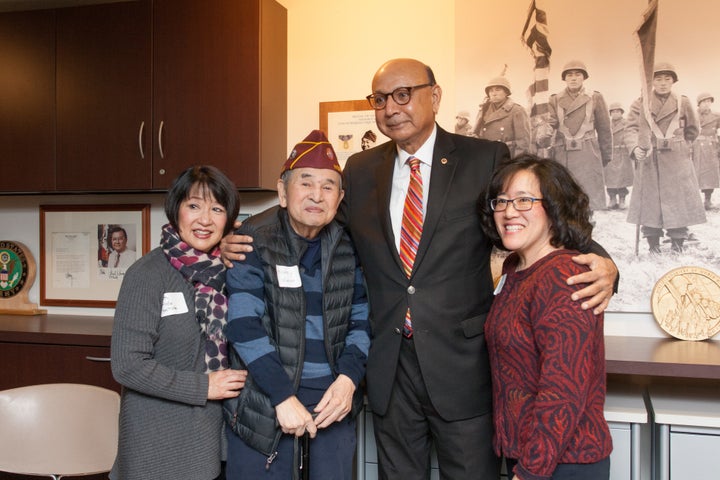 My grandparents were incarcerated with their families as teenagers during World War II. One of the things my grandpa tells me is that hardly anyone stood up or spoke up about what was happening to their Japanese-American classmates and neighbors ― but he says that today, Americans would protest. Do you agree? Do you think we've changed and moved forward since then?
Yes. I think we have become a better nation because of Japanese-Americans' experience and their sacrifices. This is how we have become better. After I spoke at DNC, we received an amazing amount of support letters and cards, and one letter stands out that answers your question. This was written to us by an Army retired nurse. She served in the Second World War. She wrote about 26 pages about her experience ... and on the 26th page, she writes to us: Mr. and Mrs. Khan, please continue to speak; had more people spoken before the Second World War, we could have avoided the atrocities that were committed.
And not very many people spoke. But today, because of those experiences and your family's sacrifice, including the moral compass that that sacrifice has created for this nation, this entire nation will be outraged if anything of that sort is ever committed in our nation. So, morally and legally, we are in much better position today to stand up against injustice, against atrocities that were committed that your family went through.
A little over a year ago, there were people rushing to airports to protest Trump's travel ban against Muslim-majority countries. What went through your mind?
I was saddened that this was happening in my country. I was shocked. I was not expecting that this would be happening. I have always cited Japanese-American experience ― that infamous executive order, that an atrocity of this sort, in violation of the Constitution of the United States, was committed against Japanese-Americans also, in the name of national emergency, in the name of national security; that sentiment had been exploited before also. And Muslims are the current victims of it. … That was racial discrimination in violation of our Constitution, and this is religious discrimination in violation of our Constitution.
So I was disappointed, I was disheartened, but seeing the support that was visible at airports, on the streets, in the media, none of that existed during the time of Japanese-American incarceration, hardly anybody spoke against that executive order, so we have come a long way because of that experience.
Decades ago, the Supreme Court found that the incarceration of Japanese-Americans was a "military necessity." That decision was never overturned, though it has not been treated as precedent. Do you think we can count on our courts this time to protect people's constitutional rights?
I am faithful. I have my utmost faith in our judiciary, in our legal system and our courts. It is courts that have [recently] blocked that sort of unconstitutional executive order. I just cite this for example, but if, God forbid, for some reason Muslims are subjected to the same injustice as the Japanese-American community was during the Second World War, if Muslims are subjected today, this nation will be up in arms.
So if Muslims are safe today to some extent, if Muslims are looking up to the judiciary to some extent, it is based on the Japanese-American experience. … Every court you go to, that experience is kept in mind. The judges keep that experience in mind, lawyers cite in front of the court, look, this has been done before and this nation is embarrassed and ashamed and has apologized for that mistreatment.
"I am hopeful, I am certain this moment will pass."
The Japanese-American experience, I wish we could speak more about it. … There should be seminars, on Veterans Day there should be seminars for our future generations to remember, and the people who can speak with authority ― we still have those patriots among us, like your grandfather, like others. They should be present when this conversation takes place nationwide, so that we continue to learn from it. There's so much that needs to be learned.
The reason they gain courage to even speak about it is because the majority of the nation has forgotten that experience, has forgotten that embarrassment and that atrocity that was committed against my Japanese-American brothers and sisters. Had more of us been aware of that suffering, less people would have the courage to justify that for a Muslim ban, for creating a registry, because the majority of the nation is not aware of it. Therefore, it is obligatory on all of us, you and I, that we speak about it.
Many Americans saw Japanese-Americans as the enemy, as outsiders who could never be assimilated ― and there are people in the U.S. who see Muslim Americans that way now. How do you reach out to those people who aren't sympathetic and change their minds?
Well, some hearts cannot be changed, but some can be. I think we are a fairer nation. That is my humble observation, because of my standing in front of 176 communities throughout the country ... so I have seen that the majority of this nation has an open mind and open heart, and they ought to be just reminded.
Some will never understand that this is [2018], not 1942. The world has changed. ... If you continue to build walls and remain secluded, you will suffocate yourself. They should be warned and they should be told that these practices of division and isolation and hatred, it has not won in the history of humankind, it has always lost, and the consequences have been grave. Look what happened in Germany, that experience. Look what happened to the Japanese-American community.
Therefore, we should embrace one another, we should move forward, we should not try to re-create the 1940s, 1930s ― we should appreciate 2018 and move forward.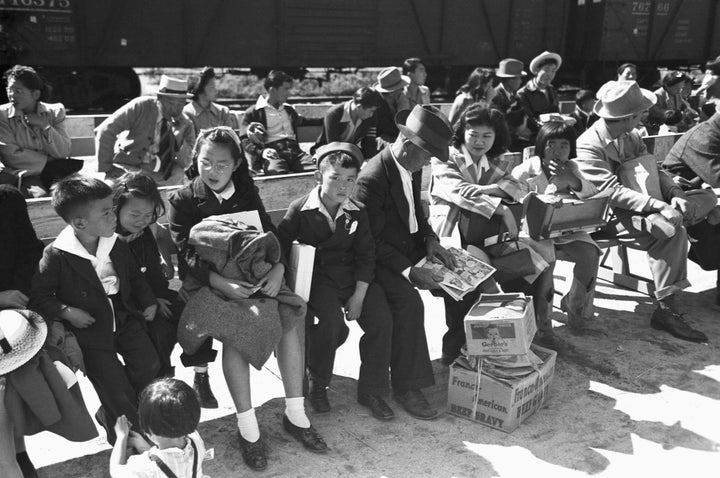 You've mentioned people who serve as a "moral compass" in this country that we can all learn from. Who are the people or movements inspiring you in the last year?
Well, in Seattle, I was standing in front of them. They are my hope. Believe me, I am a very sentimental person, and I was in full cognizance of where I was standing, in front of whom I was standing, and, deep in my heart, I had a small fraction of realization of how they had suffered. When I was writing those words, I was totally emotional because I was realizing what it would have taken for a decent, peace-loving, humble, modest, good-hearted, peaceful people to leave everything behind and just carry their suitcases and clothes with little children.
Not only that, but when their sons and their fathers and their brothers were fighting for this nation. Wow, how brave and courageous and patriotic when they said they would bear this burden as well. They offered their lives in defense of this nation so bravely, so that gives me courage. That gives me inspiration. These folks, I was standing in front of them, I shook their hands. That reminder is a source of encouragement for me.
What more would you like to see people ― not only Japanese-Americans, but any people ― do to stand together with Muslim Americans and other communities that are being targeted by these policies?
Well, first, remain faithful, remain hopeful. Don't be discouraged by the difficult moment. Reflect back how others have gone through a more difficult time.
Participate, so we elect better leaders, so we elect those leaders who are cognizant that these atrocities were committed in the past, so that if anyone dared to inflict such indignities, such atrocities, upon any other group, electing better leaders, electing the leaders who are fully aware of the history of this nation. And that only can happen by participation, so I urge every person from every state, from every district, to participate, go support them, go contribute to their campaigns, assure them on the day of election, take five of your friends, all of your family members, insist that we all go and vote and vote for the right leaders.
Popular in the Community