Khizr Khan ― the father of a Muslim American war hero killed in Iraq ― wants the growing movement against President Donald Trump's refugee and travel ban focused on seven Muslim-majority countries to remain non-violent, lest it gives Trump an excuse to further erode civil liberties.
Protesters, Khan told HuffPost in a recent interview, need to "remain careful and vigilant."
"Remain peaceful, because their effort will be to incite and entice violence so that then they can claim that this stronghand, that this law-and-order situation demanded that we take further measures of violating our civil liberties," Khan said.
Khan gained prominence as an activist in 2016 after delivering a powerful speech at the Democratic National Convention in which he offered to give Trump a copy of the U.S. Constitution. In response, Trump infamously ― and falsely ― suggested that Khan's wife, Ghazala Khan, wasn't allowed to speak at the convention because she is a Muslim woman.
Since Trump's election victory, Khan has continued to speak out against the Trump administration ― which he refers to as a "clown show" ― for scapegoating and disparaging Muslims.
Khan said that while he is in awe of the thousands of protesters who flooded airports in response to Trump's executive order banning refugees for 120 days, Syrian refugees indefinitely and people from seven Muslim-majority countries from entering the nation for 90 days, he's deeply concerned the order was allowed to happen in the first place.
He is particularly "discouraged" and "disheartened," he said, by Republicans' unwillingness to speak out against Trump's executive order, which many people saw as a step toward the Muslim ban he touted on the campaign trail. But Khan said he still has hope.
"Our patriotic leaders, our Republican leaders, will realize that such behavior is contrary to our values, is contrary to the Constitution and the protections granted to all of us through the Constitution will prevail," he said.
"And the patriots that are heading the Department of Defense, the Department of Homeland Security, Department of State, will put their foot down and stop this mockery of our civil liberties, mockery of our rights coming from the four walls of the White House."
After the U.S. Court of Appeals for the 9th Circuit upheld the suspension of the executive order last week, Trump responded with a tweet. "SEE YOU IN COURT," it read, suggesting the administration is willing to defend the ban in the Supreme Court. The administration has also said it would consider issuing an entirely new executive order on the issue.
"I ask all Muslims, all good Americans to remain vigilant, look after one another," Khan said. "Walk carefully. Stand carefully. Gather carefully. Be vigilant."
Khan says he and his family have taken security precautions since he has become a public figure amid rising anti-Muslim sentiment.
"I travel with caution," he said. "My family is in good hands. So nobody dare think of any harm to anybody, for one second."
"We are patriotic Americans," he added. "I speak because my country, my nation has given me the right to speak. I am not a leader, I'm not a speaker, I am an ordinary citizen of this country exercising my right to speak and I will continue to do [so]. I speak because I am concerned about ― of the violations, of the values, the goodness of this country."
Khan's son, U.S. Army Capt. Humayun Khan, was killed in Iraq in 2004. When a vehicle packed with explosives drove toward his unit's compound, the 27-year-old ordered his soldiers to seek cover. He ran toward the vehicle, saving their lives, and died when the vehicle exploded.
He was posthumously awarded a Purple Heart and a Bronze Star.
Khan said his offer to give Trump his copy of the Constitution still stands.
How will Trump's first 100 days impact you? Sign up for our weekly newsletter and get breaking updates on Trump's presidency by messaging us here.
Before You Go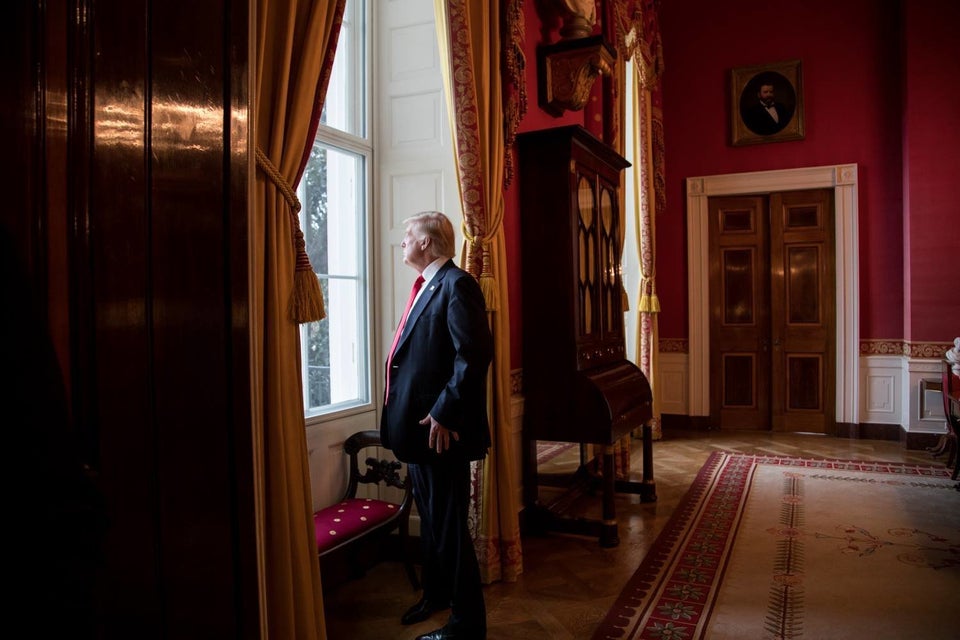 Trump's First 100 Days
Popular in the Community