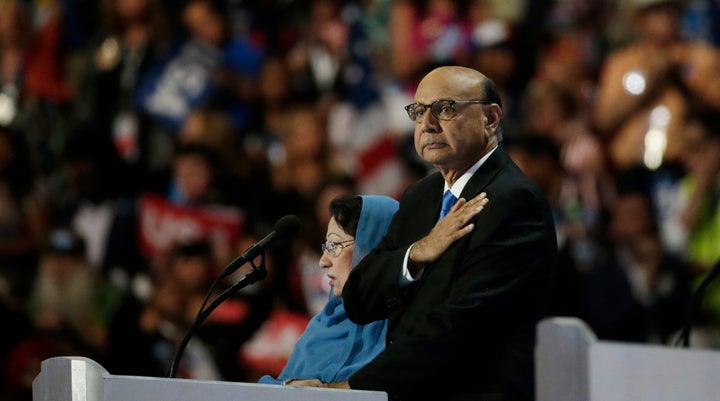 WASHINGTON ― One of the most memorable moments at the Democratic National Convention in July was a speech by Khizr Khan, a Gold Star parent who challenged Donald Trump on what it means to be a patriot. But Khan wasn't sure if he even wanted to give his speech — until he remembered a conversation he had with a group of Muslim children.
Khan said Thursday in a talk at the Georgetown University Law Center that his decision to give his speech — which included his observation that if it were up to Trump, Khan and his family wouldn't be allowed in the U.S. — was inspired by the fear he saw in the eyes of the children of his family and friends who thought they might be banned from America because of their religion.
"Whenever we would go visit family and friends, their children would come to me and say, 'You're a lawyer: Can this happen? Can we finish our middle school?'" said Khan. "Parents would say their children can't sleep or eat well. When they ask them to do their homework, they say, 'We'll be thrown out anyway — we're not doing our homework.'"
Khan said he knew he would face extreme backlash for his speech from Trump supporters, and he hesitated before agreeing to speak. Ultimately, he decided it was worth the risk if it meant helping those children feel safer.
"Behind all those words, there was only one reason — those little kids that came and told me that," Khan said. "I could see from their eyes and their faces how scared they were. They have written back to me, some have called, and said they feel so strong after I spoke. They said that they wanted to learn more about the Constitution — these little kids!"
Khan, who has been invited to speak across the country since his appearance at the convention, is a Pakistani Muslim who immigrated to the United States in 1980 with his wife, Ghazala, and his children.
Their son, Army Capt. Humayun Khan, posthumously received a Purple Heart and a Bronze Star for protecting his fellow soldiers from a bomb blast in Iraq in 2004. 
Khan famously waved his pocket-sized copy of the Constitution at Trump during his convention speech, and on Thursday, he urged people to keep the document's principles in mind when heading to the polls. 
"We must always remain cognizant of our rights, of our Constitution, and of our democracy," Khan said. "If we select the right leaders, we will make our institutions better, our nation better, and our legal system better, and we won't have the type of adversity we would have if the other side wins."
Calling all HuffPost superfans!
Sign up for membership to become a founding member and help shape HuffPost's next chapter
BEFORE YOU GO