The 31-year-old says she recently played the game with a few friends, who came up with the new twist because, "According to some guys, friend-zoning is worse than death, anyway!" 
KoKo shared three rounds of the game on her website/app, the third of which included Bill Clinton, Barack Obama and George W. Bush. 
"Firstly, I just need to friend-zone George, LOL! I'd marry Obama, for sure. And I guess that means I do it with Bill!!!" she wrote underneath a photo of the former and current presidents.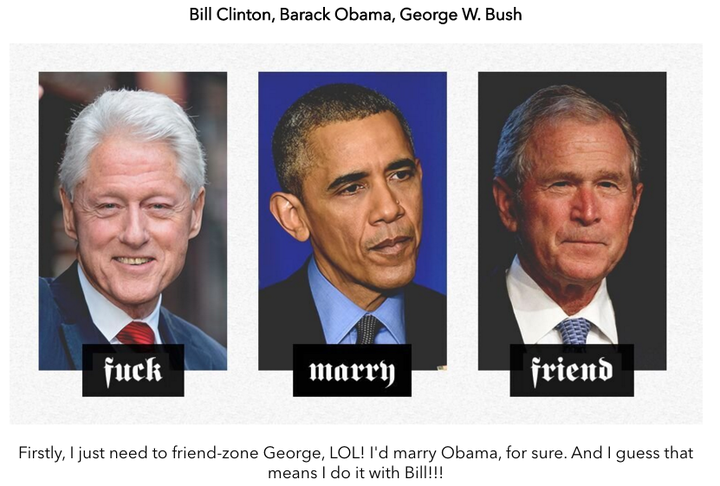 For her first two rounds, Khloe kept things a little less shocking. First, she debated on her favorite female comedians: Sarah Silverman (f**k), Tina Fey (marry) and Chelsea Handler (friend-zone). 
"I'd friend-zone Chelsea because we're good friends in real life and I love her!!! I'd marry Tina Fey because she seems like she'd be a good wifey. And I'd definitely f**k Sarah Silverman," she wrote. "She's smoking hot, haha!"
And secondly, she decided between three Disney Princes: Beast (f**k), Prince Charming (marry) and Aladdin (friend-zone).
"Of course I'd marry Prince Charming. No brainer!" she commented. "I'd f**k the Beast -- I did want to f**k the Beast back in the day, LOL. I'd friend-zone Aladdin because he doesn't do it for me, but I'd let him take me on a magic carpet ride, haha!" 
Lucky (or unlucky) for us, Khloe says there are plenty more "F**k, Marry, Friend-Zone" posts to come. 
PHOTO GALLERY
Khloe Kardashian
Calling all HuffPost superfans!
Sign up for membership to become a founding member and help shape HuffPost's next chapter