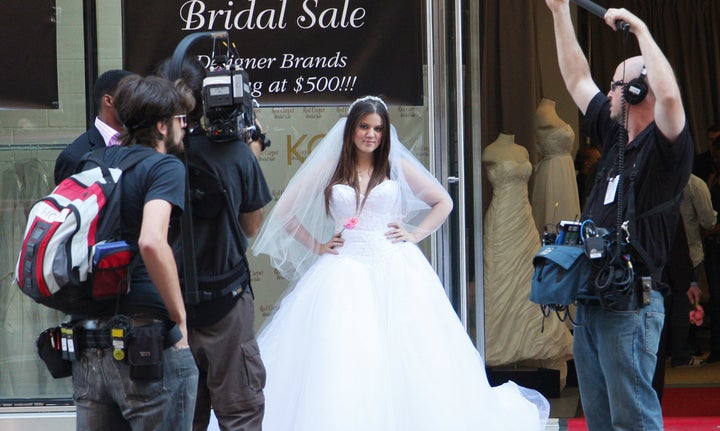 Another lifetime ago, in 2009, Khloe Kardashian appeared on the second season of "The Celebrity Apprentice," then hosted by current Republican presidential candidate Donald Trump. She did pretty well, too, making it to the sixth round before getting fired.
Suffice it to say it was not a particularly memorable experience for Kardashian. When we recently confronted her with a reminder that she was on the show -- which placed her on a team with Joan and Melissa Rivers, the poker player Annie Duke and T-Boz of TLC, among others -- Kardashian looked surprised and then admitted that she forgot she had been on it. She hadn't even been particularly invested at the time, she added. 
Asked whether she took to heart any of the business lessons Trump purportedly taught through his reality series, Kardashian paused, then said Trump didn't interact with contestants outside of firing them in the boardroom. 
But while Kardashian might not have taken away much from her interactions with Trump, she did take a few things away from a couple of her teammates.
"I learned a great deal from Joan Rivers and Melissa Rivers," the reality star said. "I love Joan as a businesswoman. It's just amazing how long she made her career go for and just how wonderful she was to everyone around her."
She then added that the main lessons she took from her teammates were "personal" in nature.
In its second season, "Celebrity Apprentice" split up contestants into teams of women and men, landing Kardashian on team Athena, named for the Greek goddess of wisdom, and the men on team KOTU, an acronym for "Kings of the Universe." Kardashian helped her team to victory in four challenges: baking cupcakes, creating a comic book character, selling wedding dresses and running a New York City hotel.
But she missed part of a task in order to complete a court-ordered DUI class in Los Angeles, and was eliminated in the sixth episode. Trump, apparently, was not aware his contestant had received a DUI, and in a final scene in "the boardroom," told Kardashian how he "hate[s] people who drive under the influence." In a blog post, the reality star shared her take on her firing.
"I will NEVER say that what I did was right, but I think it is completely unrelated to my place on the show and I don't think I should have been fired for that reason alone," she wrote. "I have tried to bring awareness to how serious DUIs are and I am trying to make some right out of my huge mistake."
But her experience on "Celebrity Apprentice" wasn't for naught, introducing her to an inspiring entertainment business icon in Rivers, who died unexpectedly in 2014.
"Even as a businesswoman, [Joan Rivers] had her hands in a ton of different projects. She never slowed down, and I really respect that," Kardashian said. "It's kind of me and my sisters' hustle."
REAL LIFE. REAL NEWS. REAL VOICES.
Help us tell more of the stories that matter from voices that too often remain unheard.
BEFORE YOU GO
PHOTO GALLERY
Kardashian Kids