But "Keeping Up With the Kardashians" cameras captured Khloe opening up about the situation hours after she gave birth. E! released a short clip of the moment on Thursday, ahead of an episode airing this Sunday.
"Is everyone writing you?" her sister, Kourtney Kardashian, asked Khloe while standing next to her hospital bed.
"Too many people, but writing about both things [the cheating and her giving birth]," Khloe responded quietly. "And I'm like, 'Shut up.' I don't have the energy for that right now. Like, everyone, leave me alone."
"I feel like everyone just wants you to feel that you're supported," Kourtney said, as Kim looked on. 
"I appreciate that, I do," Khloe answered. "It's also, everyone has their own shit that I know nothing about and mine is thrown on the public of everything."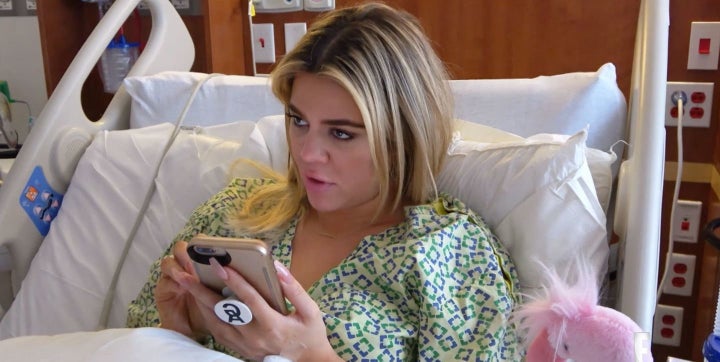 "It's just a lot harder to filter through stuff when it's this public and when I gave birth the following day. It's just too much," she added, putting her hand over her chest. 
In a previous episode of the reality TV show, Khloe explained why why she wanted Thompson in the delivery room with her, despite everything that he'd done. 
"It's like, everyone wants me to make a decision right this second and I just want to go and give birth and focus on that and try to enjoy this and try to enjoy it with him, as crazy as that sounds," Khloé said at the time.
"I want to enjoy this with him. I don't want any negativity in the delivery room. I don't want anybody to talk about it, make me feel uncomfortable or make him feel uncomfortable. Let's just act normal. Give me a minute." 
According to a tweet she posted earlier this month when the traumatic episode aired, the 34-year-old is still happy with her game-time decision. 
Despite the cheating scandal, the two are still together. 
REAL LIFE. REAL NEWS. REAL VOICES.
Help us tell more of the stories that matter from voices that too often remain unheard.