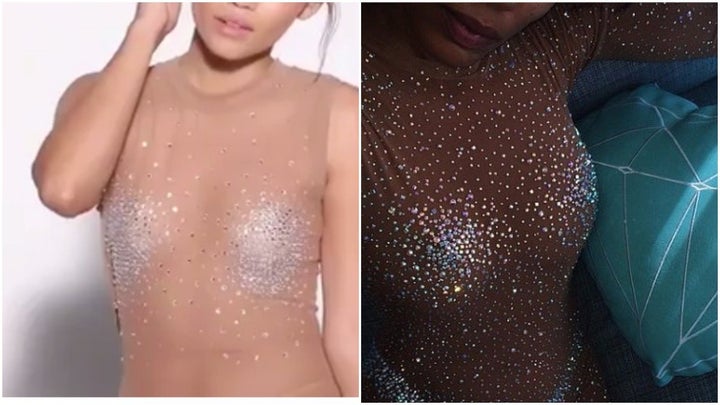 On Thursday, Kardashian tweeted a promotional video for Good American. One model wears a sparkly top resembling Bleu's "Toxic" jumpsuit, which has a sheer, flesh-tone top with two bursts of sparkle on the chest.
Bleu then shared Kardashian's tweet with the allegation that Kardashian purchased Bleu's designs as well as ordered custom pieces, and then copied them for Good American.
"When someone buys 1 of everything on your site, has you make them custom [DBleudazzled] work, never posts it or wears it, then copies it," Bleu posted.
The Good American top in question is not currently available for purchase on the brand's website, and the company has not yet responded to a request to confirm ― as Bleu alleged ― that the clothes in the video are set to be sold.
A spokeswoman from Good American denied Bleu's allegations in an email to HuffPost.
"Under no circumstances did Good American or Khloe Kardashian infringe on another brand's intellectual property and we are going through the proper legal channels to handle the situation," she said.
But the brand didn't stop there. In what appears to be a defense of its designs, someone at Good American proceeded to post "inspo" images to its Instagram account of Cher, Diana Ross and Britney Spears wearing sheer and sparkly looks.
Bleu didn't respond to an inquiry by time of publication, but stated on Twitter that she's exploring legal action. She said she has previously created custom DBleudazzled pieces not only for Kardashian, but for her sisters as well. She posted photos of both brand's products and what appears to be a custom bra and panty set adorned with the name Tristan Thompson ― Kardashian's boyfriend.
She posted the photo with the hashtag "#receipts," seemingly suggesting the pieces are among custom items she created for Kardashian.
Bleu also tweeted that an e-mail she sent to Kardashian's assistant has gone unanswered. We have a feeling there's more social media sparring to come from both parties.