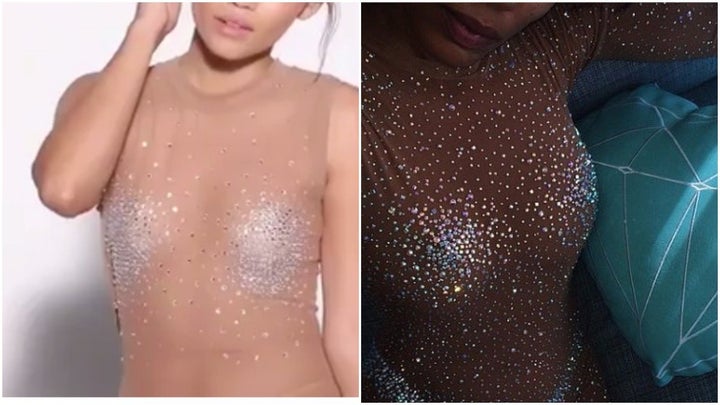 On Sunday, Bleu received a cease and desist letter from Kardashian's attorney that denies Good American's design team had ever seen her clothes. Now, she's fighting back with documents that appear to show both orders of clothing billed to Kardashian and correspondence with Kardashian's stylist and assistant.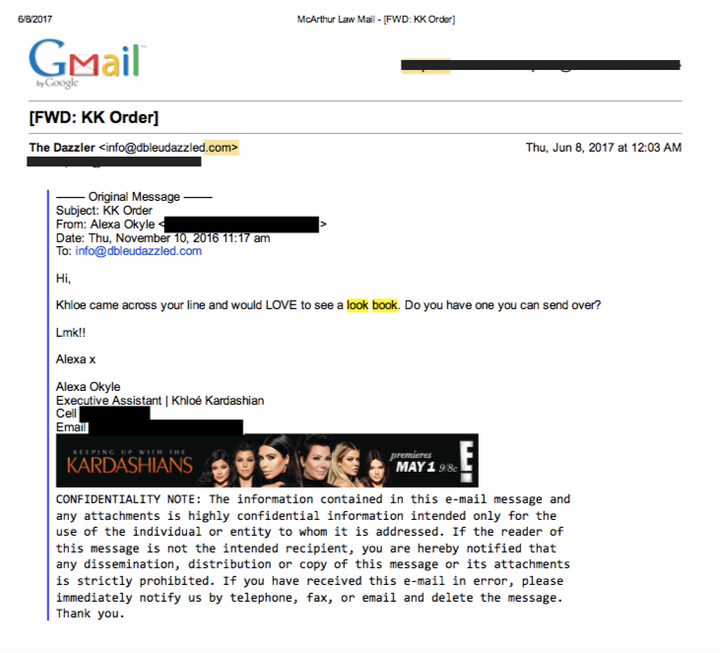 The cease and desist called Bleu's accusations "flagrantly false and defamatory" and detrimental to Good American and Kardashian's business and reputation. It denies that the brand was even influenced by the DBleudazzled line of encrusted sheer bodysuits, citing bodysuit-wearing celebrities like Cher as inspiration.
"Good American's design team had never heard your name and never saw your samples," Kardashian's attorney wrote to Bleu in a June 4 e-mail. "You are not the first person to ever design a mesh bodysuit with embellishments. You have neither a monopoly on nor copyrights for bodysuits, embellishments or mesh fabrications, which have been used over and over again in the fashion industry."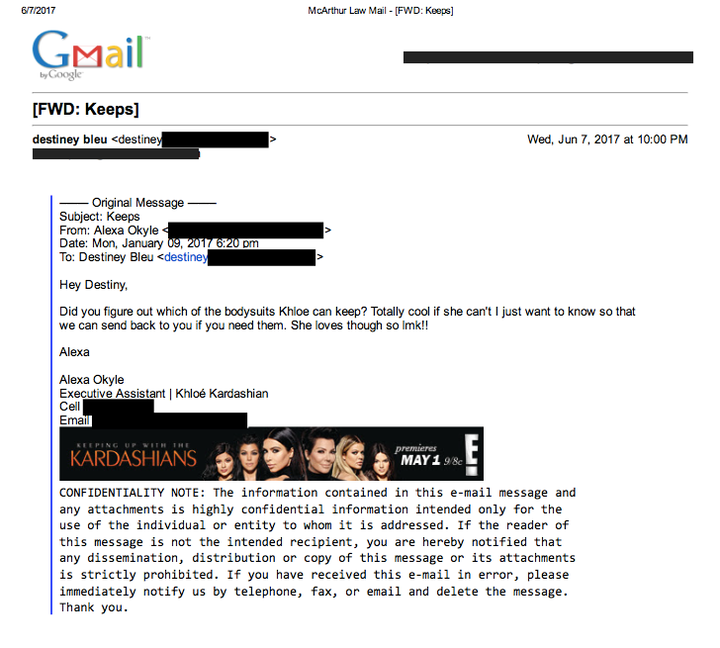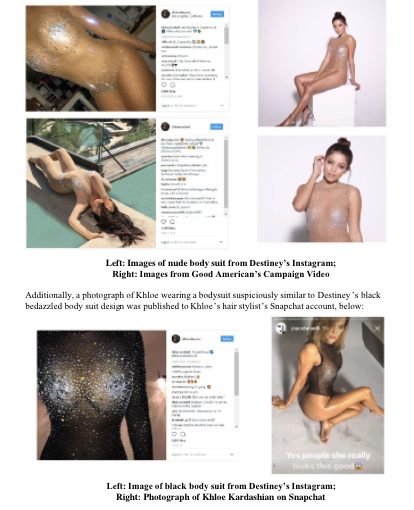 Bleu's attorney, Stephen McArthur, fired back June 8 in a letter obtained by HuffPost. It contains a timeline listing instances of correspondence dating back to October 2016 between Bleu and Kardashian's assistant, as well as Kardashian's former stylist Monica Rose, and includes dates for when Kardashian allegedly placed custom orders with Bleu.
The "receipts" don't stop there. Bleu's attorney attached invoices for three separate purchases from late 2016 through April that list Kardashian associates and "KK" as the customer.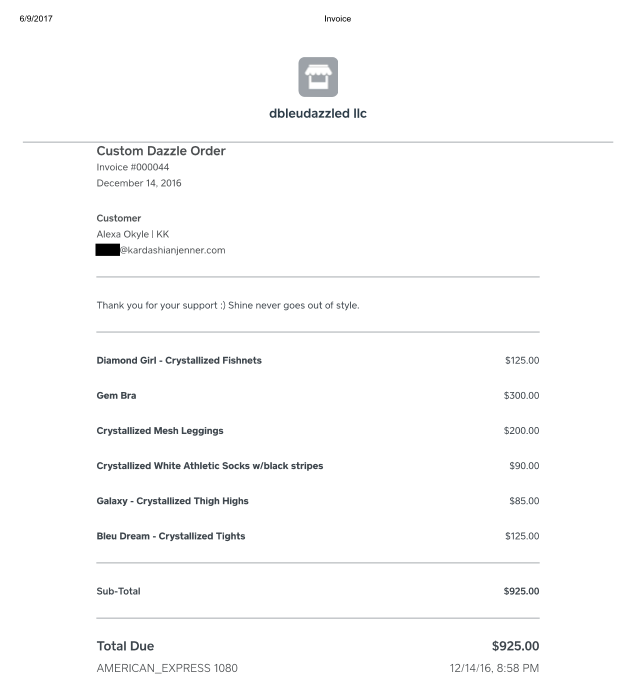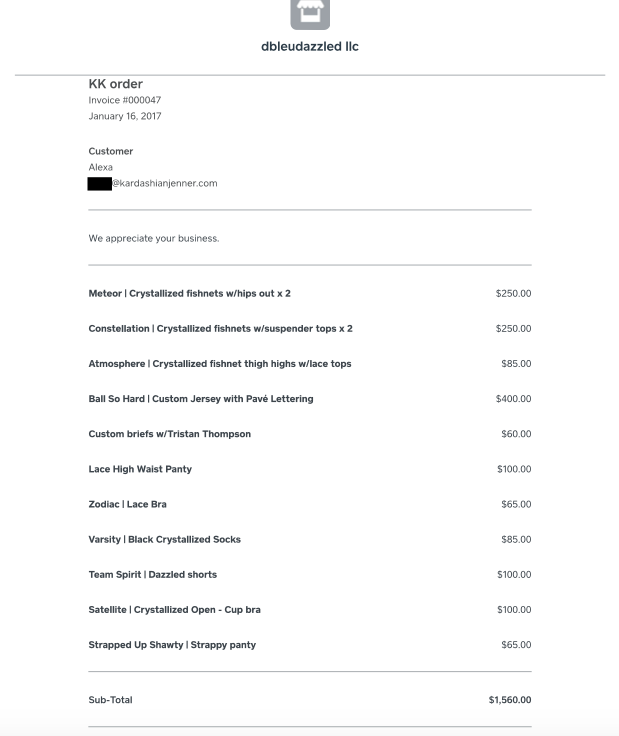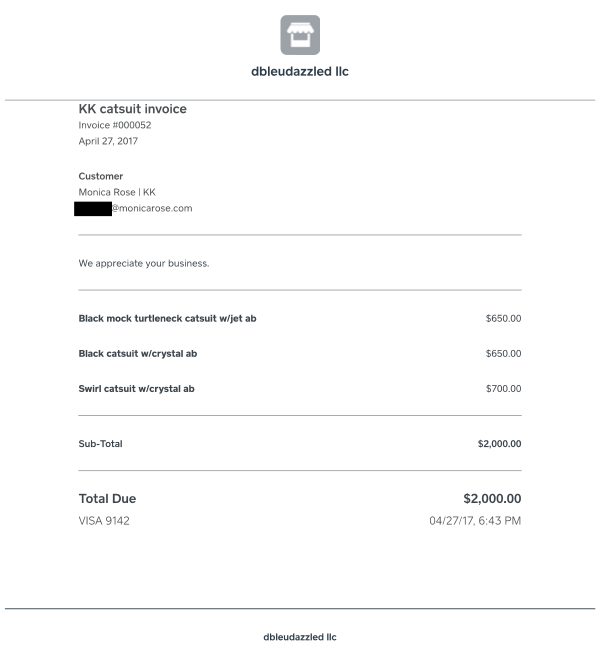 McArthur told HuffPost that he has not yet received a response to his letter from Kardashian or Good American.
In a statement, a Good American spokeswoman told HuffPost Friday the entire controversy is "little more than a cheap publicity stunt":
Ms. Bleu's claim that Good American and Khloe Kardashian copied or stole her designs is flagrantly false and little more than a cheap publicity stunt and an attempt by Ms. Bleu to get her 15 minutes of fame.

Ms. Bleu did not create the concept or design of a bodysuit with crystals – a fashion style that has been around for decades as evidenced by the fact that Cher has been wearing these styles for over 25 years. The Good American design team designed a range of eleven bodysuits and had never heard of Ms. Bleu or seen her designs. The letter from her lawyer ― sent to the press for no legitimate reason –- is outrageous, defamatory and misleading in the extreme. Good American will absolutely not stand for anyone trying to damage its reputation and plans to deal with this through the proper legal channels.
Bleu's attorney noted in his letter that "copying clothing and fashion is generally not intellectual property infringement." Such a charge, he wrote, is not the point.
"It is not illegal for Khloe to copy Destiney's designs — it is just tacky, disrespectful, and in bad taste. There is also something deeply uncomfortable about someone with Khloe's wealth and power appropriating designs and fashion directly from a black woman with a small business without crediting her, making cheap knockoffs, and then attempting to threaten her into silence. You should be ashamed."
"If Khloe wants to continue stealing designs from indie creators and mass produce them with no credit," McArthur stated, "then Khloe will rightly face judgment in the court of public opinion."
See the full correspondence below: