The "Keeping Up With the Kardashians" cameras capture everything for better or for worse. Seriously. Earlier this season we watched Kim Kardashian seek medical advice for a selfie-related injury.
But every once in a while, an episode comes along that makes the endless salad eating and manufactured storylines worth it ― like Sunday night's installment, which found the famous family confronting a cheating scandal. 
The reality TV star has remained mostly quiet about her relationship ― save for regular cryptic Instagram quotes ― but dove back into the drama over the weekend by live-tweeting the "super emotional" episode, recorded months earlier. 
The reality TV series was filming when the scandal broke, so viewers got to see reactions of most family members as they learned about it. Khloe, though, had temporarily moved to Cleveland, where Thompson lives year-round, to give birth, so she was away from "Keeping Up With the Kardashians" cameras. 
"There's video of Tristan making out with a girl last night," Kim said as she watched the incriminating footage on camera. "Khloé's going to die. She's literally going to go into labor over this."
She quickly sent the video to her other sisters, and each weighed in on the news.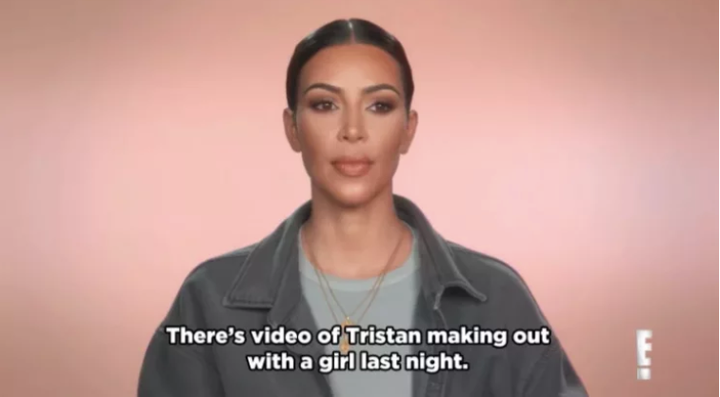 "I can't even imagine being in Khloé's shoes, just how reckless it all seems —this is really shocking and obviously heartbreaking," Kourtney Kardashian added. "The whole thing makes me disgusted."
Kylie Jenner was the one to pass along the news to Khloe herself, explaining that she felt her sister "should hear from one of us versus the internet."
"No one had the courage to tell Khloé because she's days away from giving birth and we didn't want to stress her out," Kylie said. "But we knew that it was the right thing to do."
Khloe later explained she was grateful to be without a camera crew when she learned about Thompson's infidelity. 
"Oh well thank God a camera was NOT with me in Cleveland!!!" she wrote on Twitter Sunday night. "I won't put in writing what I did but let's just say he's LUCKY I was 9 months pregnant."
Viewers, however, were privy to a phone call between Kim and Khloe in which the expectant mom expressed a desire to return to Los Angeles immediately.
"You just have to worry about yourself right now and be calm," Kim said.
"I can't be calm," Khloé responded "Not right now."
But shortly after, the Good American designer went into labor as her friends and family gathered around her, and she revealed she wanted Thompson in the delivery room for the sake of their daughter. 
"It's like, everyone wants me to make a decision right this second and I just want to go and give birth and focus on that and try to enjoy this and try to enjoy it with him, as crazy as that sounds," Khloé said. "I want to enjoy this with him. I don't want any negativity in the delivery room. I don't want anybody to talk about it, make me feel uncomfortable or make him feel uncomfortable. Let's just act normal. Give me a minute."
She defended that decision on social media, explaining that she put aside her own feelings to create a "beautiful birthing experience." 
Kardashian and Thompson are apparently now back on the mend, despite some reported bumps. 
After spending the summer together in Los Angeles, Khloe reportedly decided to return to Cleveland with the Cavaliers player in October as basketball season began.
When asked if Khloe was moving for good, mother Kris Jenner on a recent "Ellen Show" appearance would neither confirm nor deny, offering only a "maybe."
Calling all HuffPost superfans!
Sign up for membership to become a founding member and help shape HuffPost's next chapter