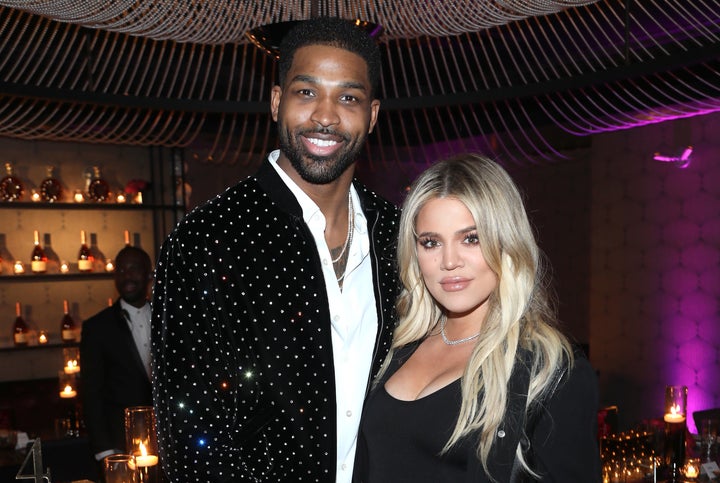 The Kardashian family has another baby girl on the way!
Fans found out Khloe Kardashian and Tristan Thompson will welcome a daughter during a pre-taped episode of "Keeping Up with the Kardashians" on Sunday.
Khloe received the baby news while she was on a trip with Kourtney and Kim. Little sister Kylie called to deliver the news from Khloe's doctor.
Khloe was stunned to find out that she was having a girl.
"I don't feel like I'm having a girl," the 33-year-old said on the show crinkling up her face. "I don't feel like I'm having a girl at all. I'm, like, in a state of shock."
Kim comforted her younger sister, telling her, "It's OK, I cried when I found out North was going to be a girl too."
Khloe later said she was so shocked simply because she was "convinced" she was having a boy.
"When you have your mind made up as to what you're having — like everyone told me you're going to feel what you're having and you'll just kind of know," she said, according to E! "And then when you find out it's the complete opposite, it's just a shock. I just was convinced that I was having a boy, so to be having a girl it's just like, 'OK, that wasn't what I thought was going on.'"
On Sunday, Khloe tweeted that her hormones had something to do with her reaction.
She also said she was excited that her little girl will get the chance to grow up with Kim's newborn daughter, Chicago, and Kylie's baby, Stormi.
The reality star admitted to her followers that she still doesn't know what she's going to name her daughter.

Kardashian and Thompson, an NBA player for the Cleveland Cavaliers, first sparked dating rumors in August 2016 and made their relationship official that fall. They confirmed that they were welcoming a child together in December 2017.
"My greatest dream realized! We are having a baby!" Kardashian wrote on Instagram at the time. "I had been waiting and wondering but God had a plan all along. He knew what He was doing. I simply had to trust in Him and be patient. I still at times can't believe that our love created life!"
Khloe reportedly has a few more weeks until she is supposed to give birth. We'll keep refreshing Twitter and Instagram until then.