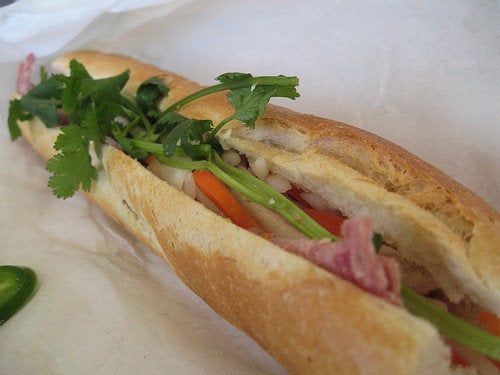 You've heard about pop-up clothing stores, but what about a pop-up restaurant? Three students from Washburne Culinary Institute first brought this revolutionary concept to Chicago in late February, and they'll hold a second pop-up event this Saturday. But what exactly is a pop-up restaurant, and how does it work?
Pop-up restaurants are typically a one-night only type of affair, but in some cases the place may operate for a few weeks or months. The business usually sets up shop in an existing restaurant or other space with kitchen access. In this case, the students will bring their pop-up to Delicious, a popular River North eatery which is conveniently closed on the weekends.
Fred Noinaj is the mastermind behind this fast-paced restaurant venture, joined by his fellow student accomplices Brian Hoffman and Chris Pedziwiatr. Following in Noinaj's family traditions, the pop-up features several Thai dishes and is appropriately called Khuin, the Thai word for "to rise."
For the second pop-up appearance on April 2, diners can expect a tapas-style dinner with plates intended for sharing. Some of the dishes have a street food theme, like doner kebab and Philly cheesesteak sandwiches and carnitas tacos. The menu has plenty of creative choices, such as the deconstructed Chicago dog, a skewer that comes loaded with all the fixings typical of the famous hot dog. For dessert, options like baked churros with cinnamon gelato will be difficult to resist.
If you want to taste the creations of Chicago's up-and-coming chefs, get your reservation by emailing Noinaj at fnoinaj@gmail.com by Friday at 10 pm. There will be some tables set aside for walk-ins as well if you decide to join in at the last minute, but seats are likely to fill up fast. For more info and a glimpse of this weekend's menu, check out Khuin's website.
Saturday, April 2, 6 - 11 pm Delicious, 308 W. Erie St.; 312-787-8200
Popular in the Community