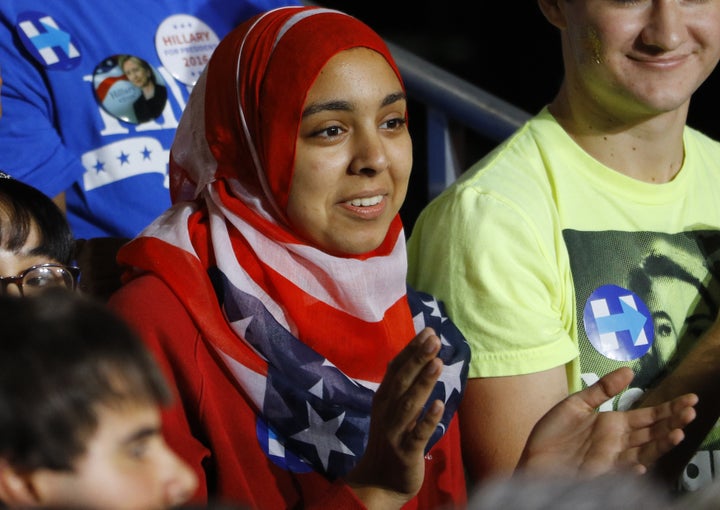 Imams across the country are gearing up for a special Friday service today.
October 7 is My Muslim Vote National Khutba Day, a day meant to encourage American Muslims to get to the polls this November. During this week's services, spiritual leaders will be ascending minbars, or pulpits, to preach a khutba, or sermon, that focuses on the importance of voting in this election. 
The #MyMuslimVote campaign is led by the activist group MPower Change and the national Muslim Students Association. Although the campaign doesn't endorse a specific candidate, leaders hope that Muslim voters will be inspired to register to vote before state deadlines "so that we have an unprecedented national Muslim voter turnout on November 8th, God willing." 
Nearly 50 mosques or Islamic community centers have signed up to participate in the event, according to the MPower Change campaign manager, Mohammad Khan. 
Khan said that a mosque is more than a house of worship for Muslims -- it's a community center where people can meet their friends and neighbors and catch up about what's going on in their communities. 
"The idea behind the #MyMuslimVote Khutba Day was to promote a message of civic engagement in this space," Khan told The Huffington Post in an email. "For us, promotion of the #MyMuslimVote campaign through the minbar (pulpit) continues the rich tradition of Muslim spiritual and community leaders advocating for justice."
Watch the video below for a #MyMuslimVote sermon from Imam Khalid Latif, Chaplain for the Islamic Center at New York University.
The campaign honed in on this rhetoric in a series of talking points and resources it released to give imams an idea of how to focus their sermons.
"As citizens of this country and this state, who pay taxes and contribute in other ways to the country and community we live in, it is imperative that we make use of a right that others have given their lives for, both here and around the world," My Muslim Vote campaign pointed out. "The upcoming election is critical for Muslims in America, given that Islamophobia and other forms of racism and prejudice have been a central focus for many candidates and has served to mobilize those who support such views."
The resources also connect the idea of voting to the spiritual principles in Islam, such as the "prophetic responsibility of amr bil ma'rouf wal naahee 'an al munkar (the obligation to enjoin the good and forbid the evil.)" 
In a sample sermon, Munes Tomeh, professor of Islamic law at California's Zaytuna College, spoke about voting as a spiritual imperative, a way to encourage good in the world.
"It is not sufficient for us as a community to simply pray, fast, perform hajj, and to concern ourselves with ourselves and our worship, while ignoring that which is around us," Tomeh said in the sermon. "We have to be engaged, discussing issues of common concern, 'calling to the good.'"
Calling all HuffPost superfans!
Sign up for membership to become a founding member and help shape HuffPost's next chapter
BEFORE YOU GO
PHOTO GALLERY
Must-Read Books By Muslim Authors