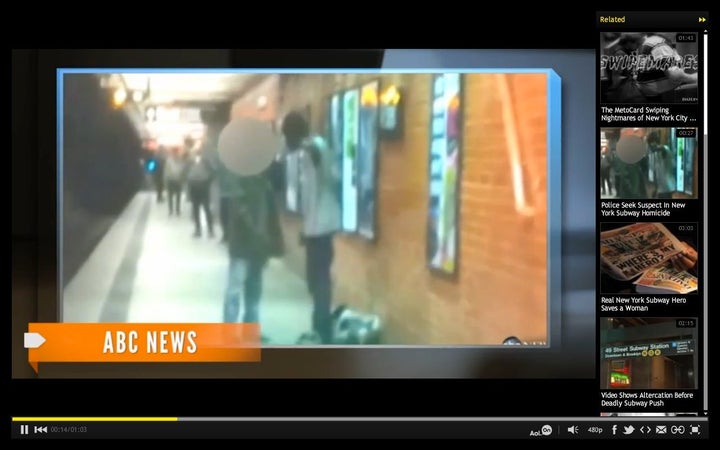 By Murray Weiss, Trevor Kapp, Wil Cruz
Ki-Suk Han, 58, died after he became pinned by a Q train at the 49th Street subway station shortly after 12:30 p.m., police said.
"The man tried to climb out of the well and was pinned betwen the station and the train," Police Commissioner Raymond Kelly said at a news conference Tuesday at One Police Plaza.
Han was pronounced dead shortly afterwards.
Han had been in a heated exchange with a man — who police described as emotionally disturbed and talking to himself — when he was thrown off the Seventh Avenue platform as other straphangers looked on.
More than a minute — and possibly as long as 90 seconds — elasped before the train slammed into him, a police source said.
It was not immediately clear whether anyone on the platform tried to help Han to safety.
"People were just standing in shock," said witness Patrick Gomez.
"I think it's not unlike a car accident where people pay attention to it after it happens," Kelly said. "The witnesses we spoke to were not focused on what happened before the confrontation.
"There's some indication they were engaged in a conversation," he added.
Kelly said Han was on his way to renew his Korean passport when he encountered the assailant in the subway. Sources said Han had gotten into an argument with his wife earlier that morning and was intoxicated.
Sources said Han may have initiated the debate with the man who allegedly pushed him off the platform.
"Leave me the f--- alone!" the man, who was wearing headphones and drinking a Starbucks coffee, said on a video released by the NYPD.
The fight reached a boiling point and the suspect pushed Han onto the tracks, authorities said.
Detectives had received three actionable leads as off early afternoon Tuesday, Kelly added.
"Of course, we're following up on the calls," he said.
The NYPD is offering a $12,000 reward for information leading to an arrest and a conviction.
Ben Fractenberg contributed to this story.
Calling all HuffPost superfans!
Sign up for membership to become a founding member and help shape HuffPost's next chapter
BEFORE YOU GO