Consumer behavior has changed -- commercials just don't affect purchase consideration like they used to. The modern path to purchase is filled with many different touch points only digital marketing can truly encompass. That means that if you advertise on TV, you have to think about what happens next online.
The real value is in developing deeper connections online with consumers in 2016. Compared to TV ads, cross-channel advertising online delivers your company a better return on investment over a longer period of time by capitalizing on consumer intent rather than simply commercial viewership.
What many businesses fail to realize is the big game isn't just a chance for marketers to extend a campaign's reach to millions of viewers -- it's the year's biggest opportunity to engage consumers. In the era of adblock, the only way to truly measure the impact of cross-channel advertising is the one time of year that consumers intend to view them: The Super Bowl.
This year, there were more than 7.5 million incremental searches for brands advertising during the game. What's more, 80 percent of those searchers used their phones to discover new content online. To analyze the engagement of commercials online, I followed six commercials across different verticals posted on YouTube before the big game: Amazon, Bud Light, Colgate, Hyundai, Kraft-Heinz and T-Mobile.
In this article, I assessed how these brands took advantage of Super Bowl buzz to improve brand favorability, influence purchase consideration and build consumer relationships with the steps they took before and after the big game.
How the Super Bowl Played Out Online
In 2016, the Super Bowl is a month-long, multi-screen event that pairs real-time marketing with mobile devices. Unlike television advertising, online video advertising has one key advantage -- customer acquisition can be directly tied to engagement with the right tools. On the world's second most-used search engine, the consumer journey starts with just a view: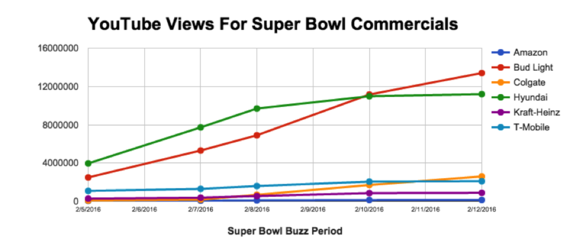 Notice that for a lot of people, their first point of contact with the six brands was before the game on February 7th. Millions of viewers excited for the game made their first touchpoint with the brand before the commercial even played on TV. More importantly, these six brands started their campaigns during the time when Super Bowl anticipation is highest. By capitalizing on this intent-rich period through other digital marketing methods like search, these brands earned a clear head start against their competitors fighting for screen time.
In total, there are 30,322,380 views across all six brands. Not all brands made an effort to monetize their videos -- Bud Light, who garnered the most total views of the brands, earns more purchase consideration than its commercial timeslot competitors in more ways than reach. By adding a link toward more content with an in-video overlay ad, Bud Light seamlessly directs consumers toward additional content as seen below: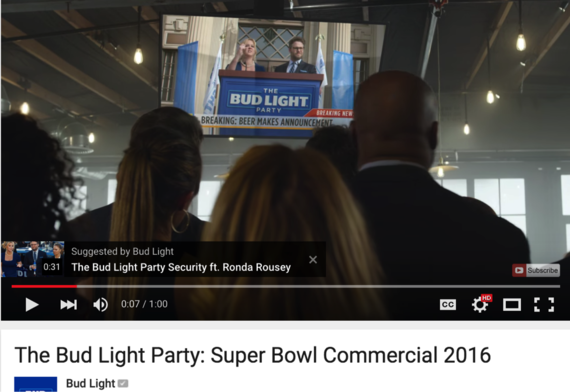 Views are a clear indication of brand interest -- all that's left is to convert favorability into purchase intent. This is the perfect opportunity to reach consumers by using Super Bowl-related terms in Google Search and Display Network ad campaigns. If you're not capitalizing on that digital exposure to move customers through the purchase journey, you're leaving money on the table.
The other brands are missing out on another important opportunity to optimize their commercials online. Subscription growth is a key indicator that consumers are open to longer-lasting relationships after the campaigns end. Subscribers tell a more complete story about how consumer buy-in can impact the purchase journey with the tools digital marketers have at their disposal.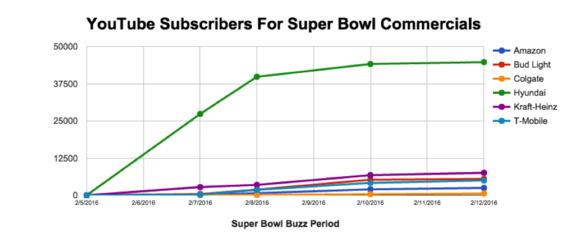 In this case, Hyundai is miles ahead of the competition. Hyundai played two commercials during the event -- their subscriber growth is a clear indication that impacted consumers are connected to the next step in the purchase process.
It's important to remember what YouTube has that TV networks don't -- with online video advertising, marketing doesn't end when the timeslot does. Remarketing toward subscribers ensures their intent is retained throughout the year. Combined with their enhanced search interest, Hyundai has the tools to move subscribers along the purchase journey through other media such as Google Search and Display ads.
Connect brands to people by identifying the times and contexts when people are truly open to a brand. With an immersive medium like video, advertising in particular becomes an intent-rich game changer for brands looking to increase revenue.
Think Bigger Than the Big Game
Redefine your audience -- the Super Bowl culture is more inclusive than just football fans and bar rats. The big game is in every vertical now. Audience segmentation available through cross-channel advertising is required to reach these customers in the smartest way online.
If your company uses audience-focused strategies in search, the same rules apply to making an impact on Google or on YouTube -- whether it's to rewatch with the ad, learn more about the product, or to make a purchase, search influences Super Bowl viewers.
Super Bowl ads used to be top-secret projects held back for the explosive reveal during Sunday's game. Now, we know what ads are running and that it costs at least $5 million for a 30 second spot during Sunday's game. Even if that were worth the price, commercials alone will not maximize results for game day campaigns for the Super Bowl's inclusive audience.
Without a strong digital presence, your brand could be missing out on connecting with potential customers across segments. Cross-channel digital advertising is a requirement to build brand lift with consumers. If the first step is developing interest with commercials, their next step will be to share it, re-engage with it or discuss it.
REAL LIFE. REAL NEWS. REAL VOICES.
Help us tell more of the stories that matter from voices that too often remain unheard.