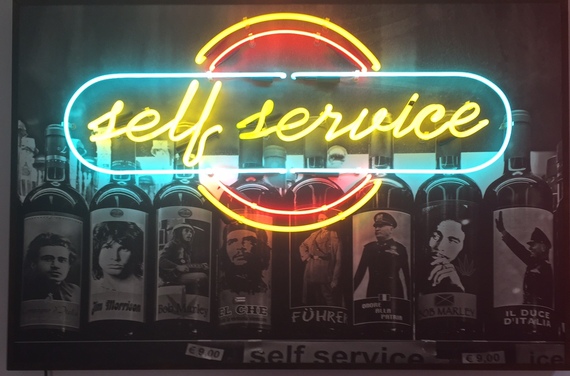 Cuban artists and musicians--some of the best artists and musicians in the world--are literally invading the US this month with an unprecedented onslaught of art shows and musical performances.
MADE IN CUBA!/HECHO EN CUBA!, a major art exhibit featuring over 100 mixed-media works by many of Cuba's leading and emerging contemporary artists, opened last weekend for a 5-week run on the West Coast. Thousands of enthusiastic viewers packed the ARENA 1 GALLERY housed in an airplane hangar at Santa Monica Airport and at least a dozen pieces were sold on opening weekend.
"I've been around art all my adult life, artists of all sorts, and a few things rubbed off. So I'm alerting you, there's a really good and really important exhibit, the first ever like it on the West Coast, 'MADE IN CUBA!/HECHO EN CUBA! Recycling Memory and Culture,' that Santa Monica has been blessed with, and you really ought not to miss it...This is one of the finest, most varied, historic, socially-significant, heartwarming shows I've seen in ages...It's at Arena 1, 3026 Airport Ave., Santa Monica, CA 90405, Wed. through Sat. 12-6, through Nov. 21
On Tuesday evening, the great Afro-Cuban pianist Chucho Valdes and his 10-piece band--including 3 percussionists and a 4-piece horn section--had the sold-out audience at the Frank Gehry-designed Walt Disney Concert Hall (home of the LA Philharmonic) literally dancing in the aisles.
Chucho Valdes, the winner of 5 Grammys and 3 Latin Grammys, says of his music,
"I had this idea of taking disparate elements, mixing them and seeing what happened. And little by little, over time, I've found my ways. And I love it because it's a search that forces you to investigate and study. It's not all about Afro-Cuban music. I'm always looking for new things."
Indeed. Chucho's music is a percussive mix of funk, jazz, latin, rock, blues, and even classical. His US tour continues through November in Tucson, Sonoma, Columbus, Chicago, Ann Arbor New York's Town Hall, Boston, Miami, and Bethesda. If you're within a hundred miles or two, don't miss some of the best music you're likely to hear anywhere on the planet. For ticket information click here.
The influence of Chucho Valdes and other Afro-Cuban musicians is rapidly expanding to the pop world. One of the top indie albums of 2015 is the self-titled "Ibeyi" on XL records, the UK home of Adele. Ibeyi means "twins" in Yoruba, and the Cuban-French Ibeyi twins are the daughters of a French mother and famed Cuban conga player Anga Diaz who played with Chuco Valdes' first internationally renowned rock-jazz fusion group Irakere, as well as with the Buena Vista Social Club.
Ibeyi sings in English and Yoruba and mixes Afro-Cuban sounds with contemporary hip-hop, beats, and electronic samples. They recently completed a US tour, highlighted by a sold-out show at New York's renowned Webster Hall.
Meanwhile, an unprecedented seven galleries in New York's Chelsea art district feature Cuban artists this month. The largest, entitled "Nuevos Colores," is at the famed Robert Miller Gallery through November 14th. It features many of the same leading artists as the "MADE IN CUBA!" show in Los Angeles, including Abel Barroso, Roberto Diago, Aimee Garcia, Manuel Mendive, and Ernesto Rancano.
Other Cuban art shows continuing this month are "Entre No," a side-by-side show of Cuban artist working both in the US and and Cuba at Cuban Art Space, Enrique Martinez Celaya at Jack Sherman Gallery, Maria Martinez-Canas at Julie Saul Gallery, Jose Part at Bryce Wolkowitz and Mary Boone galleries, Carlos Estevez at Denise Bilbro Fine Arts, and Julio Larraz at Ameringer McEnery. For details on these shows, click here.
North Americans have an unprecedented chance to see some of the best in Cuban music and art this month, at least if you live near Los Angeles, New York, or one of the cities on Chucho Valdes tour.
However, for those who want to do the full monty with Cuban culture, the best way is to visit the Island. While the Obama administration restored diplomatic relations with Cuba in 2015 for the first time in 57 years, the US economic embargo of Cuba remains in place and can only be removed by an act of Congress. However, people-to-people travel has long been legal and the Obama administration has loosened restrictions further. A number of tour companies organize group and individual travel.
But if you really want to experience Cuban art, music, and culture up close and personal, the best way may be through the Center for Cuban Studies with Sandra Levinson as your guide. Levinson, the curator of the MADE IN CUBA! art show in Santa Monica, has made over 300 trips to Cuba and is close personal friends with many of Cuba's leading artists and musicians. In fact the reason it's legal to buy Cuban art, despite the US embargo, is that Levinson sued the US government for an exemption for art and won. The Center runs regular tours to Cuba, including many focusing on the arts. This December, several coincide with the Havana Jazz Festival and the Festival of New Latin American Cinema. For information, click here.
"I think Cubans are dreamers and poets from birth and put their dreams and their poetry into music and art," says Levinson. Whether in the US or in Cuba, you may still be a chance to discover the Cuban Picasso or Basquiat before the rest of the world does.
Calling all HuffPost superfans!
Sign up for membership to become a founding member and help shape HuffPost's next chapter