"If it was easy, someone would have already figured it out," said Michael Considine, Managing Director Project Management, CBRE, when asked why CBRE is continuing to push this conversation in new cities. "It's up to all of us from semi-disparate parts of the industry to come together, check our egos at the door, and learn more about one another's perspective and process in order to find a solution that works better for our clients. In fact, we feel so strongly feel there is an opportunity to make this better for our clients we have changed the name of the Washington D.C. Forum from 'Unraveling Furniture Frustrations' to 'Creating a Better Client Outcome.'"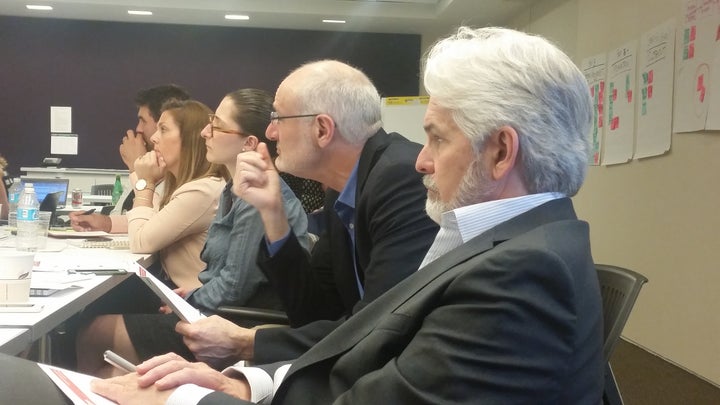 On Tuesday, August 7, a second round of the CBRE Furniture Forum kicked off; this time in Washington, D.C. With a similar process to the Chicago Forum , CBRE partnered with Contract Consulting Group (CCG) to facilitate. This time the team also welcomed support, connections and market perspective from David Solomon with Solomon Coyle, a consulting firm focused on helping aligned dealers become more profitable. "We are excited to have David Solomon as an integral part of our planning team as he brings a unique, neutral, data driven perspective which keeps us informed on the magnitude and depth of the real impact of the process as it exists today," said Julie Deignan, Director of Furniture Advisory Services at CBRE.
Participation on this panel was extended to key individuals recommended by industry peers as well-respected, knowledgeable in the furniture process and most importantly: open minded. The planning team strategically selected individuals representing a range of perspectives from firms large and small, manufacturers large and small, and competing dealers.
Panelists: David Corsones, Regional Manager Mid-Atlantic, Herman Miller; Barbara Nolan, Principal, Barbara Nolan, Inc.; David Noel, President, MOI; Jud Buchanan, Principal, Washington Group Solutions; Kim Sullivan, Senior Project Manager, Gensler; Bob Fox, Principal, FOX Architects; Michael Considine, Managing Director Project Management, CBRE; Sybil Freedman, Director Project Management, CBRE
Supporting Participants: Julie Vachon, A&D Sales, Humanscale, Courtney McFarlane, Market Manager, OFS; Matthew Morch, MOI; Ella Lyons, Director of Sales, Washington Group Solutions; Kelly Hancock, Director Special Projects, Arbee; Candy Adams, VP Sales & Design, Omnifics; Jessica Alpert, Designer, Gensler; Elizabeth Pelletier, Architectural Designer, Fox Architects; Renee Collins, Sr. Project Manager, CBRE; Chrissy Harbison, Sr. Project Manager, CBRE
Facilitators: Amanda Schnieder, Founder, Contract Consulting Group; Suzanne Maynard, Partner, Contract Consulting Group; Julie Deignan, Director Furniture Advisory Services, CBRE; David Solomon, Managing Principal, Solomon Coyle
For the first session, all were asked to "take off their competitive hats" and work through a mapping exercise that defines the process – and challenges – from their categories' perspectives (A&D, Dealer, Manufacturer and Project Management.) David Noel, president of MOI, a Knoll dealership, reflected on the first day's activities. "It was really eye opening. When you step out of the day-to-day activity and 'chaos' and map out everything that is required, you quickly see that the current process has a tremendous amount of waste and there should be a better way to address it." CCG and CBRE also are working behind the scenes to get additional feedback from clients about where in the process they have felt pain in order to keep the discussion focused on making this process better for who we all ultimately serve: the client.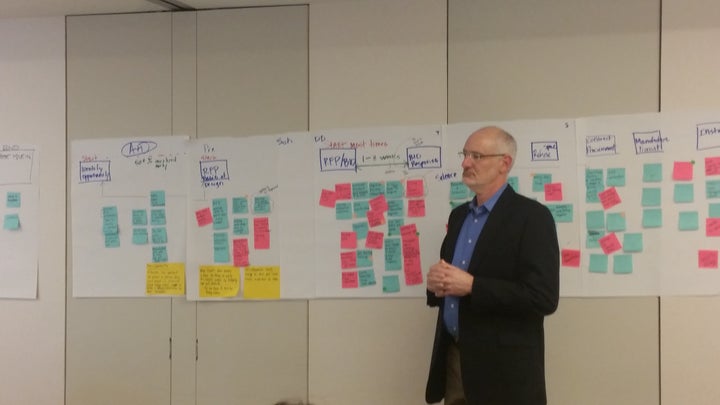 In both cities, teams were asked to narrow the discussion of pain points to three problems to aim to solve for the Forum discussion. Perhaps the biggest surprise came with at the end of the day with this discovery: In markets that operate very differently, the three biggest challenges identified were nearly the same.:
1. Education- We need to educate each other on what the process is that will promote best practices and best outcomes for the client.
2. Early Partnering (Chicago called this "Team") - How do we bring the dealer on board earlier in the process to reduce costly speculative work while still demonstrating competitive pricing.
3. Transparency (Chicago called this "Process") – How do we structure the team and process to promote transparency and TRUST between dealers, manufacturers, PM's and A&D?
As discussed at the Chicago forum, many also would agree that the issues identified by these panelists are not all that different than they would have been a decade ago. But with pricing pressures caused by the downturn of 2008-09 and the rise in ancillary that is creating increased complexity in the furniture specifying and bidding process, these challenges have a measurable negative impact on the bottom-line as well as an increase in confusion for the client. Chrissy Harbison, Sr. Project Manager with CBRE commented, "For industries that have worked together for decades, it is amazing how many things are still unknown between them and how many obstacles are still present."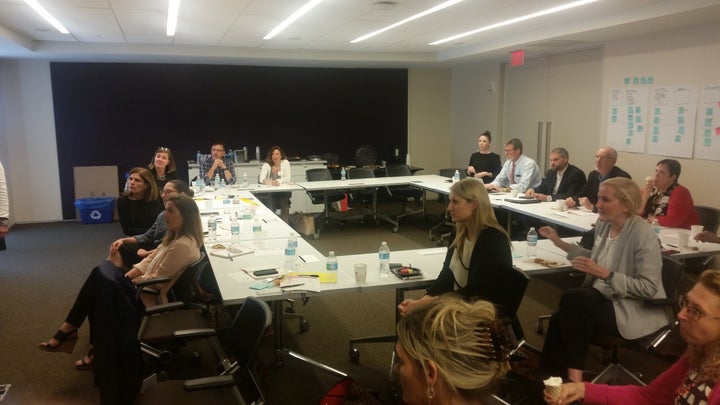 Participants were polled following the event about what surprised them and what they learned. Jud Buchanan, Principal at Washington Group Solutions, an aligned Teknion dealer said, "I was surprised that 'list price' was so confusing to so many. This clearly fosters distrust of the furniture dealer and manufacturers. Many also seemed to be surprised to hear about the thin margins dealers are working with today and the volume of work they are asked to do for those margins."
Transparency was a key word that came up in D.C. more prevalently than in Chicago, but really it comes down to TRUST. We all know pricing structure of this industry is unlike any other, and the mystery surrounding pricing creates a great deal of MISTRUST with the process. Bob Fox, Principal at FOX Architects summed up the unspoken piece of the trust issue saying, "There are a lot of strange practices in the furniture industry that still exist because they are deep in the culture and history of the way furniture manufacturers, dealers, project managers and designers interact. Things like a 'list price' don't mean much to anyone anymore, but we still have to deal with it. This gives the industry a lack of credibility because you can't get a real sense of what the price is."
David Corsones, Regional Sales Director, Mid-Atlantic at Herman Miller refocused everyone on the client perspective by explaining that the best thing we can do to improve the process for the client, is smooth the interaction between designers, manufacturers, dealers, and project managers, "While I agree that in a world of 'Unlimited SKU's' every single project may seem unique and challenging, at the end of the day, each manufacturer and dealer partner is aiming to provide a flawless experience for each of the entities involved in the project. Having end users understand intricacies of the process is probably not a worthwhile endeavor as most clients purchase furniture every 10-15 years but having the players intimately involved be aware of the timing and schedule is important."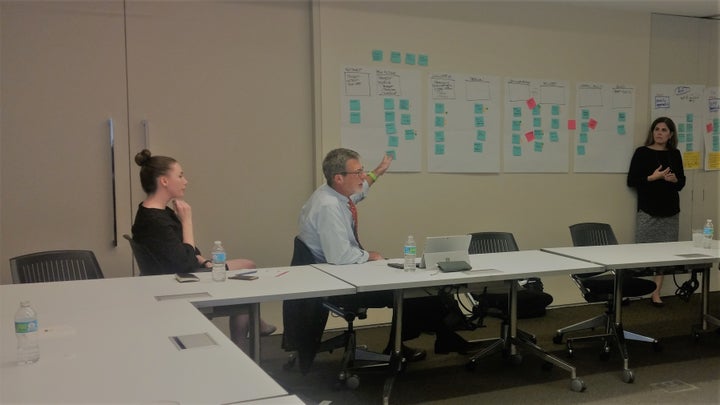 While the first mapping session focused on identifying problems that exist today, the next session on September 7 will focus on generating ideas for how to evolve the process to solve for these issues. D.C. panelists will build upon the map created from the CBRE Chicago Furniture Forum to push original ideas even further.
When asked what she will say when people ask about the forum after attending the first session, Kelly Jo Hancock, Director of special Projects with Arbee Associates said, "I'll tell them that they should participate. This experience showed me we are all dealing with similar challenges. We sometimes make things more complicated because that is what we are used to. I hope that through these events we could invent something that would make this process less complicated… and maybe even fun."
The CBRE Washington D.C. Furniture Forum: Creating a Better Client Outcome is sponsored by Bellow Press, publisher of Business of Furniture and Workplaces magazines; KI, Knoll + MOI, OFS Brands, Teknion + Washington Group Solutions, and Allsteel + Staples, and is facilitated by Contract Consulting Group. For additional information on sponsorship opportunities, please reach out to CBRE_Furniture_Forum@cbre.com.
This article originally published in the Below Press publication, Business of Furniture August 29, 2017. It is republished here with permission.
About the author: Amanda Schneider, LEED AP is a trends researcher, blogger for the Huffington Post, and the founder of Contract Consulting Group , a research-led strategy firm serving the Contract Interiors Industry. Do you have something to add to this conversation? Want to take part? We invite you to e mail us at info@contractconsultinggroup.com. We would love to hear your ideas.
Disclosure: As the author of this post, it is required that I disclose that Contract Consulting Group is involved in the facilitation of CBRE's Furniture Forum event and is in a paid relationship with CBRE through the sponsorship dollars contributed for this event.