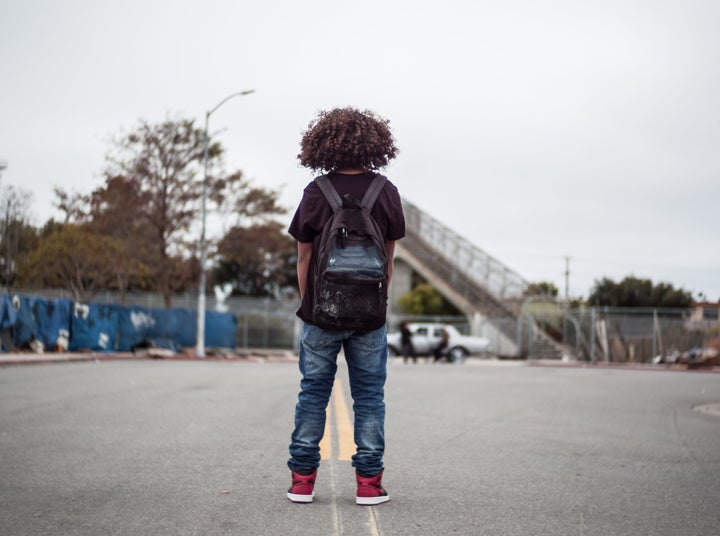 Almost every dimension of Justin Tipping's full-length directorial debut, "Kicks," embodies hip-hop. From the themes of inner-city sneaker culture and the perils of hyper-masculinity to the undeniable Bay Area-influenced soundtrack, the hip-hop thread runs throughout the film and helps tell the gritty story with surprising authenticity. 
In "Kicks," a young curly-haired teen's pride takes the form of retro red and black Air Jordans, which he scrapes to buy from a neighborhood hustler. A day later, his prized possessions slip away when an envious thug and his goons jump him and snatch the shoes. The brutal beatdown sets teenage Brandon on a dangerous journey from one rough Bay Area neighborhood to another, all in hopes of getting back the shoes and self-respect he so badly desires.
That scene encompasses several themes of the film ― the value of status symbols like shoes, for example ― all of which are displayed over a meticulously produced soundtrack that pulls from classic hip-hop anthems and lesser-known Bay Area tracks. While the film has garnered solid reviews for its stunning camerawork and "commitment to detail," viewers can find yet another layer of meaning in its music, which takes many forms throughout the movie.
During the film, Brandon oftentimes retreats to his personal thoughts, which he communicates through hushed, poetic rap lyrics that spoken word artist Donté Clark specifically penned for the film.
"Brandon's character, I think internalizes a lot of his fear of the world though rapping in his head," Tipping told The Huffington Post. "And for me, it was an interesting way and true to the world to have someone have internal voiceover, but it be rap lyrics because I know I definitely did that when I was a kid, I still do it. And so I was trying to use that as almost his security blanket."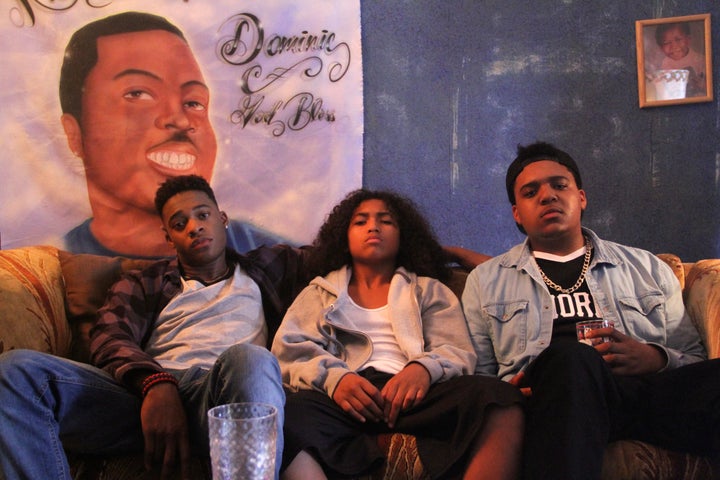 After speaking with the budding filmmaker, it's clear that Brandon, played by Jahking Guillory, is an extension of Tipping in more ways than one. Tipping co-wrote the script with Joshua Beirne-Golden and drew the film's concept from his own experience getting jumped for his Nike Prestos in a dimly-lit parking lot at 16 years old. Tipping walked away from the fight barefoot with two black eyes and said the "defining moment" that occurred afterward taught him a lot about society's understanding of manhood and its association with violence.
"I remember specifically my older brother saying, 'It's OK, you're a man now,'" the El Cerrito native recalled. That moment instilled a sense of pride in the then high schooler, but was followed with a pang of pain and confusion.
"Why the hell is violence synonymous with becoming a man?" he asked. "Why is anger the only emotion we're allowed to feel? ... It's a harsh reality that I think all the kids in 'Kicks' and where I grew up, we were born into that."
That concept of masculinity repeatedly ties back into the film's soundtrack. Tipping remembered specifically selecting Trill Youngins' song "I Look Fly" for its brash, yet playful lyrics about ― to put it simply ― looking fresh to impress the ladies.
"Their song plays in the background of the shoe store, where it's like, 'I look fly, don't I? I look fly, don't I?' And it's literally a song about where the character is emotionally in that moment, where the song is just about buying fresh clothes and shoes to get girls," Tipping said.
Why the hell is violence synonymous with becoming a man?
While the music in that scene took on a pointedly literal (and arguably contrived) meaning, Tipping's other references are more multifaceted. Chapter titles drawn from the lyrics of Nas, Mac Dre, Tupac and others punctuate the film and have the dexterity to continue the overarching hip-hop themes while providing context for an upcoming scene.
"Greek choruses and Greek plays would come out and state the themes and, to me, that was like the hip-hop Greek chorus," he said. Tipping added that he chose lyrics that were both "universal" and "timeless" to help even the most novice hip-hop listener understand the next chapter of the story. For example the double entendre in the chapter title "Fresh To Death" was very deliberately ominous.
"Everyone knows that something is going to happen," he said. "I wanted people to start to feel the omniscient foreshadowing."
The chapter titles showcase lyrics from some of the biggest names in hip-hop, but the film's soundtrack is filled with delectable tracks for those who prefer their music a little less mainstream. Aside from "C.R.E.A.M.," which Tipping specifically wrote into the script, and "Party and Bullshit," the soundtrack is comprised almost entirely of hip-hop gems from Bay Area stalwarts. Dave Steezy, Iamsu!, Roach Gigz and Oakland icon Mac Dre are all included, with a vibe-y Marc E. Bassy song that's reminiscent of Dr. Dre's G-Funk sound thrown in for good measure. 
Tipping worked closely with composer Brian Reiztell in threading the tracks with the film's original score. The director said he crowdsourced potential songs from "friends of friends on Instagram" and his DJ buddies. Ultimately, Tipping hand-picked virtually every song that made it into the movie, so the heavy-hitting soundtrack ended up reflecting his own personal music taste.
"I grew up a hip-hop head … It's just part of who I am," he said. "I didn't think, 'I should make a hip-hop movie.' I was just like, 'I want to tell the story and this feels like it's coming from my personal experiences.' I think maybe for selfish reasons too, where I think this is cool. And if I can make it work, why not?"
"Kicks" hits theaters on Sept. 9.
Calling all HuffPost superfans!
Sign up for membership to become a founding member and help shape HuffPost's next chapter
BEFORE YOU GO
PHOTO GALLERY
Best Movies of 2016 So Far