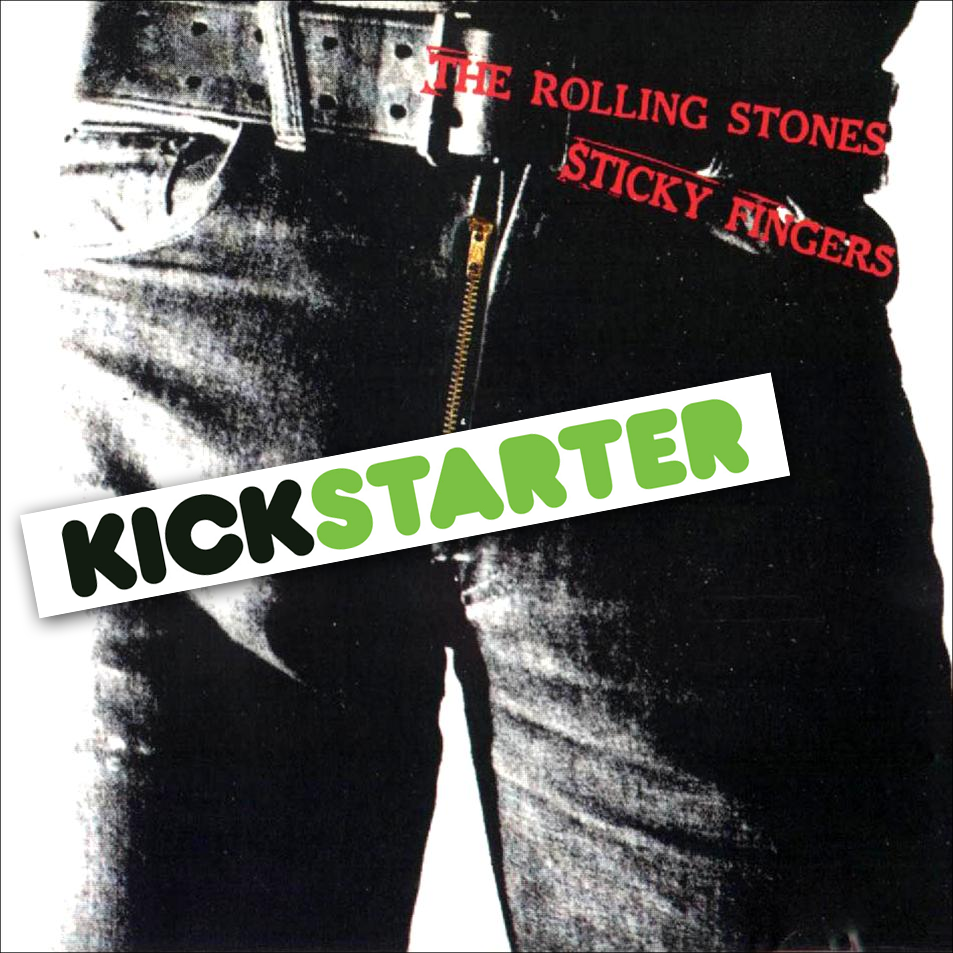 Truth be told, they may be gathering a little moss after all.
While it's been a good year for the Rolling Stones -- a smashing concert at the Glastonbury Festival in England, the 40th birthday of their seminal, triple-platinum LP, Goat's Head Soup, and yet another special exhibit at the Rock and Roll Hall of Fame -- let's face it: the boys are getting up there. No, wait -- they've already passed there. A combined 277 years old, Mick, Keith, Charlie and Ronnie are fighting to stay relevant as their loyal but dwindling fan base rapidly discovers that, no, time is longer on their side.
Does that mean that the graying quartet is destined for the discount dustbin at your local used record shop? Not necessarily. The Stones may in fact have a shot at renewed stardom, provided their arthritic devotees can still operate a mouse...and click their way to Kickstarter.
PROJECT TITLE: KICK START ME UP
SYNOPSIS: Since the early 1960s, The Rolling Stones have been one of the most iconic bands in the world. This year, we celebrated our fiftieth anniversary -- not 50th wedding anniversary, or 50th anniversary of The Revolution -- but the fiftieth anniversary of a rock and roll band!
Feel old? So do we. That's why we need your help. See, it takes a lot or euros to book venues, fill the tour bus with gas (and Gas-X), and buy drugs (well, whatever drugs are left -- Keith pretty much polished off most of them in 1970). And don't even get us started on our health coverage. Mick's alone has surpassed the GNP of Greece.
Many bands use Kickstarter to launch their careers: to fund independent tours, rent recording space, or distribute their records. While these pleas are well intentioned, there's always the risk that these new bands suck, and that in the end your money will be wasted on a mediocre product. So why not contribute to a band you can trust, one with a multi-decade track record? Don't gamble away your patronage -- get Satisfaction, guaranteed!
I think we've proven we deserve it.
Pledge $5 - For $5, you will receive a limited-edition first pressing of every Rolling Stones album recorded between 1985 and 2002. While those weren't exactly our best LPs, they'll stack nicely next to your La-Z Boy, making the perfect TV tray table for your warm milk.
Pledge $10 - For $10 you can have the crates full of the aforementioned first pressings. We've got tons laying around.
Pledge $250 - For $250 dollars, you will receive one (1) standard ticket to the Rolling Stones concert of your choosing. We've got two scheduled for next year, one in a retirement home in Passaic, the other in....um...we forget.
Pledge $500 - In addition to your one (1) standard ticket to the Rolling Stones concert of your choosing, you will receive an information pamphlet allowing you to become the only person on Earth who knows anything specific about Charlie Watts.
Pledge $1,000 - For $1,000 dollars, Mick Jagger will spend five minutes on the phone with you, belligerently disputing any section of your choosing from Keith Richard's memoir, Life.
Pledge $5,000 - A used autographed copy of Keith Richard's memoir, Life. Acquired for four dollars on eBay in 2011, it bears the autograph: "To Melanie. Sorry about Tuesday night. Jumpin' Jack Flash ain't exactly jumpin' anymore. Love, K."
Pledge $10,000 - In addition to the above prizes, your mouth will be used as the model for the next Rolling Stones t-shirt. Your tongue will be featured prominently; denture wearers need not apply.
Pledge $50,000 - For 50,000 dollars, in addition to the above prizes, you will receive an original vinyl copy of Sticky Fingers, retooled with Mick's actual zipper. For an additional $5, somebody will help you unzip it.
Related
Popular in the Community