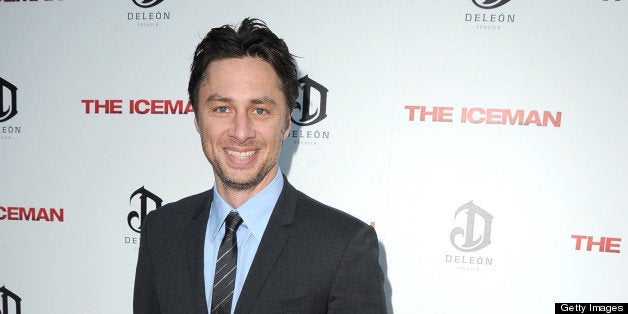 Kickstarter is amazing. It's especially amazing for industrious, talented artists who lack the connections and capital usually needed to realize their dreams. In fact, it's been a pleasure recently to see photographer Seth Olenick's book of comedian portraits, comedian Sue Costello's one-woman show and an interactive eBook about late comedian Robert Schimmel reach their fundraising goals. I'm looking forward to seeing the final products of each.
If you are somehow not fully familiar with Kickstarter, allow me to explain: Kickstarter is a crowd-funding service wherein a project creator asks the site's users to give a few bucks (or more) so that they can create something. In return for receiving donations, the creator dishes out increasingly exciting and valuable rewards based on the amount a backer gives. Only if the project is fully funded does the creator get his or her seed dough. If the goal isn't reached, backers keep their money. Like I said, amazing.
As is the case with all amazing things, however, there comes abuse. And Kickstarter abuse has become increasingly bothersome and offensive. By my definition, a Kickstarter abuser is a well-known person who has the financial means and/or professional connections to fully fund their project without asking their fans for money but asks anyway.
Most recently, actor/director/writer Zach Braff has joined the should-be embarrassed ranks of Kickstarter abusers-- in this case, celebrities who could easily fund their pet projects without asking you or I for money. Braff, who was making a reported $350,000 per episode of Scrubs and who is currently wiping his ass with syndication money and who can be seen in the $215 million Oz the Great and Powerful, asked his fans for $2 million so that he can produce a follow-up to his 2004 indie flick Garden State. The result: As of this post, he's raised $2.2 million and there are 23 days to go. If the history of celebrity Kickstarter projects means anything, fans will continue to give money to Braff, despite his goal being met. It also means Braff, like his fellow Kickstarter abusers, will gladly accept the excess funds. Classy.
In order to launch the new film, titled Wish I Was Here, Braff explains, "I was about to sign a typical financing deal in order to get the money...It would have involved making a lot of sacrifices I think would have ultimately hurt the film."
To be clear, Braff secured money for the project, but he would have had to make sacrifices -- you know, the way we all do every day in every aspect of our lives. So, instead of accepting this financing deal and creating the movie like an adult, he's decided to beg us for money. His other options included not making the movie or liquidating $2 million of his assets -- that is, if he doesn't have the much sitting in an account -- so he can pay his friends to make the movie, which is what he's now doing with the donations some of you gave him.
To put it another way, Braff's life was already great: He's rich, famous and gets to put his penis inside a model's vagina. But his life could be even better if only he could make another movie -- better still, if he can do it exactly the way he wants with the exact people he wants in the exact location he wants using the exact equipment he wants and with your money to pay for it. I'm not saying Braff's wealth excludes him from pursuing more wealth and happiness, but isn't it obvious he should be using his own money to do so?
Of course, Braff isn't the only absurdly rich celebrity with an equally absurd sense of entitlement. And he's not the only Kickstarter abuser. By his own admission, he was influenced by Rob Thomas, the creator of Veronica Mars, who earlier this month, with the help of the defunct series star Kristen Bell, raised more than $5.7 million to start producing the film version of the cult favorite. The goal was $2 million. The excess donations mean "more locations, more sets, more actors, and most important of all, more shooting days," according to Thomas, who, like Braff, is enjoying the constant flow of syndication bucks.
Then there's Ren & Stimpy creator John Kricfalusi. He raised nearly $137,000 ($60,000 over his goal) so that he could produce an eight to ten-minute cartoon featuring a character from his iconic animated show. And let's not forget Charlie Kaufman; the Oscar winner is behind critically-acclaimed films Eternal Sunshine of the Spotless Mind, Being John Malkovich and Adaptation, but that doesn't mean he won't take your money. He wanted $200,000 to produce a 40-minute stop-motion animated film called Anomalisa. What he got was well over $400,000.
David Fincher (The Girl with the Dragon Tattoo, Fight Club, Seven) raised $442,000 to start production on The Goon, an animated film based on the popular comic book. And then there's Whoopi Goldberg, who raised $74,000 to produce a documentary on pioneering comedian Moms Mabley.
Before I go further, please indulge me while I make a disclaimer in an effort to prevent, "Why do you hate Veronica Mars?-type questions in the comments section. I don't hate any of the project creators or the projects listed above. In fact, I think most of them are downright swell. What I hate is the way in which the artists have decided to raise funds.
If you've already given to projects of these types and you still think it was a good decision, by all means, keep doing it. If you're so desperate to feel part of something that you believe the rich have your interests -- and not their own -- at heart, commit to it. But don't delude yourself into thinking you're actually part of something special; you're helping the rich get richer. There's nothing special about that.
"Well, no one is forcing people to give money to these incredibly wealthy celebrities," some of you will say. You're absolutely correct. People are free to do what they want with their money. And wealthy celebrities are free to beg for money from people who have already helped pad their unimaginably luxe lifestyles. But that doesn't mean what these celebrities are doing is right. Nor does it mean we're not allowed to shame them, which is what I propose we start doing.
Comedian Tim Heidecker tweeted this mock script page the other day in response to Braff, and there's this pretty brilliant video response in addition to a few other blog posts, wherein the authors speaks out against Kickstarter abuse. But why isn't their more? And more importantly, why are so many people so willing to give their hard-earned money to some of the wealthiest people on earth?
Be sure to subscribe to the weekly Laughspin Podcast on iTunes or on SoundCloud for all the latest comedy news, audio clips and more! Listen to the most recent episode below!
Popular in the Community