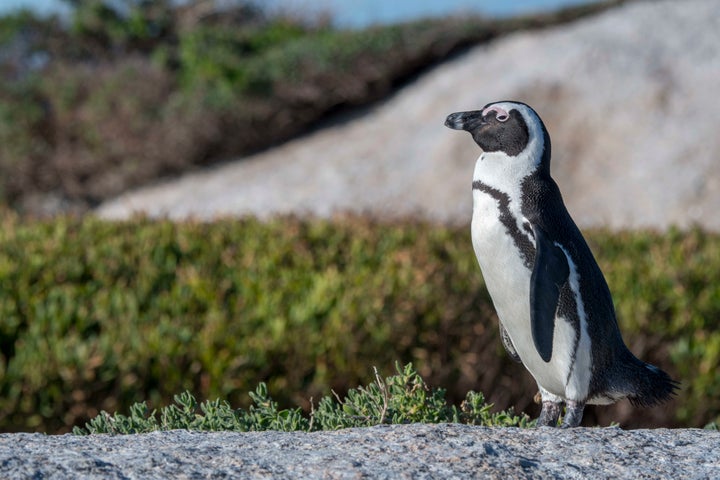 The African penguin is in trouble. Its population has plummeted by more than 97 percent in less than a century. Fewer than 25,000 breeding pairs are estimated to remain on Earth, and experts say the endangered bird could be extinct in just 10 years.
But the penguins' demise is not inevitable, says the Association of Zoos & Aquariums, an organization that has undertaken efforts to pull the species back from the brink. The penguin, under threat from climate change, overfishing and other human actions, just needs a helping hand.
Thanks to the generosity of thousands on the crowdfunding platform Kickstarter this month, it seems many of the warm weather penguins, found mostly in South Africa and Namibia, are soon going to get just that ― in the form of thousands of penguin homes. 
AZA launched a Kickstarter campaign in May to raise funds for their "Invest in the Nest" project, an initiative aimed at creating and installing artificial nests for African penguins in the wild. The campaign's last day is Friday, but it's already fully funded — with more than $188,000 donated thus far by more than 2,000 people.
Among the pledge rewards on offer: penguin T-shirts and totes, as well as "original penguin paintings" created by African penguins themselves.
A lack of proper nesting space has posed a major threat to African penguin populations. As AZA explained on the Kickstarter campaign page, African penguins used to build their nests in thick layers of guano, or bird excrement, but guano was over-harvested by humans over many decades, leaving the penguins "without a safe place to make their homes."
Rob Vernon, senior vice president of communications for AZA, described seeing the penguins on South Africa's Robben Island nesting under "discarded rubbish and inside abandoned buildings" because of a lack of guano.
"African penguins instinctively look for nesting sites that are under cover to protect the chicks from predators like gulls and from hot sun and heavy rain," he told HuffPost in an email Thursday.
"Improving chick survival is an important first step in making a difference to the long term survival of the species," Vernon added. "Nest failure is one of the reasons the population has continued to decline."
To address this need, scientists have been developing artificial nests in which the penguins can lay their eggs and raise their families. Some nests have already been introduced to African penguin colonies, but according to Vernon, the ones used so far haven't been the most ideal. 
"The old-style nests overheated and were abandoned or caused chick mortality," he said. "Some scientists think they caused more harm than good." 
Experts at AZA have thus been working to develop an improved version ― something they believe they've now achieved. 
"The new artificial nests ... are designed to provide appropriate internal temperature and humidity conditions [that] will give the breeding penguins a much better chance to keep their chicks alive through the first 30 days when the chicks remain inside the nests for protection," Vernon said. "If the chicks can survive that critical period, their chances of fledging [leaving the nest after acquiring their feathers] are greatly improved."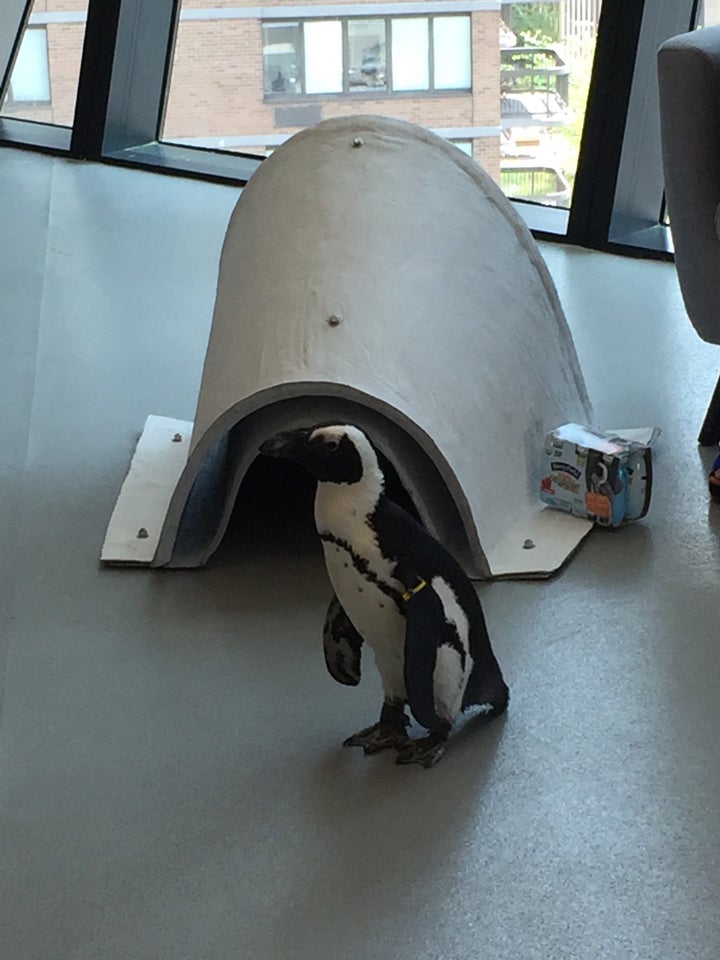 The artificial nests, which cost about $100 each to make, are molded by hand and created from a material similar to hardened ceramic. Vernon said the nests will be undergoing further testing before being introduced in the wild on a large scale.
But thanks to Kickstarter, he said, thousands of penguins will soon have a safe place to call home.
"Because the project is fully funded and then some, we anticipate building and installing over 2,000 artificial nests over the next year for African penguins in colonies in South Africa and Namibia," Vernon said. "That means homes for 2,000 penguin families that otherwise wouldn't have happened."
Watch the video below to learn more about the Kickstarter campaign, or visit the campaign page here. 
Calling all HuffPost superfans!
Sign up for membership to become a founding member and help shape HuffPost's next chapter
BEFORE YOU GO
PHOTO GALLERY
Humans Saved These 6 Animals From Extinction