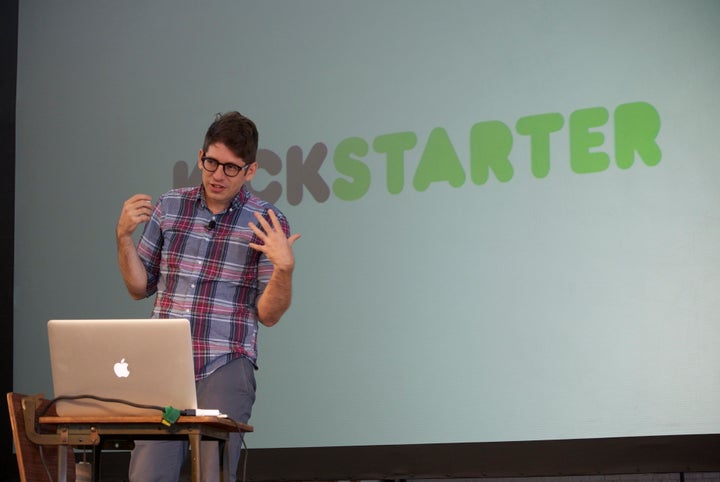 NEW YORK -- Kickstarter has transformed the way artists and entrepreneurs financed creative projects since it was founded in 2009.
Now, the crowdfunding service is raising the bar for corporate transparency and social responsibility.
On Sunday, the Brooklyn-based company dropped the "Inc." from its name and reincorporated as a public benefit corporation. In doing so, the for-profit entity enshrines in its charter a mission to fund art, fight inequality and improve society. The relatively new designation, legalized in Delaware two years ago, imposes strict environmental standards and a commitment to social good, and companies must report their progress on these metrics to regulators every two years.
"This is a big step for us, and a radical one," CEO Yancey Strickler told The Huffington Post in a phone interview on Monday. "We look forward to the day that this is much more commonplace."
Since the public benefit corporation designation was established relatively recently, few major companies have pursued it. Among the most notable names are apparel company Patagonia, ice cream giant Ben & Jerry's and the baby food maker Plum Organics. Kickstarter will be the first major tech company to adopt the status.
The new designation builds on commitments Kickstarter made last year when it registered as a B Corporation, a voluntary classification certified by the nonprofit B Lab. B Corporations must report annually to shareholders on the tough environmental and social responsibility standards to which they are held. Patagonia, artisan craft marketplace Etsy and eyeglass retailer Warby Parker are all B Corporations.
But B Corporation status doesn't ensure transparency. Borrowing a play from profit-hungry tech giants Google and Apple, Etsy began routing revenue through a subsidiary in Ireland, a known corporate tax haven. By doing so, the company was able to keep the financials of that unit secret.
A public benefit corporation requires that future executives hold the company to the same standards outlined in the original charter. In this case, Kickstarter vowed to "not use loopholes or other esoteric but legal tax management strategies to reduce its tax burden," meaning it's legally bound not to ship its profits to offshore havens.
"Throughout our history, we have declined to make moves that were opportunities for us to reduce the tax burden," Strickler said. "Here, we're putting it again into our charter that that is not something we'll ever do."
The move makes Kickstarter one of the most transparent companies in the tech industry. The new charter ingrains the company's values into its legal registration, and the B Corporation certification adds an extra layer of scrutiny with its mandatory annual reports.
"A public benefit corporation is only required to report its social and environmental performance to shareholders every two years," Kyle Westaway, a lawyer who works with public benefit corporations, told The New York Times, which first reported the Kickstarter news. "But Kickstarter chose to go above and beyond and report to the public every year as a B Corp. This represents a real commitment to transparency."
The company hopes to serve as a beacon of radical transparency and corporate citizenship. Over the last six months, Kickstarter's top executives and one-person legal team met with various companies to seek advice. Strickler said Patagonia graciously allowed Kickstarter to inspect and borrow from its own charter.
"We plan to offer ourselves up to others, we really want to be a part of this," the CEO said. "If we're suddenly spending up to 10 percent of our time helping others, that'd be great."
Related