 Amanda F***ing Palmer is the queen of crowd-sourcing. She raised an impressive $1.2 million over Kickstarter this year to pay for her newest album, "Theatre is Evil," recorded with her band Grand Theft Orchestra. And now, as many of you know, the cabaret darling is jumping back on the social media wagon to recruit musicians for the record's tour.
Palmer posted the request on her website last month, expressing to fans that she's looking for "professional-ish" horn and string players to join the Grand Theft Orchestra on stage during each night of her tour. But there's a catch. The vocalist and her thinly painted brows are not planning on paying the lovely volunteers -- at least not in cash money. No, Palmer is promising a combination of beer, hugs, high-fives, and merch, but not a bit of that $1.2 million from her coffers.
Unsurprisingly, the post has sparked a horde of responses, and very few have praised Palmer for her frugal sensibility and ballsy online attitude. The New York Times ran a blog post that summarized the negative feedback, referencing tweets like the one below that criticize Palmer for her free-labor attitude.
The angry sentiments of the Twittersphere were echoed by Raymond M. Hair Jr., president of the American Federation of Musicians, who told The Times: "If there's a need for the musician to be on the stage, then there ought to be compensation for it. Playing is work and there's a value associated with it, and that value ought to be respected."
"What's so great about her show that I want to play for free?" he added.
"I have no fundamental problem with either asking your fans to pay you to make your record or go on tour or play for free in your band or gather at a mud pit downstate and sell meth and blowjobs to each other...The reason I don't appeal to other people in this manner is that all those things can easily pay for themselves, and I value self-sufficiency and independence, even (or especially) from an audience."
We imagine the keyboard melted away as he typed his acidic response, but not before he could get his last jab in:
"If your position is that you aren't able to figure out how to do that, that you are forced by your ignorance into pleading for donations and charity work, you are then publicly admitting you are an idiot."
"Idiot" might be going a little too far, Albini. Sure, Palmer might be taking advantage of the loyalty her fans have so far demonstrated by soliciting free labor that she could otherwise afford. But it's not as if she's forcing them into servitude, whipping their musically talented bodies through a two-three hour set with only a "hug/high-five" to look forward to. She's offering them an opportunity to play with a highly-publicized artist and become part of a tour that people have been talking about since Palmer launched her project earlier this year.
It's also technically a one-time offer. Palmer is asking musicians in the particular cities she will be playing to volunteer one night if they so choose. What she's not asking them to do is hop on the tour bus and play months of gigs for free. Members of indie bands everywhere would attest to the fact that making a cameo appearance at a friend's (or famous musician's) performance isn't really that odd. Just as the thought of being reimbursed in alcohol isn't such a foreign concept either.
And let's be honest. Most professional musicians -- at least those accustomed to being paid for a day's work -- will probably not volunteer their time. Palmer will most likely be greeted by die-hard fans willing to fake trombone skills in order to meet their Dresden Doll goddess or wide-eyed sixteen year olds who have never seen a stage that wasn't located in the forgotten wing of their high school.
It's ultimately Palmer's decision to make, though. It's her band and it's her money, and if she wants to risk the quality of music performed at her shows in pursuit of another wild crowd-sourcing endeavor, so be it. The question of whether Palmer's act will take away from the ability of professional artists to make a living is valid; however, it seems pretty unlikely that this would be the case. Most independent bands don't possess the capital to include brass or strings in the first place. Also, let's face it, Palmer's Kickstarter stint didn't inspire bands everywhere to abandon their lucrative labels and head to the greener grasses of self-promotion.
Palmer defended herself in her own words to The Times, stating: "If my fans are happy and my audience is happy and the musicians onstage are happy, where's the problem?"
We understand the outcry. She's a millionaire (sort of) and she's not paying her invited guests. But we're just not sure she, as an independent artist, deserves such vitriol from the Internet community.
It's a sour subject to say the least, so we'd love to hear what you think. Let us know if you agree with Albini or if you think Palmer has the right to do her thang in the comments section below.
Check out some of our favorite photos of the chanteuse here: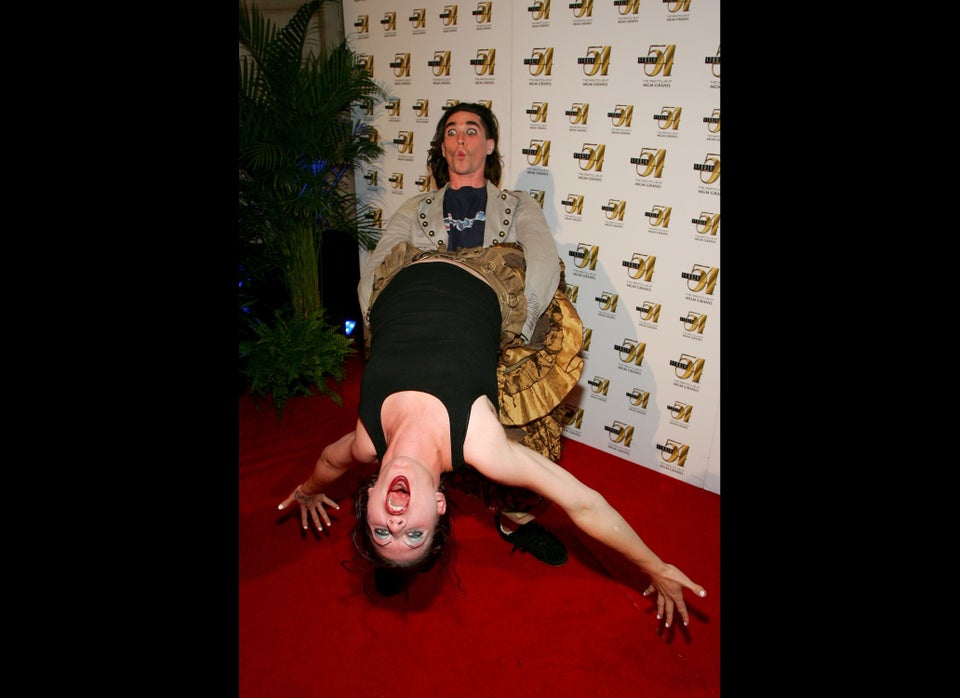 Amanda Palmer
Popular in the Community