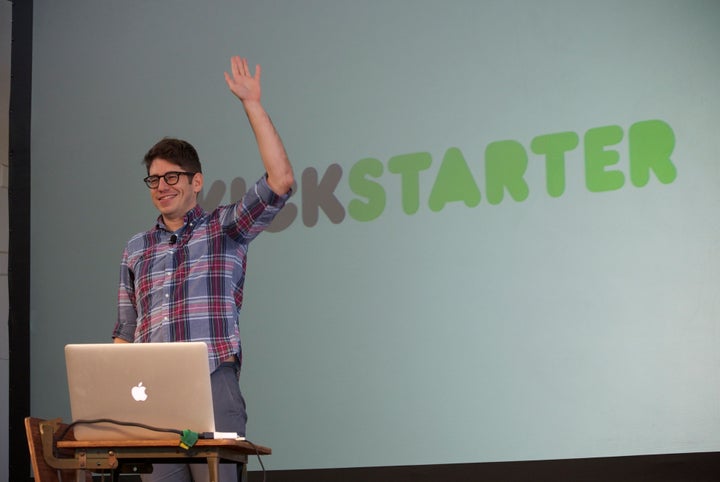 NEW YORK -- Kickstarter broke its own rules on Tuesday to raise money for Syrian refugees.
The Brooklyn-based crowdfunding service, which normally only hosts creative projects, has launched a campaign at the behest of White House officials to fundraise for the United Nations agency helping refugees displaced by the war in Syria.
"They were looking to call upon the private sector to address the refugee crisis in creative ways," Justin Kazmark, Kickstarter's spokesman, told The Huffington Post. "Even though we're focused on creativity, we've learned a lot about building communities of support and we've learned a lot about funding. We thought, at the White House's invitation, that we can make a modest but positive impact on this really global, extraordinary crisis."
Four hours after its launch, the campaign had raised about $40,000 -- more than double the amount raised by the average successful Kickstarter effort, according to Kazmark.
"The average successful Kickstarter project raises $18k," Kazmark tweeted Tuesday. "In just 3 hours 388 of us have raised more to #AidRefugees."
The move is a departure for the company. In its rules, Kickstarter lays out its policy of excluding charity and investment projects from the site.

But Tuesday's effort is in keeping with the company's ethos. The firm reincorporated last month as a public benefit corporation, meaning that its social mission -- to democratize funding for the arts -- is now enshrined in the company's charter. Under that model, profit becomes a means to that end, not the end in itself.
Still, the U.N. Refugee Agency campaign is an exception. Kickstarter designed a custom page for the fundraiser, and unlike other Kickstarter campaigns -- which only distribute money if the entire target amount is raised -- any cash raised on this page will go directly to the agency.
Kickstarter's focus on artistic projects -- including, apparently, the occasional social prank -- has given rise to rivals with broader altruistic missions, such as Indiegogo and GoFundMe. In spite of its Syria campaign, Kickstarter doesn't expect its overall focus to change.
"I don't see this as a signal that we're moving in a different direction," Kazmark said. "It was a call to action, and we wanted to step up and play a small part."
The company's decision illustrates the sheer scope of the Syrian refugee crisis. About 9 million Syrians have fled their homes since a brutal civil war broke out in March 2011. More than 3 million now languish in refugee camps in neighboring countries Turkey, Lebanon, Jordan and Iraq. European countries, led by Germany, are struggling to cope with the influx of refugees traveling across land or over sea to reach the European Union and apply for asylum.
"This is such a big issue, there's no funding campaign that's going to solve this overnight," Kazmark said. "Hopefully, this raises awareness and hopefully raises some funds. And hopefully this has some kind of impact for the positive."
Related