The breakout hit from the first Dr. Buzzard's Original Savannah Band album in 1976 was "Cherchez la Femme," a sublime dance hit that even appealed to people who hated disco.
Forty years later, the songwriter August Darnell (later of Kid Creole and the Coconuts fame, always a huge UK draw) is staging a lifelong dream with Cherchez la Femme The Musical at Manhattan's famed La Mama Theater in the East Village.
Incorporating songs from both the Dr. Buzzard and Kid Creole catalogues, the show opened last Friday night and runs through June 12. He hopes to bring the show, which is somewhat but not entirely based on his experiences as a band leader, in the future to the West End.
The New York Times called the show "more screwball comedy than band saga."
Darnell has been living in Europe and more recently Maui, Hawaii, since the early 1990s when he "escaped" New York City. "Now when I come back I see what attracted me to the place in the first when I grew up as a youngster in the Bronx," he says, in an exclusive interview down the block from where the show is rehearsing.
"[NYC's] the greatest place in the world for opportunities, competition for doing your craft, walking the streets and being your own person, not worrying about how you look or how you dress." But he marvels how expensive a hotel room is today when he used to get a suite for $150 at the Mayflower, which no longer exists.
Sitting in with us is Darnell's wife Eva Tudor-Jones, who became a 19-year-old Coconut soon after she met in 1997 Darnell on a touring musical, Oh! What A Night, they were both working on in Blackpool, England. Small world, indeed. Among the cast of the show was my mate John Altman (EastEnders' Nasty Nick Cotton). Tudor-Jones recently became the Coconut with the longest tenure, 19 years. She's also executive producer of Cherchez la Femme The Musical, for which Darnell's first wife/former Coconut Adriana Kaegi handled costume design.
Darnell insists the show is not autobiographical. Its main character, Caufy Keeps, is a womanizing bandleader, who cancels a big tour to search for the love of his life in Haiti, but despite published reports, it's not from where Darnell hails. Caufy's backup singers are called The Lemondrops.
"It's fiction. You borrow from here and there. Sure, Caufy might dress like me in the show. There are a lot of in-jokes in the show. People who know me will smile. The character Stingy is definitely not my brother Stony."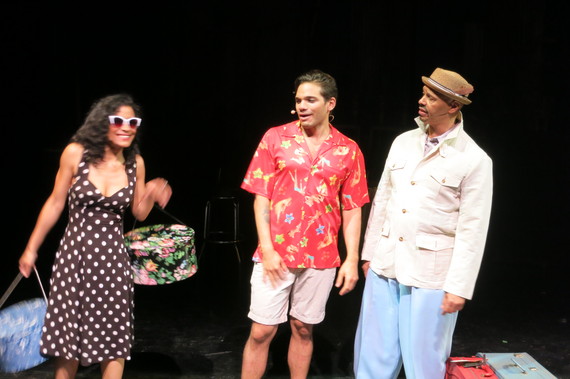 Scene from the musical: (l-r) Skyler Volpe (Deliciosa); Isaac Gay (Caufy Keeps); and CB Murray (Stingy Brim), photo courtesy of dis COMPANY
Regarding the difference being a bandleader and mounting a musical, Darnell says the latter is "one hundred and twenty-six times harder than doing a tour. That's because I've done the band thing for so long. Putting the band together in the early days wasn't easy because the music was so eclectic. You had to find guys who were skilled at R&B, reggae, calypso and jazz, some many different facets of music. Then we formed the template, which can be picked up musicians. It took a lot of auditions to get that first great band in New York."
He formed Kid Creole and The Coconuts in 1980 after being tired of his now-deceased brother Stony Browder insisting Dowdell only write lyrics and play bass.
Darnell thinks Browder would have frowned upon the new show because he thought musicals were "quite boring. He'd say, 'Little brother, you're wasting your time.' He was a crazy guy and lived his entire life with a guitar in his hands from the moment he woke up in the morning to when he went to sleep at night. He always had a melody in his mind. Stony was obsessed with music. Whereas for me, music was just a vehicle to another avenue. Sometimes I go two or three years without thinking about picking up a guitar, and I still live a very healthy life."
A fashion plate even today at 65, the always-dapper Darnell admits, "We were interested in those days more in the look than whether they can they play the music. We wanted a good-looking band. But as time passed we got rid of the people that couldn't play. What was left was a great band and great musicians. I was so lucky to have these guys."
It was Darnell's idea to make the first words of "Cherchez la Femme" back in '76: "Tommy Mottola lives on the road / He lost his lady two months ago..." At the time, the future Sony Music mogul was the Savannah Band's manager.
"Nothing was true about it at the time," Darnell notes, of the lyrics. "Funny thing [Mottola] was honored because it was a hit record." He came to a reading of the musical last year. "He stayed for Act One and said it was just too hot in the room and left," he adds.
Prince was a big fan of Kid Creole and the Coconuts and he used to come to their gigs in Europe before his Purple Rain breakthrough, looking on enviously in the wings. "Prince couldn't understand why weren't big in the US," Darnell says, and even gave the band a song, "The Sex of It," which Darnell didn't want to record in the first place because the album was done. Sony insisted, Darnell acquiesced, and it flopped anyway. Kid Creole was dropped a year later.
Mottola, who discovered the Savannah Band and was their manager during their breakthrough, didn't intervene, according to Darnell, because he was too busy with then-wife Mariah Carey, and Gloria Estefan, who, by the way had a hit with "Cherchez la Femme."
Darnell will miss a few of the La Mama performances to play a few Kid Creole gigs this summer in England, Italy, France and Holland, which is necessary to help pay for the production, which is mostly self-financed. Now when he plays in Europe, it's a European-based band because it's too expensive to fly musicians over from the US. Last year Kid Creole and the Coconuts played at B.B. King's in Manhattan, the first time it played New York in more than 15 years.
Darnell spent four years honing the musical's story with British expat/rock journalist Vivien Goldman, known as the "Punk Professor" for teaching music appreciation courses at NYU.
For the creative team, Darnell lined up some New York theatre professionals, such as director Angie Kristic (an Anglophile who's producing and directing the upcoming UK film King's Cross) and choreographer Kindra Reevey (who's toured with the likes of Whitney Houston, Mariah Carey and Janet Jackson). Darnell laments he wasn't able to raise enough money for a live band, which would have required another $30,000.
Among the 15-member cast, Darnell promises some "triple threats" (dance, sing and act). "Everybody mounting a musical has the same problem. Am I going to sacrifice the dancing or singing or acting? We've been very lucky to find some great at everything."
It's no wonder that on the first Dr. Buzzard record, Darnell is credited on the back cover with "screenplay." He smiles and admits he thought about doing a show like this in the mid-1970s.
Since Kid Creole was always more popular in the UK than the US, Darnell's next goal is to bring Cherchez la Femme The Musical to London, and after that, perhaps a Hollywood film of the production. He also has four other musicals written and ready to go.
Popular in the Community