Scott Ramon Segring Mescudi, better known as Kid Cudi, began making a name for himself with the moody 2008 single "Day N Night," in which the "lonely stoner" describes an inner life of angsty alienation and the effort of maintaining a public persona. But discussing his new record, Man on the Moon: The End of the Day, released last week, the artist emphasizes that there's more to him than the malcontent he's dubbed "Mr. Solo Dolo."
"It's supposed to have the yin and the yang," he told me. "Because if I just had the whole melancholy album, then it would be like, this album is about a kid giving up. And that's not true. It's not an album about giving up. It's an album about not giving up. Expressing what's happening and what's really the problem, but then at the same time saying, hey, these are the problems. But there's always hope."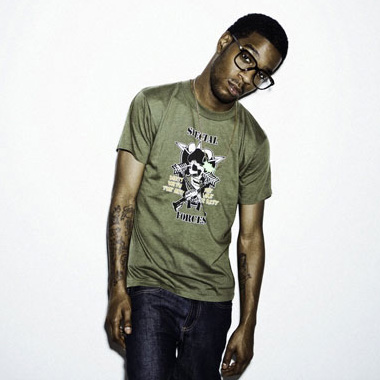 Cudi has good reason to be hopeful at the moment. The 25 year-old Cleveland native languished in Brooklyn for four years before his musical career began its recent ascent, describing his album's title as how he felt when he landed in the borough from his hometown. Cudi both downplays his success and seems secure in its assurance. "Everything happened organically and sort of gradually happened. It wasn't anything forced," he insists, but then adds, "That's why I look at my life as somewhat already pre-planned, like a straight-up destiny type thing."
This self-assurance on his own destined greatness from a man who sang, "Please save a kid that needs some help/ and I can't see ahead of me so I move in stealth ... though I feel I'll never be complete inside the dark I borrow/ to proceed and remain intact my mental is so unstable," in what he himself describes as his "uplifting" anthem, could potentially be the influence of some famously hyper-confident mentors.
Appearances on Kanye West's 808s and Heartbreak and collaborations with rap giants like Jay-Z have provided the up and comer with both media attention and inspiration. Kanye has had a particular influence in his work, which can be felt in the down-tempo, genre-bending theme of Man on the Moon. It can also be seen in Cudi's fashionable edgy-geek chic.
"Working with Ye is a lot of inspiration right there in itself," says Cudi. "To be inspired to want to create outside of the box and to tell your story. I think that Ye is the epitome of someone who effectively painted his story on the right canvas."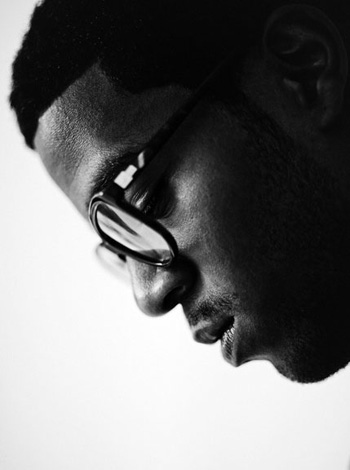 The painterly image is apt for Cudi's new album, which critics seem at pains not to describe as a series of "soundscapes." The dense, cinematic elements of the record could be the result of the year he spent as a film student before moving to Brooklyn to pursue music.
And while his music focuses primarily on his inner life at the moment, he credits his biography with heavily influencing his music. A Cleveland native, Cudi counts fellow Ohio artists like The O'Jays -- a soul group that had a number of hits in the Seventies -- and Bone Thugs-N-Harmony as pushing him towards a musical career.
"Bone Thugs alone is what made me realize that being successful out of a small town was real," he says. "That it can happen. I don't think that it was anything other than the fact that they were real, and they spoke about Cleveland life. The shit that they spoke about in their records was stuff that was happening in Cleveland in those neighborhoods, and I definitely took that and brought it into my world, as far as being true and honest."
Eclectic musical tastes allow Cudi to eschew easy categorization. The influence of indie faves Ratatat and MGMT, who collaborated on the album, can be felt in the slow, dreamy quality of Man on the Moon. But he is quick to note that he pursues fellow artists, not genres for their own sake. "I'm not just going to go work with an indie band just because they're an indie band. I have to be into it. I'm already planning something with Ben from Band of Horses."
On the new album, Cudi says he identifies less with early hits like "Day N Night" or the single "Man on the Moon" than with the (relatively) more redemptive "Heart of a Lion." "'Heart of a Lion' really hits home," he says. "I tell people it's like the new 'Eye of a Tiger.' It's very inspirational and uplifting. And not in a cheesy way, more like in a badass, hey, I'm not going to let nobody fucking stop me. I'm a champion sort of way. I really feel like if Rocky made a new movie, this would be the theme song for Rocky. Or Karate Kid."
He's either overestimating the artistic inclination of the Rocky franchise or underestimating his own, as "Heart of a Lion" comes across less as an unrestrained champion's anthem than the tenacity of a perennial outcast. "The album had to be dark before it could get light," explains Cudi. "So I really touched on a lot of darkness first, in this album. There might even be more darkness in the second album, who knows. But the third album will definitely be light. It will be the arrival. It will be all those uplifting songs that everyone's been waiting for, the epitome of inner peace."
However, it's when Cudi reveals his inner tensions that his work is most interesting, a glimpse into both the advantages and pitfalls of slipping between genres and personas: the swaggering performer and the self-critical introvert, the popular heir to a new rap royalty and the artistic scion of a range of influences. While it's easy to wish Scott Ramon Segring Mescudi all the best in his search for inner peace, one can't help but hope Kid Cudi has a few more rough nights in front of him.

REAL LIFE. REAL NEWS. REAL VOICES.
Help us tell more of the stories that matter from voices that too often remain unheard.