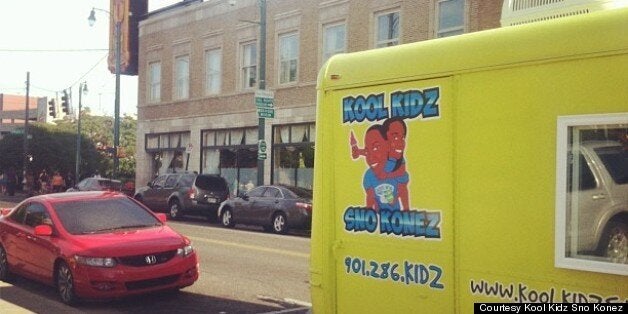 Jaden Wheeler and Amaya Selmon are the youngest owners of a food truck in Memphis, and by a few critical years. Neither is yet a teenager.
The brother and sister team -- he's 12, she's 11 -- own and operate Kool Kidz Sno Konez, a little enterprise that started in their front yard two years ago.
"We were always asking my mom for stuff, because we wanted her to buy us toys and things, and she said 'Why don't y'all make your own money?'" Amaya said.
"So I said to do a lemonade stand, but Jaden said we wouldn't make any money, and he wanted to do a yard service. But Mama said no, because he could get hurt."
They loved Jerry's Sno Cones, a good drive from their southeast Memphis home, and that spurred the idea.
"We started out with a card table in front of our house, with an extension cord," Jaden said. "We even used a blender."
They enlisted friends to stand at the busier streets around the neighborhood, waving signs to lure customers.
Success came right away, and last summer they did the same thing, though they had an ice shaver by then. In two summers, they earned about $1,000. Their mother, Katrina Robinson, was willing to step in a help them grow.
"She came to us about the food truck," Jaden said. "She said we were making enough money to get a truck."
Robinson laughed. "Well, in their minds, they thought because they were doing so well that they should open a shop. I told them a food truck might be a better idea."
Amaya: "Well, it was probably my idea, because I'd see stores for lease and say we should open up a store there. We want to be bigger and more out there."
They found an old transport van for sale on Craigslist, bought it in February (with considerable help from Robinson), had it refurbished to food truck standards and ready to go by May. The inside is up to food-truck standards so they could be licensed by the Shelby County Health Department; the outside was painted a bright yellow and a serving window was put in the side.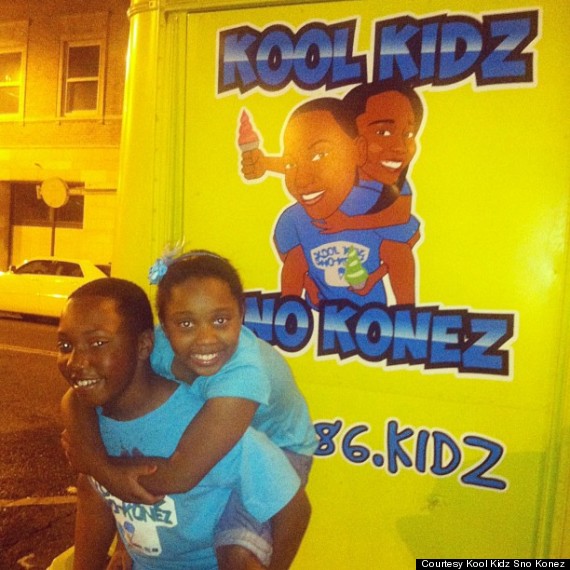 Taylor Berger, the president of the Memphis Food Truck Association, confirmed that the kids are the youngest food truck owners in town. While there are more than 100 licensed, he said that number is misleading as many of those are concession stands, not true food trucks, of which there are 30. The ordinance allowing them to operate was adopted in 2011.
"These kids are a perfect example of what the ordinance has done for Memphis," Berger said. "It's allowed people who wouldn't have been able to start a business to get into business -- even preteens."
Jaden makes the snow cones; Robinson, a single mom who is a registered nurse, drives the truck; and Amaya works the window -- usually.
There was the incident at the Memphis Zombie Walk last month.
"She was scared of the zombies," Robinson said. "She didn't want to work the window, but she came around."
Kool Kidz has been out in the community, at Tom Lee Park, around Beale Street during the Grizzlies playoffs, and at parks in Collierville, for several weeks. They've worked at birthday parties and private events. They typically work on Saturday and Sunday, though they'll go out during the week for special events. You can find them by following them on their Facebook page.
They sell more than 20 flavors, and last weekend added hot dogs and nachos to their menu.
Amaya has her mind set on making Kool-Aid pickles, because while they offer pickles now, "they're just not a big seller," she said.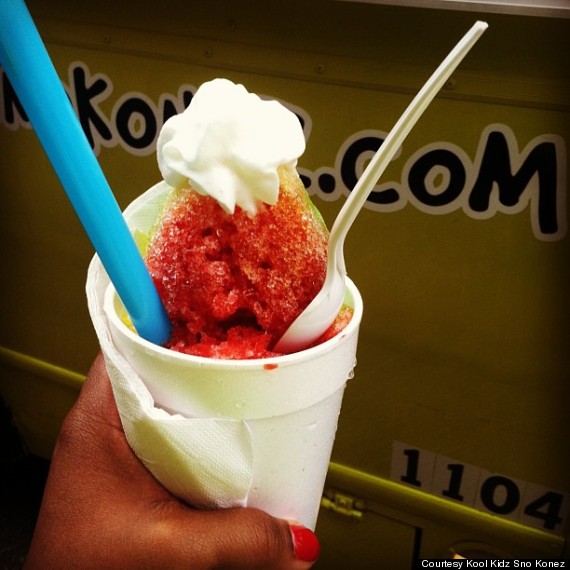 This isn't a short game for these kids, either: Jaden has big plans.
"Our goal with the truck is to franchise it, so I don't have to work when I grow up," he said.
Not work? From a kid who started his own business when he was 10 years old?
"What I mean is that I want to work smart instead of working hard," he said. ___
(c)2013 The Commercial Appeal (Memphis, Tenn.)
Distributed by MCT Information Services
Popular in the Community