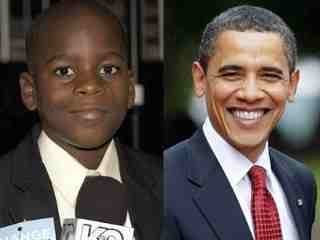 If there's one thing in this world that we love unabashedly, it's awesome kid reporter Damon Weaver from Pahokee, Florida, who gained national attention after interviewing Joe Biden, and heroically keeping his microphone aloft for several of the Vice President's long-winded answers. From there, Weaver went on a quest to gain an interview with President Barack Obama. Sadly, that goal remains unfulfilled, even though he'd probably do at least as well Ed Henry would. Despite the setback, Weaver remains a fan favorite at the Huffington Post and elsewhere, and I receive regular emails from readers inquiring after Weaver. The latest such email, in fact, came from a Fanny Siouville in France, where they have recently celebrated La Semaine de la Presse, where teachers take time out to discuss journalism with their students.
Happily, I can report that Weaver is doing a lot more than inspiring overseas inquiries. After inauguration weekend, Weaver was back on his grind, and this Friday, he'll play a high profile role on Friday night's edition of 20/20. His teacher, Brian Zimmerman, explains:
"For the past two months student reporter Damon Weaver has been working with Diane Sawyer's producer as the lead reporter on a news report about the violence that occurs in Damon's hometown.

The report will air this Friday, April 10th on ABC's 20/20 Special: If I Only Had a Gun. The special will be anchored by Diane Sawyer.

Damon first met Diane Sawyer on the night of President Obama's Inauguration when he appeared with her on the ABC News desk . When Diane asked Damon what he would like to ask President Obama he told her that he has seen shootings and fights in his town and he wants to know what the President will do to help reduce violence."
Zimmerman passes along that Weaver hasn't given up on securing an interview with President Obama, either:
We have been told that they are aware of Damon's request to interview the President. They told us they have been watching Damon Weaver on TV and that they are impressed with what he has been doing. They also told us that the right now is not a good time for Damon to interview President Obama since the focus of his administration is on the economy. I think the interview will happen when the time is right. We will keep trying.
So this, too, is in Tim Geithner's hands? UGH, GREAT.
At any rate, between Inauguration and 20/20, Weaver's been straight killin' it, putting his boundless work ethic and his appealing personality to work. Highlights include:
Popular in the Community