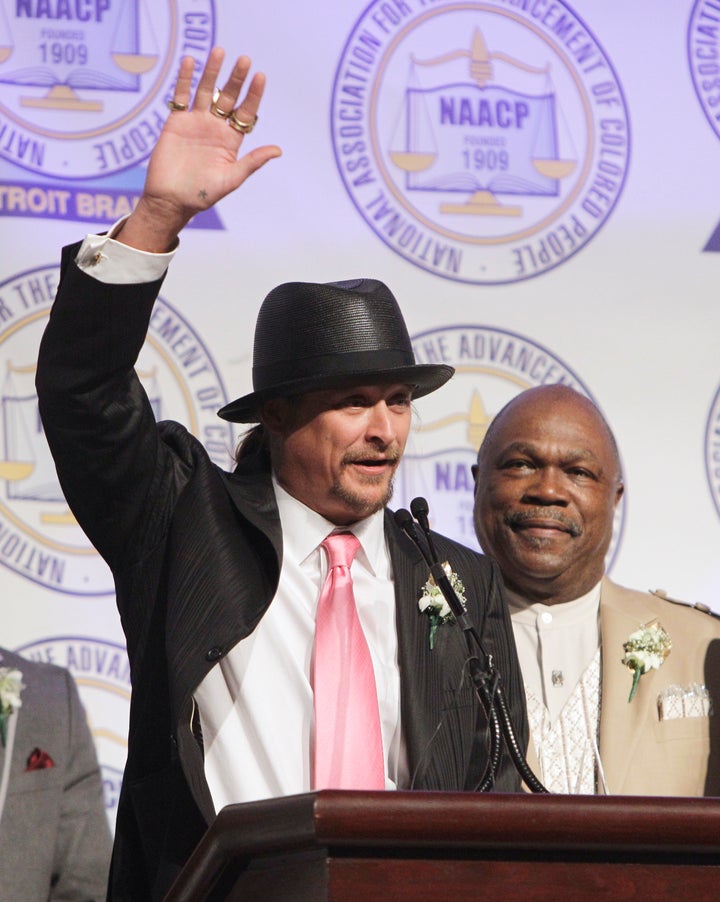 Kid Rock made nice on Sunday night with some kind words and, perhaps more importantly, major big buck donations.
The rock star accepted the NAACP Detroit branch's Great Expectations Award despite protests against his frequent use of the Confederate flag in his music videos and concerts.
"It's a slap in the face for anyone who fought for civil rights in this country," Adolph Mongo, head of Detroiters for Progress and a boycotting NAACP member complained to the Detroit News in March, when it was announced that Kid Rock would receive the award. "It's a symbol of hatred and bigotry."
In accepting the award, Rock defended his use of the flag, saying (via Billboard.com), "I've never flown that flag with hate in my heart, not one ounce."
That echoed his 2008 defense of his use of the flag, when he said it was about his southern pride, not any racist intent.
"Why should someone be able to own any image and say what it is?" he said in an interview with The Guardian. "Sure, it's definitely got some scars, but I've never had an issue with it. To me it just represents pride in southern rock'n'roll music, plus it just looks cool."
Also helping to smooth relations: while accepting the award, Kid Rock announced a total of $100,000 in charitable donations, split between local Detroit charities and the Red Cross' cleanup efforts in the tornado-swept south.
Calling all HuffPost superfans!
Sign up for membership to become a founding member and help shape HuffPost's next chapter