Kid Rock denied a Detroit newspaper concert press credentials for his Tuesday performance because the outlet had published a column that was critical of the singer.
Kirt Webster, Kid Rock's publicist, told the Detroit Free Press over the phone Monday that it wouldn't be receiving press passes because "you guys wrote a fucked up story and allowed it to be published."
Webster added: "You want a quote, there it is."
The offending "story" was actually a column written by the Detroit Free Press' editorial page editor, Stephen Henderson. In the opinion piece published earlier this month, Henderson likened Kid Rock's series of concerts scheduled for the opening of the new Detroit arena to "Jim Crow-era signs warning that blacks weren't welcome."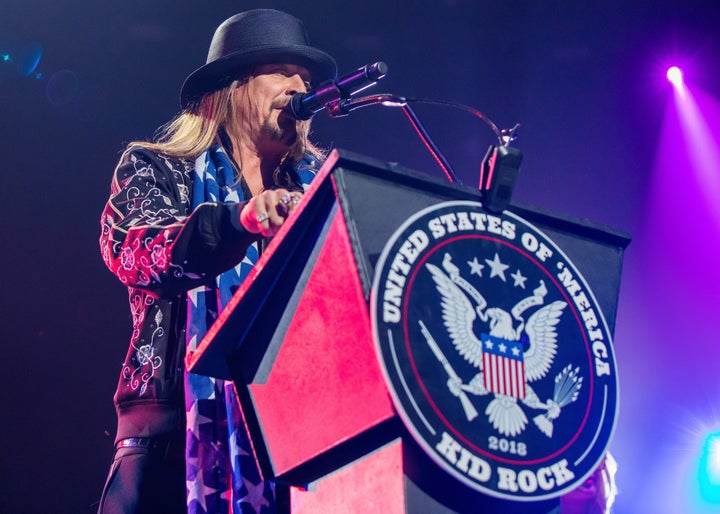 Kid Rock performed at the grand opening of the Little Caesars Arena in downtown Detroit on Tuesday night. During the inaugural concert, the country rapper played into politics, displaying a giant sign that read "Kid Rock For U.S. Senate" and delivering a lyrical speech in front of a podium decorated with an emblem resembling the official seal of the president of the United States.
Kid Rock even launched into a tirade against LGBTQ rights, according to a review of the concert by The Detroit News' Adam Graham.
"And why these days is everything soooo gay?" Kid Rock said, according to Graham. "Gay rights, transgender this and that. I say let gay folks get married if they want, and I'm not even close to a death trap. But things shouldn't be this complicated, and no you don't get to choose, because whatever you have between your legs should determine the bathroom that you use."
Demonstrators showed up at the arena to protest the concert, but it went on otherwise undisturbed. 
Kid Rock is an outspoken supporter of President Donald Trump who has recently ramped up his political rants, often slamming political correctness, the "extreme left" and "fake news." The so-called Detroit cowboy even debuted a website at KidRockforSenate.com, which sold campaign merchandise bearing his name, and teased a possible 2018 run for a seat in the U.S. Senate.
He later clarified that he was only exploring the option of running for Senate and announced that he was creating a nonprofit to promote voter registration. 
It is not uncommon for performers to deny press credentials to members of the media because of poor concert or album reviews. However, Kid Rock's decision to bar the Free Press stands out since he is teasing fans with a potential political campaign and, if he does indeed run, the paper's presence at his concert could have served as political news coverage.
Webster, the country rapper's publicist, accused the Detroit Free Press of publishing Henderson's opinion piece without fact-checking and cited that as a reason the paper was banned from the show.
"To be published without doing any fact checking on what Kid Rock has done for the city of Detroit? We don't condone bad behavior. We won't reward bad behavior," Webster said, according to the Free Press.
Jeff Taylor, a midwest regional editor for the USA Today Network who oversees the Free Press, told the newspaper that he was disappointed in the decision and pointed out that Henderson's column was an opinion piece ― not a news story.
The rapper is scheduled to perform at Little Caesars Arena through this week and into next week.
BEFORE YOU GO
PHOTO GALLERY
Detroit's "Murals In The Market" Festival