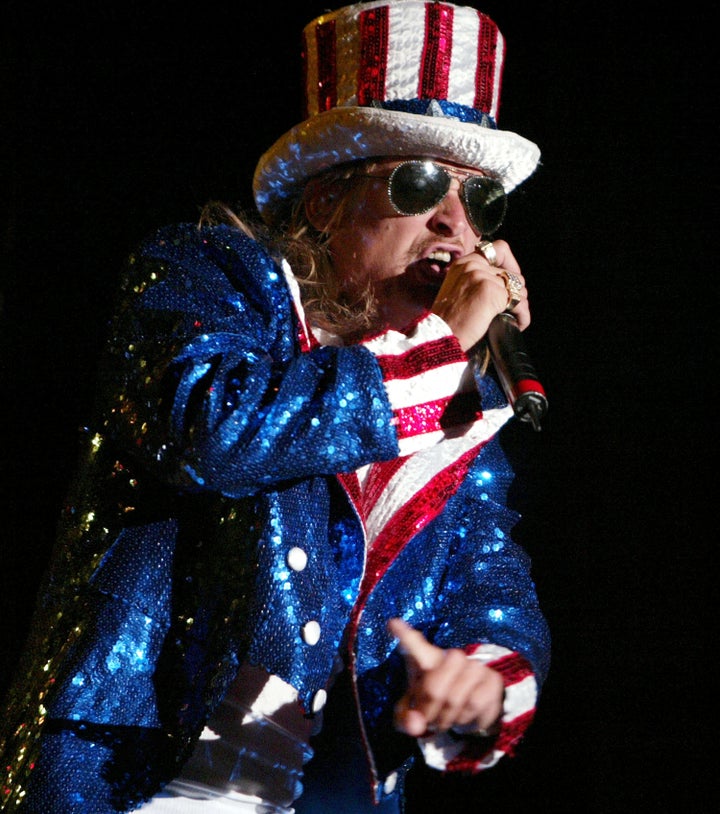 This is for the questions that don't have any answers.
Kid Rock, the singer-songwriter behind such American classics as "Redneck Paradise" and "Cucci Galore," has apparently had his hat thrown in the ring as a potential Republican candidate for the U.S. Senate. Yes, that U.S. Senate. 
At the Michigan Republican Party state convention over the weekend, a Tea Party activist named Wes Nakagiri, who is now a member of the party's central committee, suggested Kid Rock as someone who might be able to successfully run against Sen. Debbie Stabenow (D-Mich.) in 2018, RollCall reports. 
Nakagiri believes Kid Rock, whose real name is Robert Ritchie, could follow the Donald Trump "template" all the way to victory. "I'll bet you he would generate as much excitement as Trump did," he told the Detroit Free Press. Trump, who is now leader of the free world, used to host NBC's "Celebrity Apprentice."
Nakagiri additionally believes Kid Rock, who once famously argued he was an American badass in the hit song "American Bad Ass," has "name I.D., is an out-of-the-box idea, and would kind of get rid of that stodgy Republican image."
Stabenow was first elected to the Senate in 2000, but the Republican party in Michigan has reason to be excited after Trump won the state in November ― the first time Michigan has gone Republican in the presidential election since 1988.
Kid Rock is a well-known conservative, who supported Mitt Romney in 2012 and Trump in 2016. Late last year, he started to offer a "Make America Badass Again" baseball cap and "Gods, Guns & Trump" T-shirt on his website. Earlier this year, Kid Rock said he was still "digging Trump."
Kid Rock, who once took a photo with a dead cougar, did not immediately respond to a request for comment. It is not yet known whether Smash Mouth singer Steve Harwell is considering a Senate run in California, either. 
Calling all HuffPost superfans!
Sign up for membership to become a founding member and help shape HuffPost's next chapter
BEFORE YOU GO
PHOTO GALLERY
Mass Mooning at Trump Tower Chicago