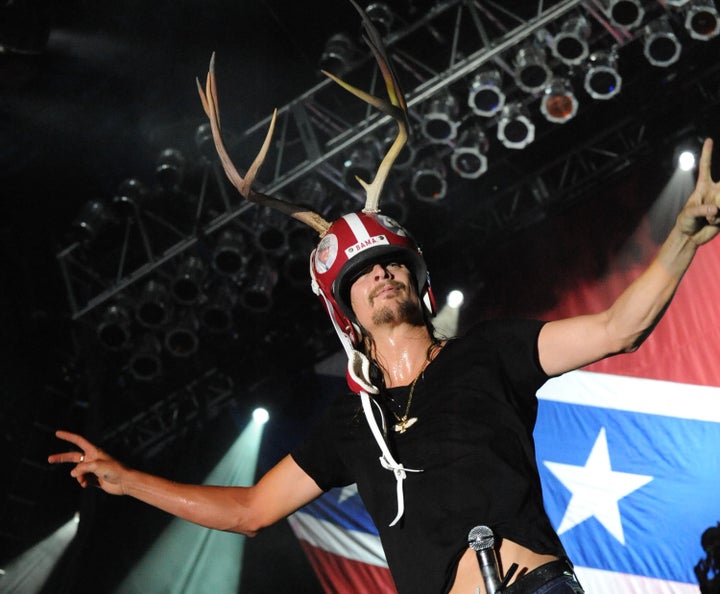 Some people don't think Kid Rock is meeting their great expectations.
The rocker is set to accept the NAACP's Detroit chapter's Great Expectations Award at their annual Freedom Fund dinner in May, and some members of the historic black rights organization are so unhappy about it, they're boycotting the 10,000 person affair.
"It's a slap in the face for anyone who fought for civil rights in this country," Adolph Mongo, head of Detroiters for Progress and a boycotting NAACP member told the paper last week. "It's a symbol of hatred and bigotry."
For his part, Rock defended the use of the flag in a 2008 interview with the Guardian. "Why should someone be able to own any image and say what it is?" he said. "Sure, it's definitely got some scars, but I've never had an issue with it. To me it just represents pride in southern rock'n'roll music, plus it just looks cool."
He also spoke about touring with a famed rapper and how it impacted his audience.
"I've got Rev Run [from Run DMC] on tour with me right now - we have fun trying to count the number of black people every night. We're like, 'There's 14 tonight, yeah!'"
Though he was a staunch defender of President George W. Bush, the singer went to back for Barack Obama after his election, in the process defending America against accusations of racism.
"It's good the U.S. has proved it's not as racist as it's sometimes portrayed," he told Metro UK (via Spin Magazine).
He also spoke about his own experience growing up with black people in the interview, saying, "Black people were kind to me growing up and taught me hip-hop and the blues."
Popular in the Community