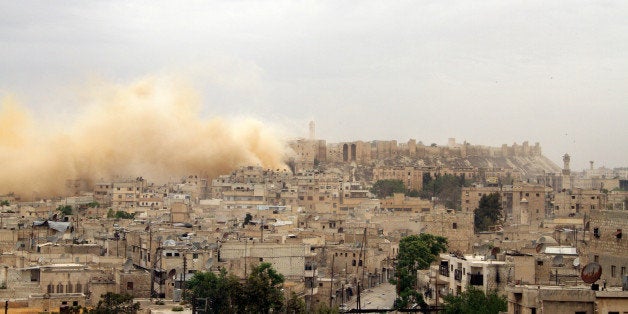 ISTANBUL -- A pair of veteran British journalists were badly wounded after being kidnapped in the wild frontier land of northern Syria, their newspaper said on Wednesday.
Reporter Anthony Loyd and photographer Jack Hill work for The Times of London newspaper. They were returning from a multi-day visit to Aleppo, the northern Syrian city that has faced intense bombardment from government aircraft, when their vehicle was rammed off the road a few miles from the safety of the Turkish border, the paper said.
Hill attempted an escape but was recaptured. Both journalists were badly beaten by their captors, and Loyd was shot twice in the leg. Their release was later negotiated by a more powerful alliance of rebel fighters, known as the Islamic Front.
The kidnappings reinforce the sense of ongoing disarray and structural chaos that has persisted in rebel-held northern Syria, despite recent attempts by more moderate and organized rebel groups to retake control of the area from the radical Islamist force known as the Islamic State of Iraq and al-Sham (ISIS).
In recent months, the U.S. has begun to slowly escalate its lethal assistance to rebel factions that have been deemed fit for such aid, and Western journalists -- after a six month hiatus, prompted largely by the kidnappings -- have trickled back into the country from the Turkish border.
Last month, the BBC's Ian Pannell and Darren Conway became some of the first Westerners in months to visit Aleppo, once Syria's most populous city but now the site of near-constant aerial warfare and devastation.
But despite an increase in access to these areas, the dangers to visitors have hardly disappeared.
Security officials who work in northern Syria say that the threat to Westerners visiting the area is twofold -- first, in areas controlled by moderate rebel factions, there is the constant danger of being shelled by government aircraft; then, in areas or checkpoints controlled by more radical rebels, or simple criminals, the threat of kidnapping remains high.
"You have to understand that if you are going into Syria, you might not come back," an aid worker in southern Turkey told The Huffington Post during a recent visit.
The Committee to Protect Journalists ranked Syria the most dangerous country in the world for reporters last year. There are still dozens of journalists and humanitarian workers being held by anti-government forces across northern Syria, including Americans, some of whom have been missing for years.
Calling all HuffPost superfans!
Sign up for membership to become a founding member and help shape HuffPost's next chapter