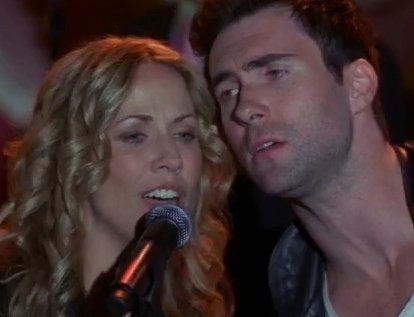 Last night's season finale of "30 Rock" was shocking for many reasons: We found out Clay Aiken is Kenneth "The Page" Parcell's cousin, that Elvis Costello is actually an international art thief, and that Sheryl Crow and Liz Lemon went to school together where one thought the other was a nerd (we won't spoil it by telling you which one).
Jack Donaghy (Alec Baldwin) gathered these comic crooners to sing "We Need a Kidney," a number he hopes will earn his new found father Milton Green (Alan Alda) a replacement organ. He called in favors from across the music world and ended up with a heart felt, yet drunk ballad performed by the Beastie Boys, Talib Kweli, Cyndi Lauper, Michael McDonald, Norah Jones, Moby, Wyclef Jean, Steve Earle, Mary J. Blige, Rhett Miller, Sara Bareilles, Rachael Yamagata and Maroon 5's Adam Levine.
SOMETIMES LIFE BRINGS PAIN AND STRIFE
AND ALL SEEMS WRONG
THAT IS WHEN YOU FIND A FRIEND
AND WRITE A SONG
SO
GIVE THE GIFT OF GIVING
GIVE IT FAR AND GIVE IT WIDE
TAKE THE LEAP - REACH DOWN DEEP INSIDE
AND JUST GIVE A KIDNEY
TO A FATHER OR A DAD
JUST GIVE A KIDNEY
WE HEAR IT DOESN'T REALLY HURT THAT BAD
AND WE KNOW YOU'LL WANT TO GIVE IT
TO A SUPER HUMAN BEING
SO GET IT DONE
WE JUST NEED ONE
FOR MILTON GREENE
THIS COUNTRY HAS SIX HUNDRED MILLION KIDNEYS
AND WE REALLY ONLY NEED HALF
THAT LEAVES ABOUT THREE HUNDRED MILLION KIDNEYS
DO THE MATH
OH -
MILTON GREENE MILTON GREENE
MILTON GREENE MILTON GREENE
MILTON GREENE
HE NEEDS A KIDNEY
MILTON GREENE
DON'T ASK WHY - HE COULD DIE
IF YOU DON'T CALL TODAY
THEY SAY THAT TWO IS BETTER THAN ONE
BUT SOMETIMES ONE IS BETTER THAN TWO
IF YOU HAD TWO HEADS YOU'D WISH YOU HAD ONE
HOW IS THIS DIFFERENT?
IF YOU HAD TWO DOGS ATTACKING YOU
YOU'D WANT JUST ONE
THERE I PROVED MY POINT!
OH -
MILTON GREENE MILTON GREENE
MILTON GREENE MILTON GREENE
MILTON GREENE
HE NEEDS A KIDNEY
MILTON GREENE
DON'T ASK WHY - HE COULD DIE
IF YOU DON'T CALL TODAY
HE NEEDS A KIDNEY
NO HE DOESN'T NEED A HAND
HE JUST NEEDS A KIDNEY
A HAND WOULD BE AN EVEN HARDER THING TO GIVE
WHEN YOU GIVE A KIDNEY
AND WE REALLY THINK YOU SHOULD
WE PASS THE CUP
THEY STITCH IT UP
YOU DO SOME GOOD

Popular in the Community