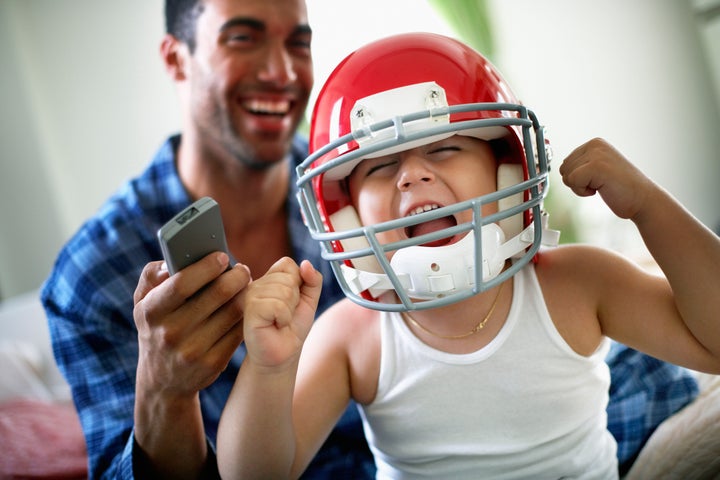 There's only one thing that can upstage Tom Brady throwing a 50-yard touchdown pass: a supermodel getting her naked body painted by Jillian Michaels. That's what Internet domain registrar GoDaddy.com will be treating audiences to in its Super Bowl ads this year. With more than 100 million viewers on game day, advertisers are willing to do just about anything to get attention. (Would you have ever heard of GoDaddy otherwise?)
The Super Bowl represents a moment when families sit down and watch TV together. We're pretty much a captive audience and can be surprised by just about anything that happens during the live game -- including the ads.
America pays almost as much attention to Super Bowl ads as we do the fumble on the 3-yard line. It's become a national sport to rate the ads the next day -- in the office and in the schoolyard. This year NBC, the network hosting the Super Bowl, is planning 18 hours of Super Bowl coverage on programs including the Today Show and Late Night With Jimmy Fallon. That's a lot of commercials.
Beer, junk food, and more supermodels
Although the content of Super Bowl ads tends to be a closely guarded secret, the big advertisers are announced far in advance of the game. This year, social media is a huge part of many companies' marketing efforts. GoDaddy is running racier versions of their "leaked" TV commercials online, and Doritos invites viewers to choose which ad will ultimately appear on TV.
Some of the 2012 ads will be age appropriate for young kids, but a lot of them won't. Keeping with tradition, there will be plenty of beer commercials from Anheuser-Busch. Which is fine for grown-ups. But alcohol messaging needs to be managed with kids, since the simple truth is that they're powerfully influenced by alcohol branding. There will also be plenty of junk food ads and more supermodels promoting products ranging from cars to flowers. Be on the lookout, too, for ads promoting NBC shows and new movies, which may not all be age appropriate for your kids.
Be prepared to talk with your kids
Ads have a huge impact on our kids. Of course, some ads are entertaining -- even innovative -- but viewing them with a critical eye means that kids will have more freedom of choice about which messages they choose to listen to... and which they don't. So here are some suggestions for ad-proofing yours: