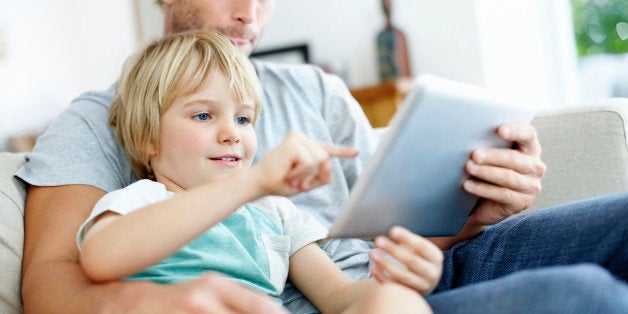 Education is experiencing a modern phenomenon. Never before have parents been able to participate in their child's education in such a democratic, entrepreneurial, spirited and compassionate way as they do with apps, either by choosing educational apps or developing apps themselves. Not all parents need to add app development to their to do list but it is worth mentioning that a large majority of independent kids app developers are parents who started developing apps inspired by touch screen technology and the patent effect it had on their kids.
Over two years ago I listened to a story on NPR about the new phenomenon in kids' bedtime story experience: the iPad. Omar Gallaga, a reporter at the Austin American Statesman, spoke about his daughter Lilly's affinity for bedtime stories read on the iPad over regular books.
Lilly's resounding thumbs up of the iPad for her reading pleasure was the trigger that lead me to create a kids' story app. I dove in and now two years later I can say it's harder to get a camel through the eye of a needle than it is to get noticed on Apple's app store. Never mind anything about riches.
"In my 20 plus years of experience in software, I've never seen a more crowded market than the app market," said Michel Kripalani, President and CEO of Oceanhouse Media. Oceanhouse Media develops best-selling apps based on classic titles such as Dr. Seuss and Mercer Mayer's Little Critter. "We were one of the first developers with a defined strategy. I can only imagine how difficult it is for a new developer to get noticed today."
Because Lilly's dad reviews apps for Kirkus Books she reads a lot on the iPad. But most parents don't download 25 apps each month. According to the Financial Times, parents download an average of 27 apps per year. This could probably be because 97 percent of parents said there are too many poor apps on the market, according to Kids Industries. Why do parents feel this way? I would guess to say it's for two reasons.
The excitement, accessibility and entrepreneur spirit that new technology affords motivates massive app development. It wasn't just for the Silicon Valley entrepreneur, or the large corporation, but for anyone who had the inclination. Kids even developed their own apps. Some great stuff comes from this environment, and some not so great stuff, which is why kids' app reviewers have emerged.
Second, out of 800,000 plus apps (200,000 are iPad apps) only a tiny fraction, or less than 30 apps, get featured when launched. In Apple's app store, there are no subcategories in "Books" and no "Kids" section for parents to discover apps. When the app store features a kids' app, usually it's because there's a novel feature or use of the iOS software. For independent app developers who stick around to make a second and third app, it's a rough ride to get a good app into the pudgy hands of a child, and thus continue to develop apps.
Yet as fast as the app market for kids began, the landscape shifts. Research on how kids use and absorb apps is starting to surface and committed developers continue to raise the bar for quality, education and enjoyment with each new app released. Two years ago, user engagement like voice recording was the new thing, then sharing the experience with loved ones remotely, and now another revolutionary experience in story telling allows for DIY animations.
Trigger Happy, a brother and sister duo, released their new app, Toon Hero, that allows users to animate their own characters and place it into a voice recorded story. Shona Grundy, her brother, Karl Butler, and his wife, Cathy Butler have careers in animation, but they are also parents and app developers. Inspired by mobile technology they devised a completely revolutionary way for users to do their own animation. People of all ages can now animate their own stories because a few people in New Zealand crafted the idea and were able to put it in motion.
It's not uncommon for family members or spouses to develop apps together. At Children's Technology Review's annual "Dust or Magic," a gathering of kid app developers, most developers, like Pierre Abel and his wife, started developing for their kids. As parents who home school their kids and develop apps together, the kids "see how an app is created, test it and give us feedback," says Abel. When Carolyn Hu Flexer of Duck Duck Moose saw her 2-year-old playing with her iPhone, she realized how touch screen technology engaged kids at another level. Soon she and her husband and a friend had their first app out, Wheels on the Bus, which was her daughter's favorite song at the time.
When I asked a group of developers on Facebook why they started developing apps, most were parents who wanted to help their kids learn in a better way. Mother of two Julie Landry Laviolette saw her kids spending too much time on video games so she developed an interactive book for tweens. Alessadro La Rocca's daughter Niki is autistic and non-verbal so he created Niki Talk to help her, and others, communicate effectively.
"The great advantage of a screen is the feedback. You submit an answer and immediately know if you were right," said Kristin Heitmann, app developer, mom and primary school teacher. "This keeps kids engaged longer than if in a regular classroom raising their hands to give the right answer."
As the kids' app world evolves so too does its developers. It's a marvelous time to explore different apps by unknown or little known developers. At $.99 or free you can't go too wrong. But what's more, you can elect through your pledge which developers stick around and which don't. What is more interactive, educational and democratic than that?