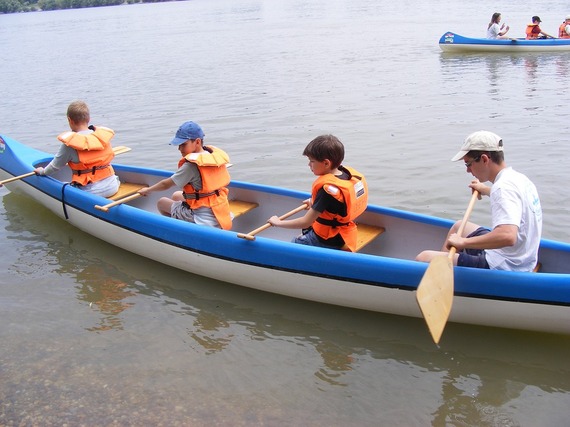 Kids are not supposed to die - especially not at summer camp. But "supposed to" didn't matter last week when 11-year-old Jadyn Larky died in a freak accident at an overnight camp in southeastern Indiana.
While Jadyn slept, or tried to sleep during a severe thunderstorm, lightning struck an otherwise healthy tree near her cabin. A large part of the tree broke off, crushed the cabin and Jadyn was killed. Her counselors and bunkmates were physically unharmed.
Kids are supposed to tye-dye at camp. Not actually die. They're supposed to drink bug juice. They're supposed swim in the lake, roast marshmallows and have color wars.
Camp is supposed to be a place where young people learn about independence, step outside their comfort zone and figure out that, even after doing so, they are actually okay.
I can't stop thinking about Jadyn and her family because I also sent an 11-year-old to overnight camp. Perhaps my son and Jadyn even left on the same day.
I keep thinking that Jadyn's last night at home was probably very similar to my son's. Last-minute packing. Dinner at a favorite restaurant. Extra hugs and kisses and reassurance to help ease the pre-camp jitters.
Tragedy is all around us. We're still grieving over the loss of 2-year-old Lane Graves, the toddler killed by an alligator at a hotel at Disney World - the happiest place on earth (although many kids will argue that overnight camp is the happiest place on earth). Toddlers aren't supposed to die, either. Especially not at Disney.
"Supposed to" doesn't matter. Life is full of worry and uncertainty. Still, we hope for the best and rely on the notion that horrible things are not supposed to happen to children. Not just our own children, but any child. Even before Jadyn died, I worried about trees falling on kids who spend their summer in tiny cabins in the woods. I worry about lightning strikes and tornados. I worry about drowning in the lake. I worry about Lyme disease, Zika virus and other mosquito-borne illnesses.
Kids aren't supposed to die at camp. They are supposed to canoe. They're supposed to learn archery, ride horses and hear scary stories. Jadyn was supposed to do all that. But then a tree fell on her cabin. Now, instead of listening to ghost stories, Jadyn's family and friends along with camp staff will forever be haunted by the night lightning struck a tree, crushed a cabin and killed an 11-year-old girl who was supposed to be having the time of her life.
So is there a takeaway from all this? We've already heard people say "Hug your kids a little tighter tonight," and we know that tragedy can happen anytime at any place, even the happiest places on earth.
Sadly, there is no takeaway except that "supposed to" doesn't mean anything. An 11-year-old went away to camp and now she isn't coming back. It could have been anyone's child. It should have been no one's child.
Kids are not supposed to die.