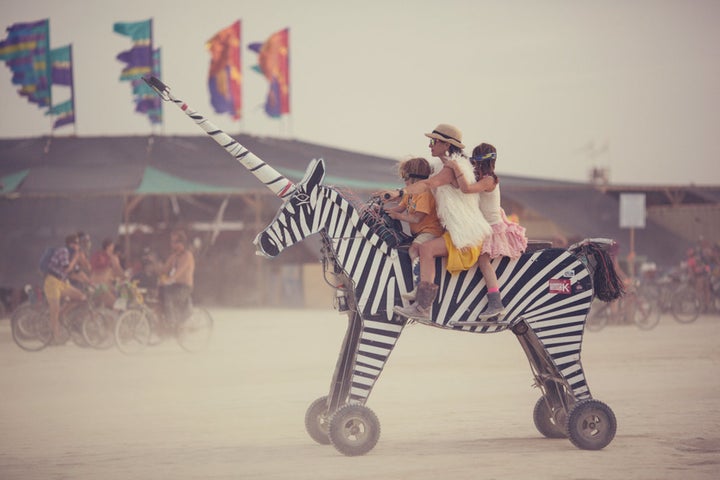 To outsiders, Burning Man is a place of tutus, psychedelic drugs, pyrotechnics and general desert revelry. Nostalgic adults converge in and around Black Rock City every summer to, according to those of us who've never attended, burn effigies and practice some good ol' radical self-expression. Not exactly what you'd call a family-friendly environment, right?
Wrong, says photographer Zipporah Lomax. In a recently funded Kickstarter project, dubbed "Dusty Playground," she is highlighting the children and families who venture just beyond the California-Nevada border to take part in the week-long Burning Man festivities. Her photos capture the individuals -- young and old -- who gather for the ritual burning alongside sons and daughters, mothers and fathers, sisters and cousins.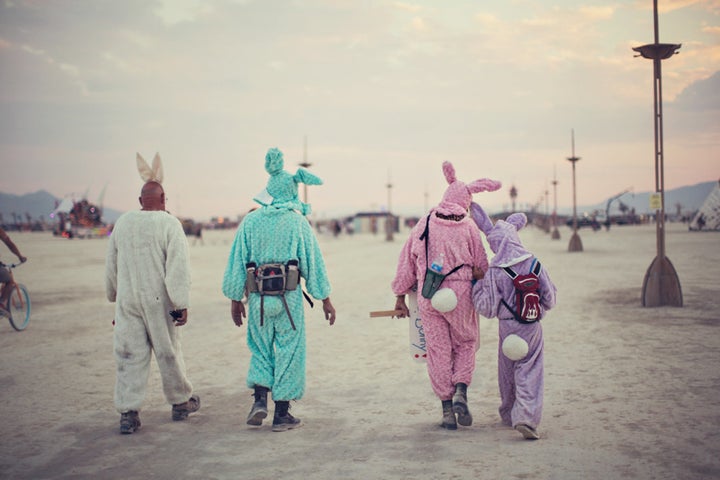 The images, in particular, give voice to the "Burner parents" who believe the playa is the perfect place for their kids to let imaginations run wild. In Lomax's photos, girls and boys can be seen playing in the desert dust, admiring the massive artworks on display and lavishing the off-the-grid freedom Black Rock City provides.
"To my eye, the children have always been present, right along with the boisterous adults that populate Black Rock City," Lomax explained in an email. "There have always been these smaller versions of their adult counterparts, the Littlest Burners, having an awesome time alongside the rest of us ... It's an endless unfolding of stimulating experiences, each as spectacular as the one before -- the kids are simply part of the magical fabric of it all."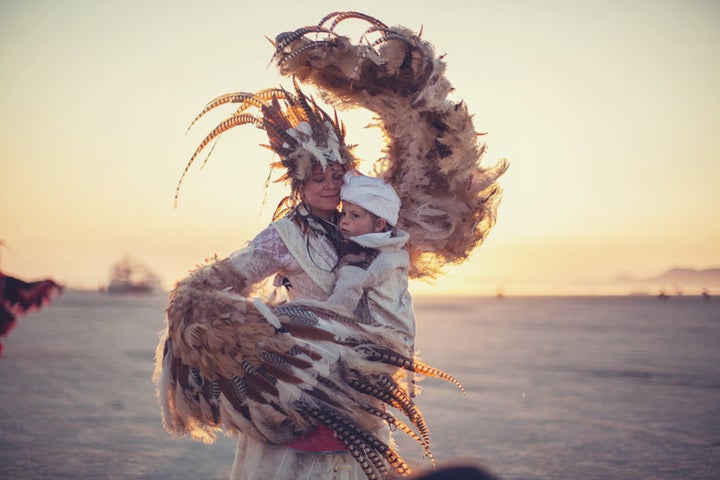 Lomax's project isn't just about the children, though. "It's about the depth of the culture they represent," she said. She is bothered by the narrow conception people have of Burning Man, "as it doesn't, in any way, account for the experience I've had of this event." She was quick to correct any characterization of the event as a "festival." Burning Man is a different kind of phenomenon, she says, describing the gathering as a center of participation and contribution, rather than consumption and entertainment. 
"It is a place that favors the gift over the transaction, encouraging us to ask what we might offer, rather than what we might gain." Altogether, the environment of Burning Man is much more complex, hardly just an opportunity to disconnect from some "default world" and party mindlessly for a week.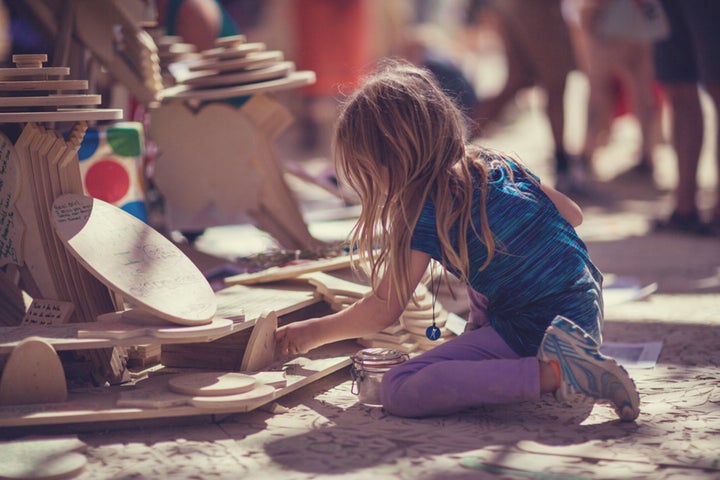 "It IS that for some people," she noted. "I sincerely have no problem with that. Indeed, it's the very freedom to make it into whatever you want it to be that makes [Black Rock City] such a wonderful place. It's expansive enough that we can each have our own experience, be that focusing on the vibrant sound camps, donning elaborate costumes and partying wildly, or ... more modestly taking it all in, focusing on art, relaxing in Center Camp and meeting people from all over the world."
This is what she hopes to convey with her book -- to speak to the quieter side of a multigenerational event, highlighting a lesser known element of Burning Man along the way.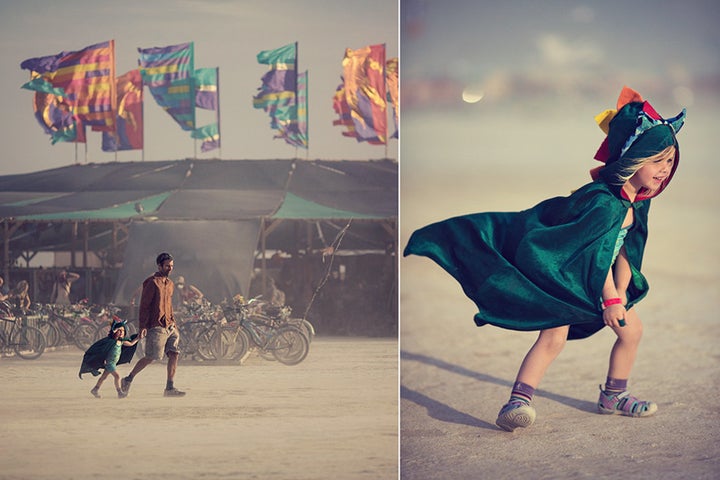 And this lesser known element can be quite poetic. Lomax recounted a moment in 2014, on a Sunday morning at Burning Man's Temple of Grace just before the space was set to be burned, in accordance with tradition. Lomax recalled the "collective energy" of the day was somber and heavy. But then, a woman appeared in the temple with an infant and the space suddenly shifted "into something palpably more light-hearted." The tiny blonde infant, Lomax wrote in a blog post about the experience, was wrapped in orange silk, nestled in her mother's arms, "her deep blue eyes were calmly alert, taking it all in."
"This precious little being had such an impact on everyone lucky enough to be there that Sunday morning," Lomax added in the post. "Her pure presence lifted our collective spirit and helped us exhale and let go of all we'd come there to absolve."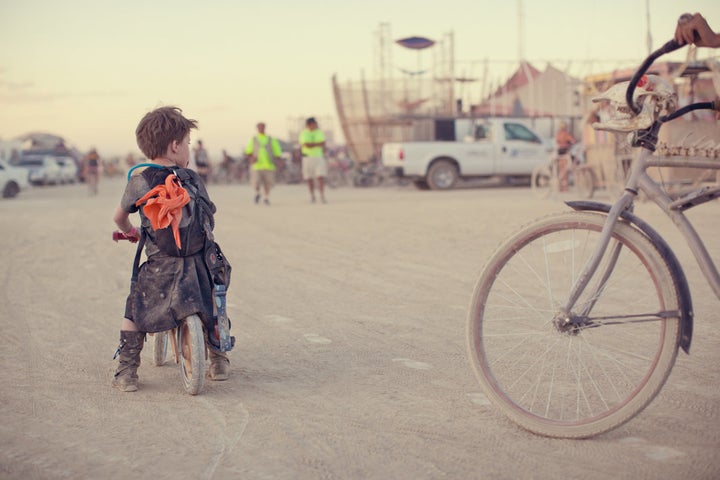 Lomax hopes to continue photographing Burning Man, focusing her lens next on the elders of Black Rock City. At the end of the day, as an artist, Lomax photographs many other congregations and festivals, but holds a special place in her heart for the playa.
"I could tell you a million and one things about Burning Man and still, my descriptions would fall short as my explanations will only ever speak to my own experience," she concluded. "The truth, is that Burning Man is 1,000 different things to each of its 70,000 participants. It is beautiful and it is profane, it's debaucherous and its sacred, it's a wild, raucous party and it is a deeply spiritual gathering. If you've never been there -- it is everything you might imagine and it is nothing you can fathom."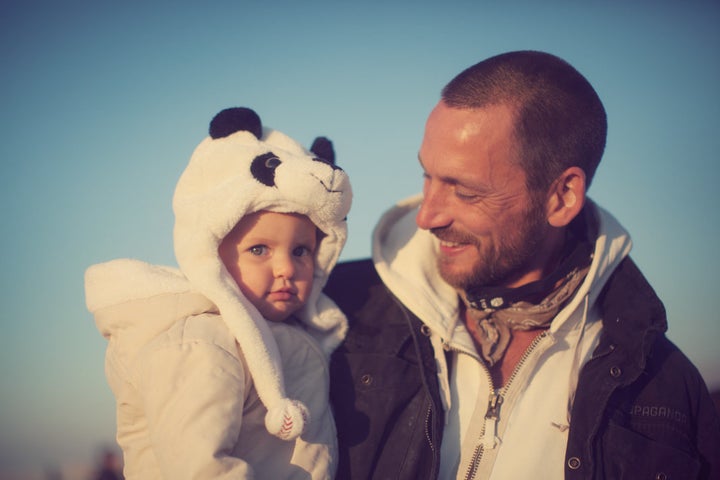 PHOTO GALLERY
Burning Man 2013
Calling all HuffPost superfans!
Sign up for membership to become a founding member and help shape HuffPost's next chapter