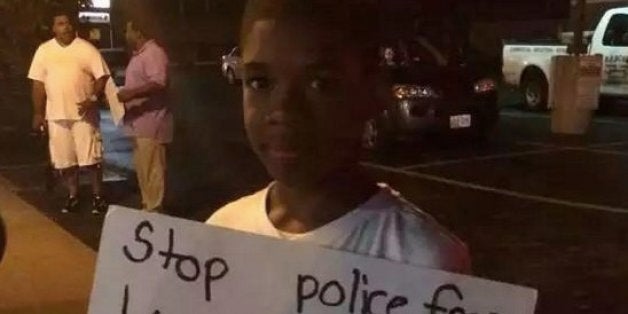 Kendra Pierson, 36, and her sons, ages 6 and 2, joined a crowd of men, women and families in their hometown of Atlanta on Thursday for a moment of silence to honor Michael Brown, the unarmed black teenager killed by a white police officer in Ferguson, Missouri. earlier this month.
Attending the vigil wasn't an easy decision for Pierson, and she was uncertain they would go until the last minute. She drove past the crowd first to gauge its safety, and remained on the fringes in case she and her children needed to make a fast exit. Ultimately, however, Pierson felt she and her sons needed to be there.
"My boys are adorable … white ladies say that all the time, but I know they won't always be 'adorable,'" Pierson told The Huffington Post. "When they're 17, people might see them as threats and clutch their purses."
"It was important for them to be there," she added. "When they look back, in 10 years or five years, I want them to know they were there."
In the days and weeks since Brown's death, protests have spread beyond Ferguson to cities like Atlanta, New York and Los Angeles, where thousands have gathered in solidarity. Many attendees are parents, like Pierson, who have their children in tow and who struggled with the wisdom of that decision.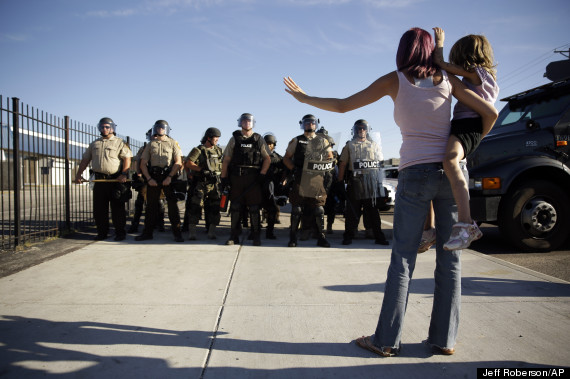 Protester Janelle Pittman holds her 6-year-old daughter, Kat, as police in riot gear stand guard in Ferguson, Missouri, on Wednesday. (Jeff Roberson/AP)
"I don't think that is inherently a good or bad thing," Jamie Howard, a clinical psychologist at the Child Mind Institute in New York City, said of bringing children to protests. "It depends on certain factors, and one is the tone and climate." If protests are dangerous or aggressive, parents should use their judgement and keep their children away, she urged.
But in Ferguson, where the tone of protests has varied widely, it can be extremely difficult for parents to determine what's best. "It is not unusual to see some people carrying handguns, while only a block away parents push their toddlers in strollers," The New York Times reported on Saturday. The Huffington Post's Amanda Terkel reported an 8-year-old boy was hit by tear gas during a rally on Sunday.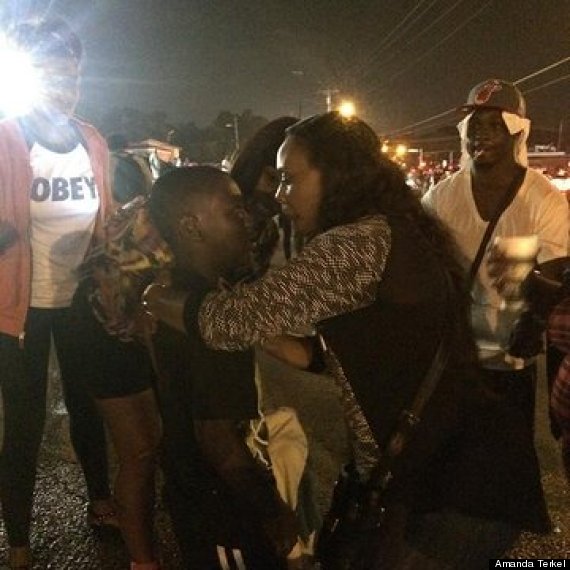 A mom consoles her 8-year-old, who was hit with tear gas. (Amanda Terkel/The Huffington Post)
Betsy Reznicek, 35, drove 30 minutes from her home in St. Louis County to Ferguson on Saturday afternoon to attend a vigil where Michael Brown was shot to death, as well as a subsequent rally. She brought her 6-year-old daughter and 3-year-old son, as well as a friend who had her children with her.
"I had a conversation with my husband, and we thought Saturday might be a good day," Reznicek said. "We talked about the possibility of [going sooner], but for a variety of reasons we didn't." Reznicek -- who has attended rallies and protests with her children in the past -- was familiar with the organizers of the event, and knew she would be with friends, in daylight. She said she felt safe.
"We knew what was happening was far too important not to go," Reznicek said.
Indeed, many parents -- having determined an event will be safe, and will not overly expose their child to upsetting news -- see attending a protest as an invaluable learning experience, said Dr. Lloyd Sederer, medical director of the New York State Office of Mental Health and The Huffington Post's mental health editor.
"Is it a teachable moment? Is this something the child's own moral growth would benefit from?" Sederer asked. "If parents believe it is, then it's very reasonable to bring a child."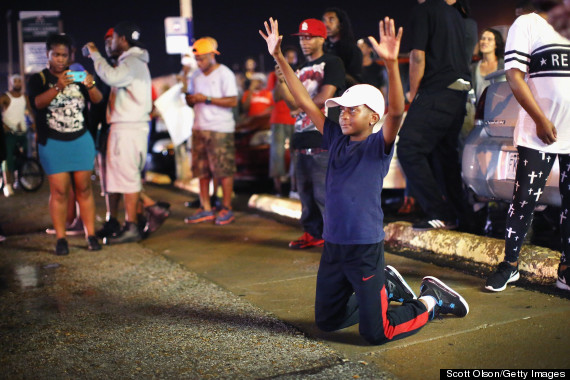 (Photo by Scott Olson/Getty Images)
The key, Sederer said, is for parents to make sure they tailor their explanation to their child's age. To a younger child, parents might say something along the lines of, "There are some sad, bad things that happen and good people are responding, and you're with us and we're going to take care of you," he suggested.
Children ages 10, 11 and 12 are very concerned with fairness, added Howard, and parents may want to frame the protest in that light, while parents of teenagers can delve into more abstract issues.
"In general, we say to be brief and honest and focus on answering their questions rather than trying to put yourself in their head and figure out what their questions are," Howard said. "Sometimes we project adult questions into children's minds."
Reznicek told her 3-year-old they were going to the vigil to support all kinds of people and to say a prayer for a boy who was killed. She talked to her 6-year-old about "how people are treated differently based on the color of their skin," and how "we have an opportunity to stand up for other people when we see injustice." At the vigil, their attention drifted in and out.
"They were really focused on the fact that people were giving out free food," Reznicek laughed. "But then when certain things happened -- a group of guys on motorcycles did a rolling tribute, that got their attention. But then they went back to arguing about who got to ride in the stroller."
Pierson did not tell either of her sons about what they were doing or why they had attended the Atlanta protest.
"They played in the dirt, they played with friends, they had fun," Pierson said. "I didn't impress upon them what was going on." When they are older, she will talk with them about Michael Brown and the subsequent nationwide unrest, but for now, she said she feels it was enough for them simply to be present.
"It was emotional," Pierson said. "It was emotional as a mother, it was emotional as a black woman, it was emotional as the daughter of a man who grew up in St. Louis County, it was emotional as the wife of a black man. But for me, the mother part was the most overwhelming emotion I felt."
Below, more images of children at protests in Ferguson and around the country: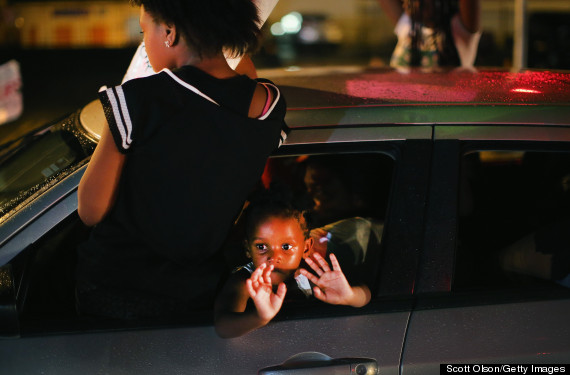 A young child looks out from a car as demonstrators drive down West Florissant Avenue protesting the shooting and death of Michael Brown on Aug. 15 in Ferguson, Missouri. (Photo by Scott Olson/Getty Images)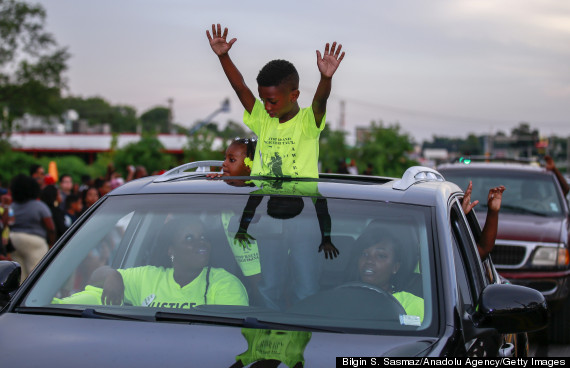 (Photo by Bilgin S. Sasmaz/Anadolu Agency/Getty Images)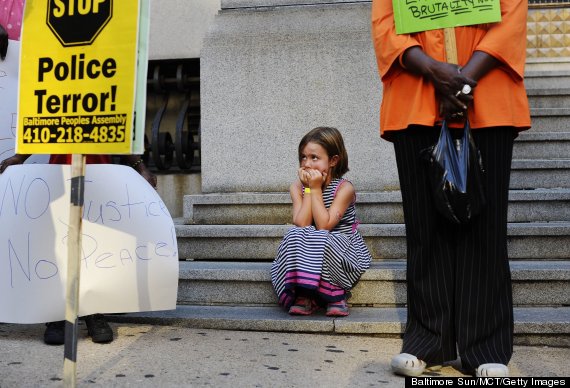 Amelia Vitek, 6, looks up at protestors and signs outside of the Clarence Mitchell Jr. Courthouse at the solidarity rally and march on Thursday, Aug. 14 for Michael Brown. (Rachel Woolf/Baltimore Sun/MCT)
Other parents who brought their children to protests joined HuffPost Live to talk about their decision to do so. Watch their conversation here:
Before You Go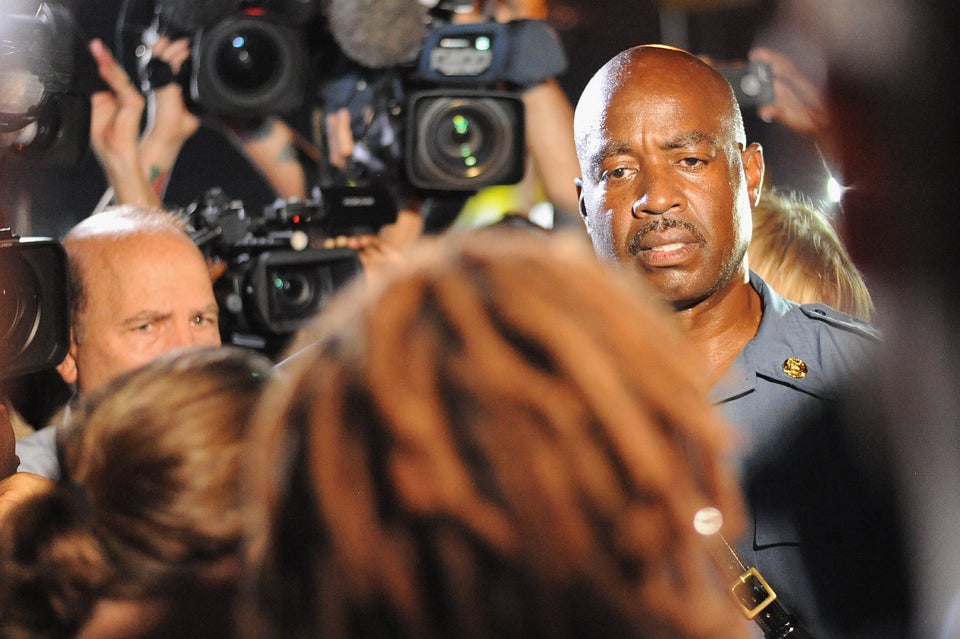 Ferguson Protest