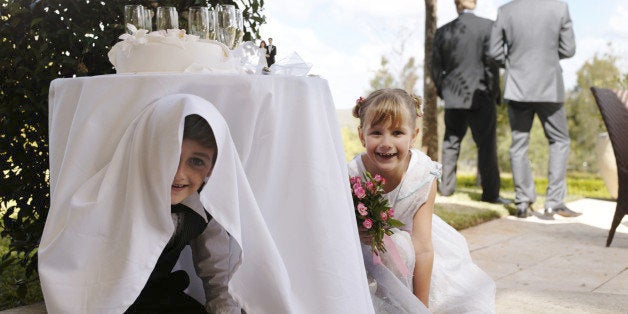 The rules of wedding etiquette are constantly changing, making it difficult for modern brides, grooms and guests to find up-to-date and correct information. But here at HuffPost Weddings, we're all about making your life easier. That's why we've launched #MannersMondays, a weekly series in which we ask our followers on Twitter and Facebook to submit their most burning etiquette-related questions. Then, with the help of our team of etiquette experts, we get you the right answers to your biggest Big Day dilemmas. You can send yours via Facebook or tweet it to us @HuffPostWedding with the hashtag #MannersMondays. Check out this week's question below!
"So, while you don't HAVE to pay for guests' childcare, it is NICE to offer a communal babysitter as an option to your guests. If you really want to ensure that people don't bring their children, you can arrange for and pay for a sitter. Then you're also taking away any potential excuse for guests to bail on your Big Day because they can't find someone to watch their kids. However, you should not and are not expected to reimburse people for their babysitters. You shouldn't offer and you shouldn't ask. Not every place or circumstance is intended for children, so it's your prerogative to have an 'adult-only' reception. However, if you aren't providing childcare, it's your guests prerogative not to attend if they don't want to deal with the hassle or expense of a sitter."
Click through the slideshow below to find out what our readers think about banning kids from weddings.

Is It OK To Ban Kids From Weddings?