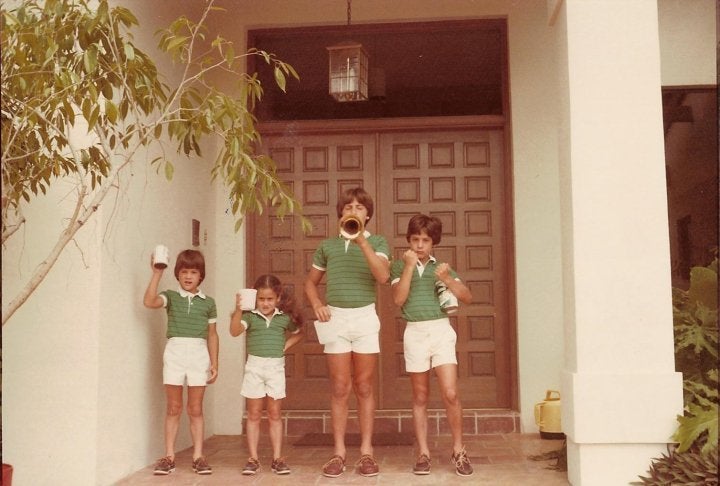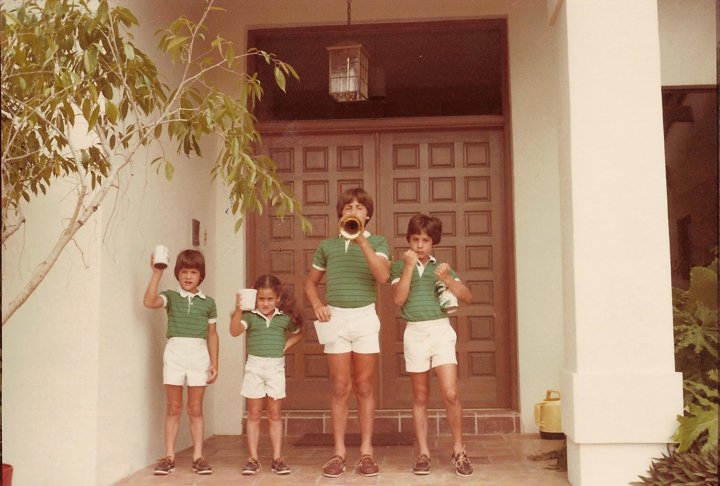 Growing up, my mother dressed my brothers as if they were lounging on a yacht in Nantucket. The only difference was they were lounging on the roof of our Long Island house, throwing eggs at cars. Their wardrobe included Ralph Lauren Polo shirts with the collar up; Sperry Top Siders or Penny Loafers; and Ralph Lauren or Brooks Brothers blue blazers with gold buttons. In the summer, it was Bermudas with Polo's and topsiders. I certainly love and appreciate the classic style of my family, but when it came to my kids, I wasn't dressing them as if they were trying to gain admission into a WASPY country club. I never "fit" in to that preppy vibe and learned that rather quickly as a kid. My mother was constantly stopped by strangers commenting on my "exotic" and "unique" look. I didn't even understood what those words meant, but I was pretty sure they were code for "ugly." It was then I realized that preppy would never work for my face. I had to be a little more edgy (did I mention I was 4 at the time?). This also translated into how I dressed my kids.
When my kids were babies, I kept looking back at old family pictures thinking "how did my mother get all four kids out of the house looking so chic?" It took me so long to actually leave the house, period. I certainly wasn't worried about their wardrobe. I was more concerned with remembering to walk out fully dressed myself (yes. I had a little situation where I walked out sans bottoms, thank G-D for doormen). Also, not being a great planner, usually I would forget a change of clothes, so the kids would have various stains covering any garment with style potential.
When they were pre-toddlers, I did work some of my creativity into their look. When Liam was 18 months old, I felt it was time to shave his head and create a Mohawk (this was before it was considered trendy). Then at 3, we shaved his head in totality to create the hardcore punk look he wanted (OK, I wanted). At first Liam loved his new look, but he quickly grew embarrassed. I still feel really awful regarding that mistake, but please note I have assured him that all future therapy fees dealing with that specific incident will be covered.
Neal, my eldest, has always had straight, long hair. That was until I convinced ("manipulated") him to shave the sides. It didn't come out as expected -- he looked a little more Hare Krishna than anticipated. We had to let it grow out and deal with people assuming we were vegans.
When they were finally in school, I was open to letting them wear what they wanted. One of my kids wore super hero costumes and/or pajamas daily. I didn't blame him, they were comfortable. The other didn't like wearing shoes or underwear (again, I can relate both very comfortable options). I saw no issue in allowing my kids to wear what they wanted in preschool. I learned later that this was actually considered "bizarre," according to some parents and teachers. I was told eventually that my kids would have to start dressing like they were going to school. What a way to stifle a kids creativity -- and his private parts, for that matter.
Today, my kids love clothes and I have to say pick out some cool items when we shop. To me, watching my kids peruse through clothing racks feels maybe what other parents feel when watching their kids score a goal at a soccer match. When Neal, at age 7, made a bee line for a vintage-looking motorcycle jacket, I gasped with excitement. This jacket was AMAZING, this kid not only exemplified good taste, but impressive begging skills.
In San Francisco this summer, we passed by H&M and I promised them I would buy them a few things. After decisions were made by these two budding hipsters, which included aviator shades, a puffer jacket, cool vintage inspired t-shirts and a hat, we walked back to our apartment. I reminded my children how "cool" their mother is for allowing them to pick their own clothing and express their individualism. (It had been a long summer with no adult interaction, so please give me some slack.)
My youngest son, Liam chimed in rather quickly, "That's not true. If you don't like it you tell us it's so DORKY and beg us not to wear it"!
Shit, I thought to myself. I looked at Liam and said, "you are absolutely right Liam, and if you like something, by all means you should wear it whether mommy thinks it's dorky or not."
Liam reminded me that I am not so open-minded when it comes to their fashion choices. Sure, if it's "cool" in my book then I am all for it, but if they want shoes that blink or t-shirts that mention anything about a family member thinking they are cute, then it will not be worn. So I guess your children are a reflection of you, and for me, I can't have them tarnish my reputation -- it's the only thing I have going for me at the moment.
Now, going back to my own childhood, in all my mom's preppiness, she allowed me to be an individual. She had no idea where I came from, but she was never humiliated by my outlandish style. My mother not only allowed me to leave the house in what looked like homemade costumes, but continually told me how proud she was of my ability to take something and turn it into my own creation. I know that this acceptance nurtured my individualism and self-assurance. I was always different, but being different made me special.
Liam's comments pointed out that I am pushing my own individualism on my kids, when maybe they want to wear the "dorky" light up shoes or some day join a fraternity. The most important thing is that my children are happy and confident being themselves, with out some crazy woman interfering.