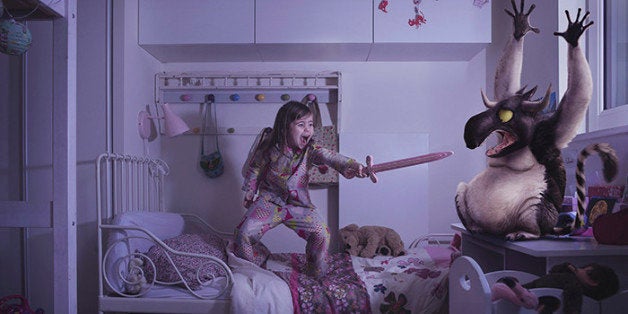 After their parents have tucked them into bed and turned off the lights, it's not uncommon for kids to be overwhelmed by a common fear: terrifying monsters that live under their beds and in their closets.
In her photo series "Terreurs," French photographer Laure Fauvel gave this scenario a new twist. Instead of cowering in fear, the pajama-clad kids in these pictures are ready to battle against the monsters in their rooms. The monsters, meanwhile, look terrified and ready to surrender.
"I wanted to show children who aren't scared of monsters and who are able to fight them and be stronger than [their] fears," the photographer told The Huffington Post in an email.
So, parents, next time you hear loud noises coming from your children's rooms at night, it might just be a monster fight.
Check out the photos below: