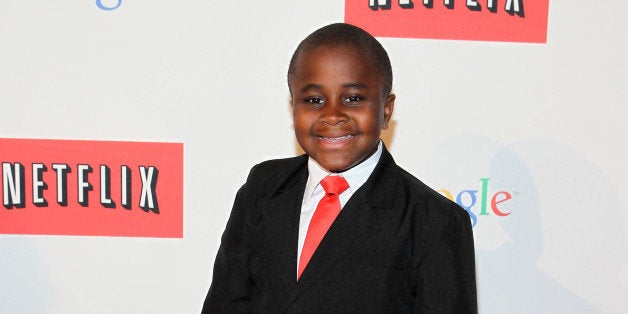 At KaBOOM!, we are dedicated to the bold goal of ensuring that all children get the balanced and active play they need to thrive. As part of our work, we are thrilled to shine a light on the dedication and efforts of those who further the cause of play every day - especially when we see kids helping other kids realize the many benefits of play.
A wonderful example of kids helping kids is Robby Novak, better known as Kid President. The recent "Kid President: Declaration of Awesome" season finale focused on what kids need to know: from being cool means being yourself to the importance of playing and being active. He educates, inspires and empowers kids to lead the change they want to see and shows kids the power of working together. It was special for KaBOOM! to work with Kid President on a playground build in Nashville and see those efforts included in the season's final episode.
Another example is Caine Monroy. His story and his intricate and inventive cardboard arcade, which was featured in the short film, "Caine's Arcade," motivated children to use their imagination. Because of his inspiring story, the Imagination Foundation was born and has encouraged thousands of kids to be creative and play. Their Global Cardboard Challenge invites kids from around the world to build something amazing out of cardboard, recycled materials and, of course, imagination. The annual event - this year's will be held on October 11 - celebrates child creativity and the role communities play in fostering it.
This year, KaBOOM! is partnering with the Handelman and Luban families on a playground project on the South Side of Chicago. The project is the brainchild of Marc Luban and Ariana Handelman, two 12-year-olds from Chicago's North Side, who decided to build a playground for their fellow Chicagoans instead of celebrating their Bar and Bat Mitzvahs with a big party. The initiative these children have taken - from fundraising and promotion to working with the local community on the playground design and logistics - is truly remarkable.
These are three shining examples of the amazing impact kids can have on their fellow peers. Caring and engaged adults, of course, play an important role in the happy and healthy development of children. They can teach kids the value of giving back and provide the parameters and tools for them to take action.
To help adults instill the value of helping others in their kids, KaBOOM! has developed the Birthday Club. However, the idea for the club came from kids themselves -- kids like Harry Hirsch and Jackson Burlak - who wanted to pledge their birthdays so that other children could have access to play. Thus the KaBOOM! Birthday Club was born. Now kids across the country can take action by dedicating their birthdays to the cause of play to ensure other kids - particularly the 16 million children living in poverty - live the playful childhoods they deserve. Because, as Robby, Caine, Marc, Ariana, Harry and Jackson have shown, when kids help kids it's a powerful thing.
Calling all HuffPost superfans!
Sign up for membership to become a founding member and help shape HuffPost's next chapter