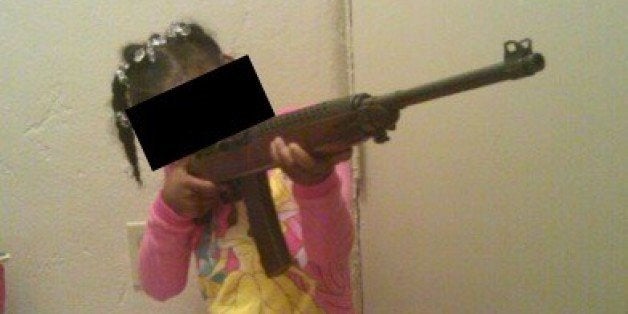 In a raid dubbed "Operation Thumbs Down," roughly 800 FBI agents and LAPD officers Thursday arrested about three dozen alleged members of the infamous Rollin' 30s Harlem Crips street gang.
During their investigation, authorities found photos on social media sites of children posing with guns, including a young girl in Disney pajamas holds what appears to be an assault weapon.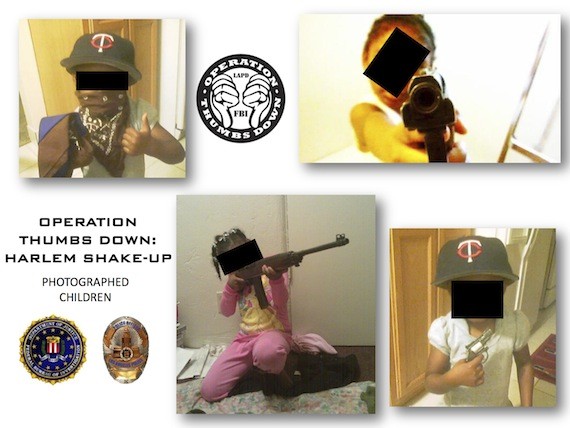 "Clearly, there's no good reason to put a firearm in the hands of a child," Laura Eimiller, spokeswoman for the FBI, told The Huffington Post. "It's an indication of the violent nature of the gang and the impact of its gang members."
The Rollin 30s Crips is a "multi-generational gang" with up to 1,000 members, according to the FBI. It is considered one of LA's most violent gangs, Eimiller said.
"When you grow up in a culture like that, violence becomes … second nature," Los Angeles Police Department Cmdr. Bill Scott said at a press conference Thursday. "And that's the cycle we're trying to disrupt."
The raid took place at 5 a.m. Thursday at roughly 70 different locations. Agents seized 32 guns and more than 10 kilograms of rock cocaine. Two suspects -- bolded in the list below -- are still at large and being sought, Eimiller said.
Thirty-five alleged members and leaders of the gang were taken into custody and face a number of federal and state charges, including drug trafficking, money laundering and unlicensed dealing of firearms.
The operation was dubbed Thumbs Down in reference to hand gestures used by the gang, including two thumbs pointed upward, representing the "H" in the word "Harlem."
Police also said they believe some of the members conducted a series of "knock-knock" burglaries -- referred to by the gang as "floccin" -- in which they break into homes if no one answers the door.
Since 2008, there have been 29 homicides, 1,075 assaults and 1,100 robberies on the gang's South LA turf, the FBI said.
If convicted, most of the defendants face prison terms ranging from 5 to 30 years in federal prison.
Those charged federally are listed below:

• Stephen Bayliss, aka "Iceberg"—30, currently in federal custody
• Michael Byars, aka "Wanetti"—55, Inglewood
• Jesus De La Hoya, aka "Jesse"—40, Mira Loma
• Anthoney Edwards, aka "Three Leaf"—23, currently in state custody
• Frank Fisher, aka "Boons"—23, Los Angeles
• Rayeisha Glenn, aka "Ray Ray"—35, Los Angeles
• Kenneth Green, aka "Gin"—36, Los Angeles
• Kevin Green, aka "Young Watt"—31, Los Angeles
• Jovan Harris, aka "Headache"—34, Los Angeles
• Clavern Luckett, aka "Uncle D"—38, Los Angeles
• Gary Luckett, aka "Uncle Gary"—39, Los Angeles
• Kelly Martin, aka "Cartoon"—43, Compton
• Don Mosley, aka "Whino"—34, currently in state custody
• Edward Norwood, aka "Polo"—33, Los Angeles (federal fugitive)
• Brandon Robertson, aka "BK"—31, Los Angeles (federal fugitive)
• Alan Ross, aka "Big Choo"—37, Los Angeles
• Darlene Sebatta—38, Los Angeles
• Ernest Sluch, aka "E-Rocc"—47, Los Angeles
• Jason Thurton, aka "CT"—35, Long Beach
• Emerie Tims, aka "Mac"—34, Long Beach
• Moses Williams, aka "Termite"—34, Los Angeles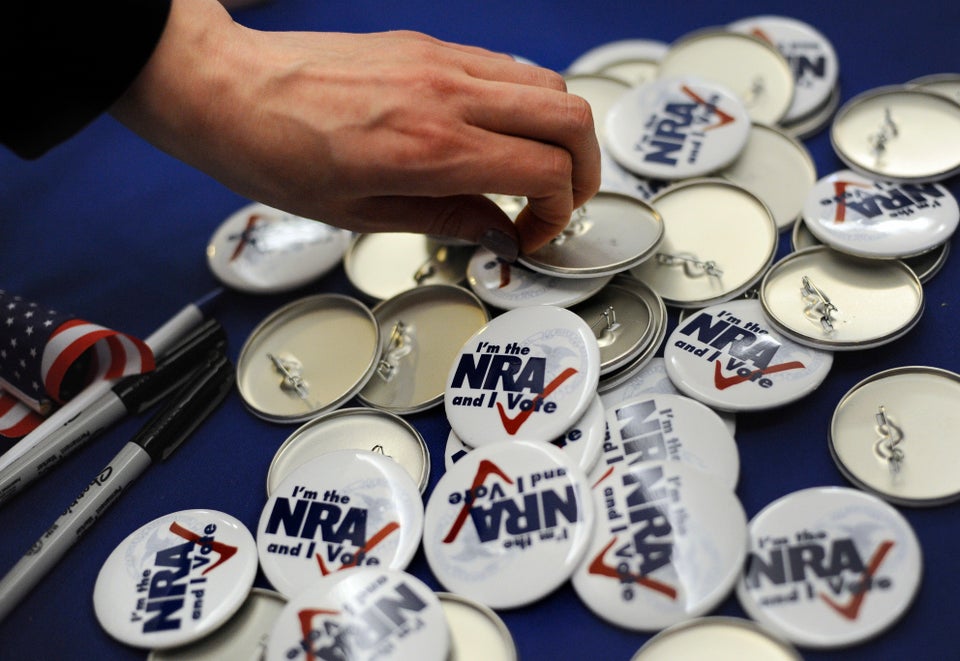 15 Things The Gun Industry Wouldn't Admit